Finding Family in Flight: OSU flight team prepares to compete in the 2023 National Championship
Wednesday, December 14, 2022
Media Contact: Jordan Bishop | Editor, Department of Brand Management | 405-744-9782 | jordan.bishop@okstate.edu
The Oklahoma State University flight team is more than an organization working toward a shared goal. It's a community centered on helping each member achieve new heights in the field of aviation.
A subsection of competitive individuals in the Flying Aggies aviation club, The OSU flight team is the second-oldest club on campus and has a mission "to encourage interest in aviation."
The flight team placed second at the National Intercollegiate Flying Association (NIFA) Region IV competition on Oct. 16-20, officially qualifying the team for the National Championship coming up in May 2023.
The team was led by coach Branden Adams, captain AJ Sills and co-captain Evan Robinson. Team members included Dash Ahlstrom, Ryan Austin, Grace Cowherd, Derrick Denney, Christopher Foster, Dana Friend, Greyson Joseph, Mike Kelly, Kaylin Klein, Claire Reader and David Reenders.
This year's regional competition took place at the Durant Regional Airport in southeastern Oklahoma. OSU flight team members earned a combined 21 individual awards in both ground and flight events including preflight inspection, aircraft recognition, precision landings, navigation accuracy and more.
"Regionals is a lot of fun because it's very fast paced," Robinson said. "At regionals, there's only six teams and the whole thing moves quickly. You get to know everyone there. For nationals, there's around 30 teams and about 100 students. It's way bigger, so you have a little bit more downtime in between heats. We also get to know people at nationals and make friends with students from other schools."
Flight teams from all over the country come to compete in the NIFA regional and national competitions.
"We've got a healthy rivalry going with LeTourneau University in Longview, Texas," Sills said. "They got third place in nationals last year and won this year at regionals, so we're looking forward to competing with them again in May.
"There are a lot of teams that compete from coast to coast so we do a lot of traveling for competitions. Last year, nationals was in Columbus, Ohio, and this year it's going to be in Oshkosh, Wisconsin."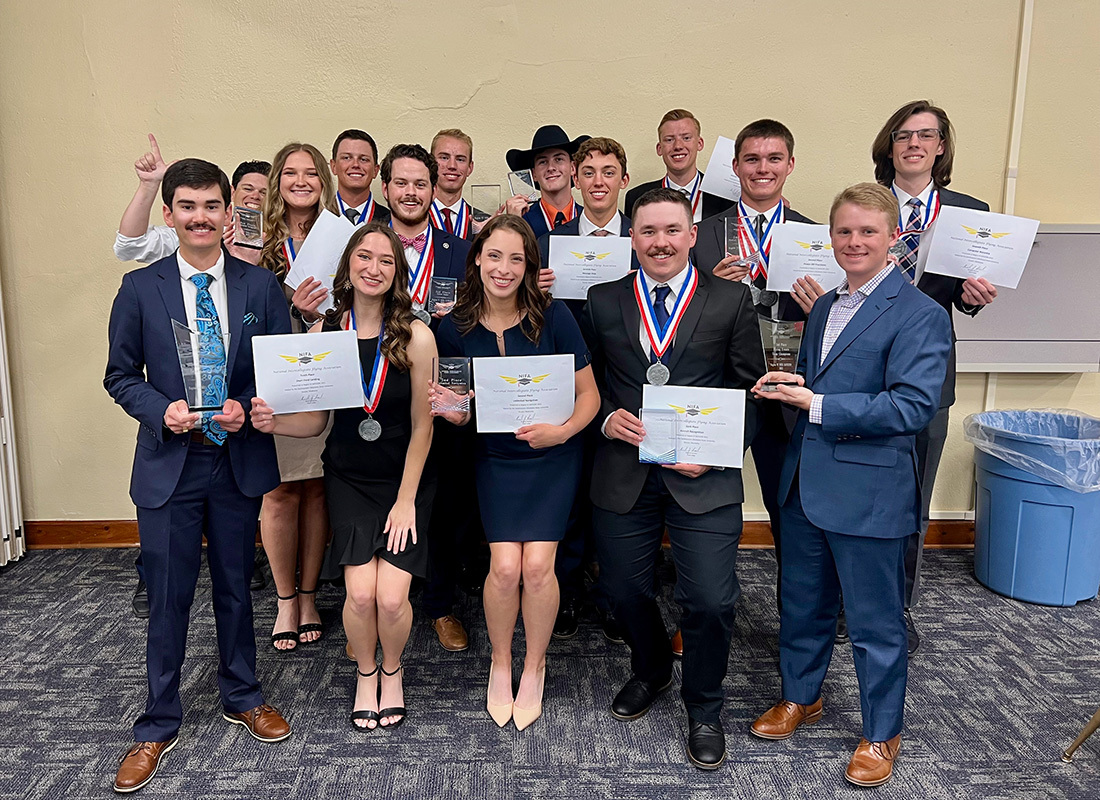 The OSU flight team has won the NIFA national competition a total of nine times as well as winning the Loening Trophy, presented to the best overall collegiate aviation program in the nation, 21 times.
"OSU has the most wins on that trophy of anyone, and it's very prestigious," Austin said. "Claire Reader, the president of the Flying Aggies, will be putting together a presentation on our club, our flight team and our program so that we can compete for it again this year. There's a lot that goes into it and it's something that we really take a lot of pride in putting on."
The flight team attributes a lot of their success in competitions to the support they've received from the OSU aviation program. With the addition of the new Ray and Linda Booker OSU Flight Center, the team has plenty of space and resources to practice for competitions. The flight center also helps cover the cost of the team's aircraft usage for competitions and practice.
The team flies a 1969 Cessna 150, two 1981 Cessna 152s and two 2019 Cessna 172s for competitions and practices.
"It would be nearly impossible to afford if it wasn't for their generosity," Austin said. "It also encourages me to really do my best when it's being paid for by the Flight Center. They pay for us to practice and compete because they want us to represent OSU well when we compete. So, I think for me personally, that's something that I'm thinking about when I'm in the airplane."
To prepare for nationals, Adams is working on creating a new practice schedule going into the spring semester. Flight team tryouts for spring 2023 will take place the first week of March at Perry Municipal Airport, about 30 minutes northwest of Stillwater. The team meets at least once a week for both ground and flight event practice.
"It's a pretty big commitment for everyone on the team," Austin said. "We typically meet on Sundays and get there at about noon. We usually need to block out until around 8 p.m. We'll take about four or five airplanes, cars, a grill and all that to Perry, Oklahoma. And then during the week, we get together with our individual teams to work on ground events and things like that."
While being on the flight team requires a lot of time and dedication, it's also a lot of fun. Members will bring speakers, coolers and food to the Perry airport to make practices a good time for the members.
"We do it to help build camaraderie amongst the team," Adams said. "Some of these team members have probably never met before in their life. Especially when freshmen are becoming more interested in the team, they may have not met any of us. When we meet up, whether it be in their individual ground events or altogether on Sundays, it helps us understand each other better. It has built a sense of camaraderie and it's something of a sight to behold, quite frankly."
"My interest in aviation stems from my grandparents. My grandfather was a crew member on B-17's and loved aviation. He wanted to be a pilot but he never quite got there. His love for aviation was infectious, so I got bit by the bug."
— Evan Robinson, co-captain of OSU Flight Team
Practice isn't the only time the team uses to get to know one another. For competitions, the team likes to make the most of the experiences they have traveling to various parts of the country.
"For regionals, we rented a house through Vrbo and everyone was cooking and playing cards and stuff in the living room," Robinson said. "We interacted a lot like how a family does on vacation, it's a fun time. By the end of the season, we go from having new freshmen on the team knowing no one to those freshmen completely belonging and having a place like the rest of us."
With the amount of time and effort members put into being on the flight team, it's no surprise that they start to feel like a family. For many of the team members, their passion for flying is already rooted in family.
"My interest in aviation stems from my grandparents. My grandfather was a crew member on B-17's and loved aviation," Robinson said. "He wanted to be a pilot but he never quite got there. His love for aviation was infectious, so I got bit by the bug."
A shared passion for aviation is what ties the members of the OSU flight team together. This dedication is evident in the amount of effort each member puts into what they do and in the way the group collaborates as a team.
"Being on the flight team presents a very unique challenge to each individual, whether it be time commitment or just overall discipline," Adams said. "It really is the mount that sharpens the skills needed to be a pilot. Through all the adversity that we experienced on the flight team, it really builds character.
"In the end, it can really help you as an individual, both in aviation or just life in general. I think the flight team builds you up to a place that you wouldn't have been otherwise."
Story By: Hadley DeJarnette | hadley.dejarnette@okstate.edu