Hoyt named OSU women's basketball coach
Monday, March 21, 2022
Media Contact: Ryan Cameron | Assistant Director of Athletic Communications | 405-744-7714 | ryan.cameron@okstate.edu
Jacie Hoyt was introduced as the coach of Oklahoma State women's basketball on Sunday. She came to OSU after serving as coach at Kansas City from 2017-22.

Her roots in Big 12 country run deep. Her mother, Shelly Hoyt, is a Kansas high school coaching legend and Jacie, who played for her mother in high school, went on to play collegiately at Wichita State. In addition to leading the Kansas City program, Hoyt's coaching career includes stops at Fort Hays State, Nevada and Kansas State.

"There are a million reasons to be excited about Oklahoma State," Hoyt said. "First and foremost, it's the people and the leadership there. Everyone I've had conversations with at OSU aligns with the beliefs and characteristics that lead to success. It's the community as well. OSU has a fan base that supports the program and we are passionate about giving them something to proud of."
Her work at Kansas City was transformational. In her five seasons at the helm of the Roos, she compiled an 81-65 overall record (55.5 percent) and a 48-31 mark in conference play (60.8 percent). For perspective, the six Kansas City coaches before her combined to go 242-437 overall (35.6 percent) and 144-215 in conference play (40.1 percent). In 2021-22, she coached the Roos to their first postseason appearance in a decade.

Hoyt led the Roos to the 2020 Western Athletic Conference regular season championship — the first in program history — and more than 20 wins in two of her final three seasons.

She was honored as the 2020 WAC Coach of the Year to become the first Kansas City coach to ever receive such an honor and her top player, Ericka Mattingly, was named WAC Player of the Year.

Despite moving to the more difficult Summit League in 2020-21, the Roos finished two spots better than predicted during their first year in the league and placed third in their second year.

In 2018-19, the Roos led the WAC and ranked 24th nationally by averaging 76.0 points per game. Making that even more remarkable is that Hoyt inherited a Kansas City program that finished seventh, eighth and fifth in the WAC in scoring offense in the three years prior to her arrival. Twice during Hoyt's tenure did Kansas City finish among the top 50 nationally in scoring offense (2018-19 and 2021-22).

"When we started the search for the next head coach of OSU Cowgirl Basketball, we were looking for a program builder, someone with high integrity and energy, a role model for our student-athletes and a recruiter with experience attracting Big 12 caliber players," OSU Athletic Director Chad Weiberg said. "We believe we have found that in Jacie and I look forward to our players and fans getting to know her."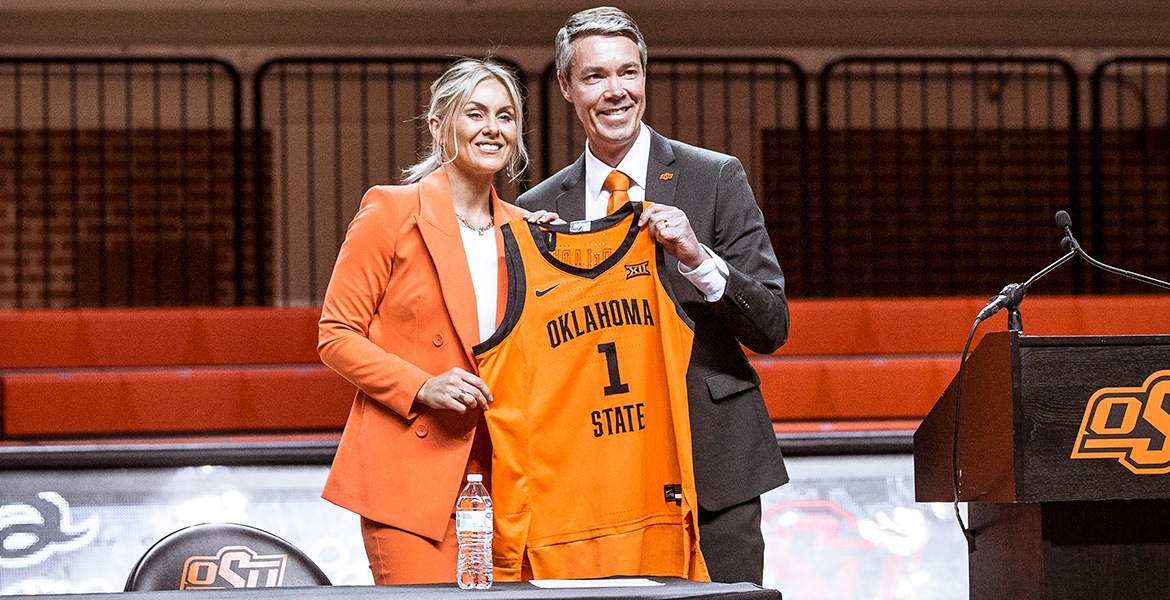 A consistent trait the Roos displayed during Hoyt's time as head coach was the ability to shoot.

Her 2021-22 squad ranked in the top 30 nationally in both three-point field goal percentage and free throw percentage and her 2020-21 squad finished 17th nationally in three-point field goals made per game. Kansas City ranked 62nd or better nationally in three-point field goals made in four of her five years as head coach and in her final two seasons, ranked 37th and 28th, respectively, in three-point field goal percentage.

Another signature trait of Hoyt's Kansas City teams was sharing the ball. In four of her five seasons, the Roos ranked either first or second in the conference in assists per game, leading the league in 2018-19 and 2020-21.

She took the reins of the Kansas City program after gaining three years of Big 12 experience as an assistant coach under Jeff Mittie at Kansas State from 2014-17. Hoyt helped the Wildcats to NCAA Tournament victories in back-to-back seasons. The 2016-17 squad won 22 games overall and 11 in Big 12 play, which marked the highest totals for the program in nine seasons.

Hoyt recruited and coached seven All-Big 12 student-athletes, including two All-Defensive Team and two All-Freshman Team selections, headlined by Breanna Lewis, the 23rd pick in the 2017 WNBA Draft by the Dallas Wings.

She assisted in all facets of recruiting, scouting, game planning and on-court coaching for the Wildcats. Hoyt also coordinated and managed all areas of the elite, overnight and day camps, in addition to the High School Coaching Academy. She was a Women's Basketball Coaches Association (WBCA) 30 Under 30 honoree in 2017.

Prior to her time in Manhattan, Hoyt's first full-time Division I coaching job came at Nevada, where she was an assistant under her college coach, Jane Albright, from 2011-14.

During her time there, Nevada achieved the program's first winning season in three years in 2013-14 and set a program record with 12 victories in Mountain West Conference play. She recruited and coached four all-conference players, including Mimi Mungedi, the 2013-14 Mountain West Co-Defensive Player of the Year and 25th selection in the 2015 WNBA Draft by the Tulsa Shock.

Hoyt was a graduate assistant coach at Fort Hays State during the 2010-11 season, where she recruited and coached two All-MIAA selections. She earned a Master of Science in communication from FHSU.
As a student-athlete at Wichita State from 2006-09, Hoyt was a team captain for Albright and started every game at point guard during her final two seasons. In 2008-09, she ranked fourth in the Missouri Valley Conference in assists. She earned the 2009 Iron Shocker Award. Hoyt was also a standout in the classroom, earning a spot on the Missouri Valley Conference, WSU Athletic Director and WSU Dean's Honor Rolls. She graduated Cum Laude with a bachelor's degree in 2009.

During her high school years, Hoyt enjoyed one of the most prolific scoring careers in Kansas prep history, finishing with 2,016 points in only three seasons at Hoxie (Kan.) HS. Her career average of 26.6 points per game ranks sixth in state history. As a senior, she averaged 28.4 points, 7.4 assists, 6.3 rebounds and 6.1 steals per game. She was a three-time all-state performer in basketball and volleyball, and was also a state champion in multiple track events.

Hoyt comes from a family of educators. Shelly Hoyt at one point led Hoxie HS to a state record 107 straight wins and four consecutive state titles. Her mother is currently the head coach at Eureka High School in Kansas. Her father, Scott, is the superintendent in Eureka and two of her sisters, Tabitha and Corinna, are teachers. A third sister, Terran, served as a graduate assistant on Jacie's staff at Kansas City.

She is married to Daniel Heflin.


Noting Jacie Hoyt
2020 Western Athletic Conference Coach of the Year after coaching Kansas City to the first regular season conference championship in the history of the program
23 wins in 2021-22 were the second-most for Kansas City since joining NCAA Division I in 1987-88
The Roos of 2021-22 appeared in the Women's NIT for just the second time in program history.
Had the Roos in prime position for their first NCAA Tournament appearance in 2019-20 before COVID brought an early end to the season with Kansas City having already won the WAC regular season title and still alive in the conference tournament at the time of the stoppage.
Prior to Hoyt's arrival in 2017-18, the Roos finished in the top three in the conference standings only twice, with the most recent coming in 2003-04. Hoyt produced top-three league finishes in 2019-20 (first place) and again 2021-22 (third place).
Since joining NCAA Division I prior to the 1987-88 season, Kansas City has four 20-win seasons. Two of those came under Hoyt, as the Roos won 21 games in 2019-20 and 23 games in 2021-22.
During her time at Kansas City, Hoyt coached the Roos to a winning percentage of 60.8 percent in conference games. Prior to her arrival, no coach left Kansas City with a career conference winning percentage above 44.2 percent.
Hoyt led Kansas City to 13 conference wins in 2019-20 and 12 conference wins in 2021-22 for the two highest single-season totals in the history of the program.
In her first year as head coach, Kansas City ranked second in the WAC by averaging 67.8 points per game. In the three years prior to her arrival, Kansas City was seventh, eighth and fifth in the league in scoring.
In 2021-22, Kansas City ranked in the top two in the league in scoring, rebounding, assists, three-point field goal percentage and free throw percentage and was third in the conference in field goal percentage.