OSU alumna awarded Phi Kappa Phi fellowship
Monday, August 1, 2022
Media Contact: Harrison Hill | Senior Research Communications Specialist | 405-744-5827 | harrison.c.hill@okstate.edu
Oklahoma State University alumna Amanda Bolinger was recently awarded a Phi Kappa Phi fellowship that will allow her to pursue her studies in veterinary medicine.
Bolinger graduated Summa Cum Laude from OSU in May with an Honors College degree in Animal Science from the Ferguson College of Agriculture.
While at OSU, Bolinger supplemented her coursework with undergraduate research in the Comparative Exercise Physiology Laboratory in the College of Veterinary Medicine, focusing on equine skeletal muscle mitochondrial physiology under the guidance of Dr. Michael Davis.
She also served as a teaching assistant in the Department of Animal and Food Sciences and as an intern with Equine Sports Medicine and Surgery in Ruidoso Downs, New Mexico. In the fall of 2021, Amanda was selected as an institutional nominee for both the Rhodes and Marshall Scholarships.
And now she has been awarded a Phi Kappa Phi Fellowship.
"This Fellowship is an incredible personal achievement," Bolinger said. "I am truly honored to be recognized among such a talented group of individuals on a national level."
Bolinger has a sustained history of leadership and service. Her most significant contribution, however, is her volunteer work at Turning Point Therapeutic Riding, an accredited therapeutic horseback riding center. Amanda dedicated four years of service to the center, where she worked with the horses and saw to the safety and education of the children and special needs populations the organization serves.
Amanda has been accepted to the Kansas State University College of Veterinary Medicine in Manhattan, Kansas, where she plans to earn her a doctoral degree in veterinary medicine.
Bolinger is motivated by her desire to become a talented veterinarian, she said.
"By choosing to put forward nothing less than my best, I firmly believe that I am choosing my future. Someday soon, I will have patients whose lives will rely on my abilities," she said.
Her professional goals are to become an authority on equine musculoskeletal conditions within the veterinary community.
"Achieving this goal will be the product of a lifetime of learning, growing and making the best of every opportunity," she said.
The Phi Kappa Phi fellowship is part of a long-standing tradition. In 1897, 10 seniors, two faculty members and the president of the University of Maine founded an honor society open to top-ranking senior students regardless of academic discipline or gender.
"Phi Kappa Phi is the oldest Greek letter honoree that accepts all majors," said Dr. Keith Garbutt, interim dean for the College of Arts and Sciences. "This is an extremely prestigious group to be part of."
He said not every institution can have a Phi Kappa Phi chapter OSU's chapter has been around for over 100 years, dating back to 1920.
Nationally, there are now just over 325 Phi Kappa Phi chapters, with more being added each year, making Phi Kappa Phi the oldest, largest and most selective collegiate honor society that initiates four-year college graduates and advanced graduate students from every academic discipline.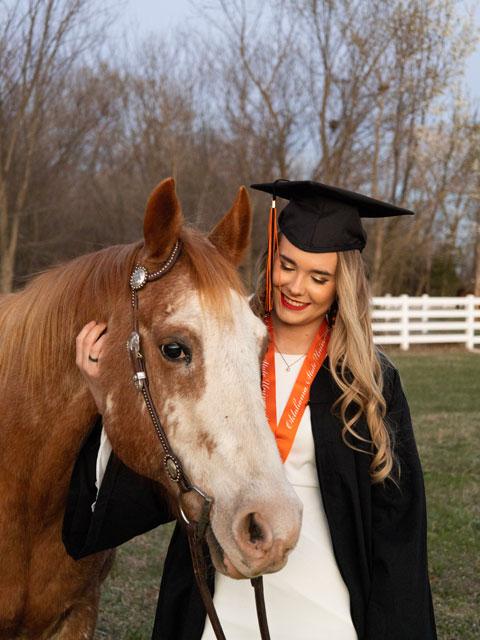 "This is the sort of credential that shows somebody has done well, academically — they've taken a broad array of courses and are in the top of their class. So having it on a resume is definitely a plus," Garbutt said. "But the other plus is that they do offer scholarships. They are competitive obviously, once you start with a group of students who are already considered the top and then you offer competitive scholarships. When we get one like this, that's wonderful. And it speaks very, very highly of Amanda, and rightly so."
Garbutt has worked with Amanda and describes her as greatly intelligent, outgoing and caring.
"She just has a presence, which is quite remarkable," he said. "Her personality, intelligence … she really connects with people and she comes from a very, very small place in Oklahoma, and she's an absolute credit to it."
Bolinger came to OSU from Beaver, Oklahoma, as a member of the inaugural class of Oklahoma State Scholar Society Fellows, a program developed to recognize and reward Oklahoma's highest achieving students based on their academic success, service record and strength of leadership.
In addition to the support of her parents and friends, Bolinger mentioned the benefits of mentorship from several individuals who were instrumental in obtaining the fellowship: Dr. Dan Stein (associate professor, OSU Department of Animal and Food Science), Dr. Udaya DeSilva (professor, OSU Department of Animal and Food Science, Dr. Michael Davis (professor and Oxley Endowed chair, Department of Physiology, OSU College of Veterinary Medicine), and Dr. Clayton McCook (DVM, Equine Sports Medicine and Surgery).
"I have been so blessed to have access to a fantastic support system at OSU and in my personal life full of people that inspire, encourage and challenge me to strive to reach my greatest potential," Bolinger said. "I could never have accomplished all that I have without them."