OSU Career Services honors exceptional student employees
Friday, April 15, 2022
Media Contact: Kelsie Miner Paul | Senior Coordinator, Employer Development & Student Development | 405-744-4603 | kelsie.miner@okstate.edu
Oklahoma State University Career Services recently celebrated 78 nominees for Student Employee of the Year with a ceremony on Thursday.
Each spring, as part of National Student Employment Week, OSU honors student employees who are nominated by their supervisors and selects a Student Employee of the Year who best embodies the contributions and achievements of students who work while attending post-secondary school.
The contest is sponsored by OSU Career Services, in conjunction with the National Student Employment Association's National Student Employee of the Year contest.
Eli Halcomb, an electrical engineering junior, was recognized as the 2022 Student Employee of the Year. Halcomb works as an IT assistant and audio/visual technician at Stillwater Public Schools.
Kevin Calvert, director of technology at SPS, nominated Halcomb due to his leadership, problem-solving, and consistent support and dedication to the students and staff at SPS.
"Eli has been a dedicated leader in our department and continues to impress us," Calvert said. "He solves problems we didn't know we had, continues to grow and shows us new ways of looking at things from a different perspective. One of the most amazing things about his approach is his humility and grace as he presents his creative ideas."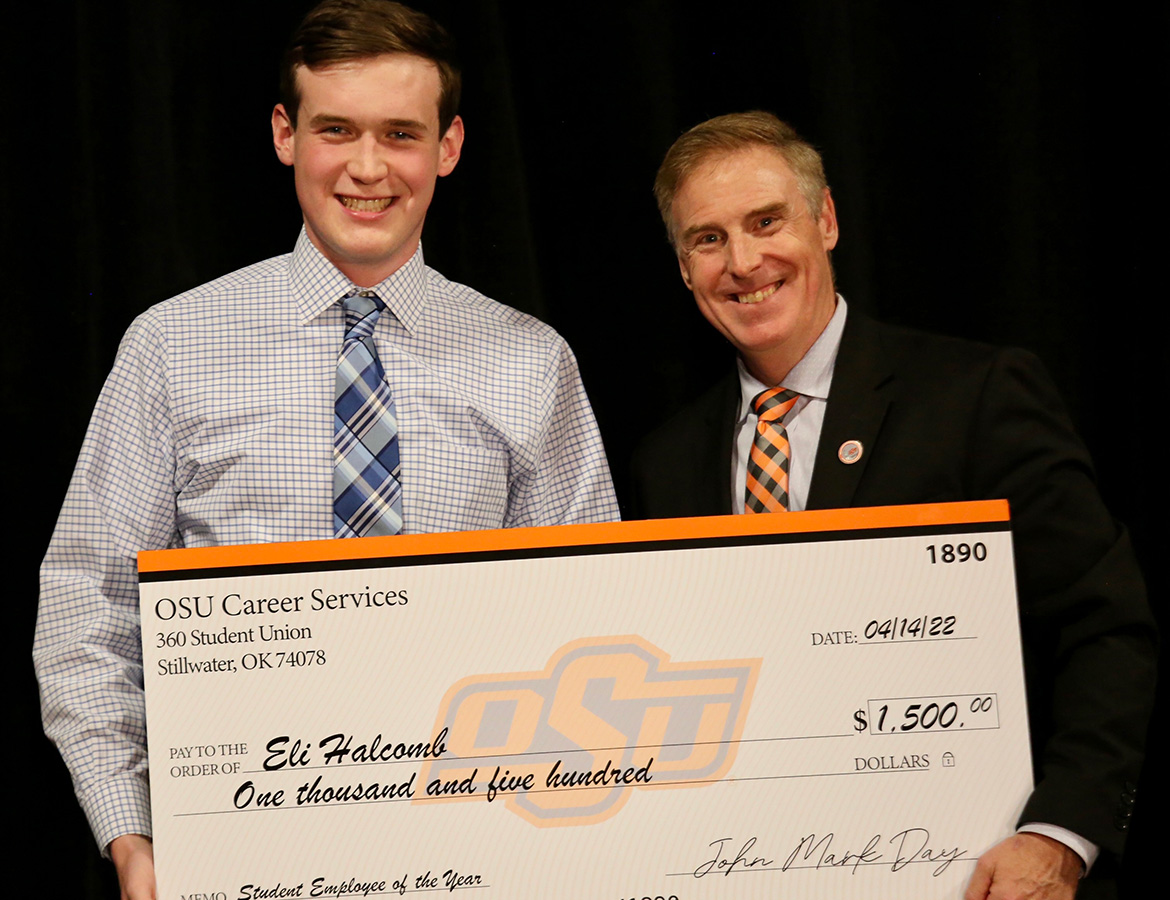 Halcomb was praised for his ability to think creatively and work collaboratively — skills that led to SPS selecting his idea to implement eduroam and improve Wi-Fi availability for students, staff and guests.
"Stillwater Public Schools was the first K-12 school in the state to use this system due to his idea," Calvert said. "Not only was he able to come up with the idea, but he was instrumental in implementing it quickly because of his technical skills."
Halcomb also runs audio, video and livestreaming for school district board meetings. In addition to the difference he makes for Stillwater Public Schools, Halcomb also volunteers his tech services for a local church and private school.
In recognition of his service to the community through student employment, Halcomb received a $1,500 scholarship from OSU Career Services, presented by Vice President for Student Affairs Doug Hallenbeck.
During the Student Employee Award process, the committee selected five finalists: Roger Bennett, Halcomb, Manoj Jagadeesh, Madelyn Owens and Kathryn Steedman. Each finalist received a gift basket worth more than $450, including items from OSU Career Services and various businesses around the Stillwater community.
OSU Career Services also recognized the Office of First Year Success as the 2022 Employer of the Year for its commitment to hiring and developing OSU student employees.
Additionally, U.S. Foods provided two scholarships for student employees in University Dining Services: Aryanna Carr and Bailey James.
"Our team is grateful to have an opportunity to recognize all the outstanding student employees who make a difference in our community," said Kelsie Miner Paul, senior coordinator of employer development and student employment for OSU Career Services. "Managing both a work schedule and a school schedule is not an easy feat, and these students have gone above and beyond during their time at OSU. We're proud of all our nominees and happy to celebrate these leaders."
To watch the recorded ceremony, visit bit.ly/StudentEmployee2022.