OSU hockey club expects to be here to stay
Friday, February 11, 2022
Media Contact: Jordan Bishop | Communications Specialist | 405-744-9782 | jordan.bishop@okstate.edu
Oklahoma isn't a hotbed for ice hockey. But a new club hockey team at Oklahoma State University is looking to make its mark on the sport and someday ascend to the varsity level to take on the storied programs of the North and Northeast.
Last summer, OSU sophomore Jacob Thompson created an Instagram account and invited prospective players to tryouts. After a few fundraisers, some nice jerseys and many miles, the Cowboys now feel like they are here to stay.
Thompson, an ROTC-enrolled business management major, said he thought the school needed a team. A Texas native who played hockey for 15 years before college, Thompson thought the school needed a team.
"I think it is a big deal because a lot of people at OSU, they don't necessarily know hockey," said Thompson, a forward. "They probably heard of it before but I don't think they know it, but once they learned we have a team, they were extremely excited. I think once we play OU next year and get the rivalry going, it will blow up even more."
That series with the University of Oklahoma was at first a dream, but next year it will most likely be a reality. OSU is going through a probationary year in the American Collegiate Hockey Association (ACHA), but will have full Division II membership next year.
Because of that, OSU will be able to play a guaranteed schedule as a member of the Texas Collegiate Hockey Conference — home to such schools as the University of Texas and Texas A&M. Since OSU will be a full member of the ACHA, playing teams like OU and the University of Central Oklahoma will be no issue.
It will be a big step for the Cowboys and OSU hockey. This isn't the first time the school has attempted to have its own hockey club, but Thompson said the situation is different now.
"There was one around 20 years ago," Thompson said. "I am actually still in contact with the past president. Me and him talk a lot. They weren't able to get enough players to keep it going because the hockey market wasn't as big as it is now. We can fully sustain the number of players now because of the Texas market."
There has been a hockey revival of sorts in recent years and it has grown the fan base of the sport. In terms of popularity, the NHL has always been the straggler of the "Big Four" leagues in Oklahoma because of the climate. Over the past few decades, it has amassed some die-hard followers. The sport moving back to ESPN this year has also helped increase its popularity.
The Dallas Stars relocating to Texas in the mid-1990s was a major factor for the regional growth of the sport as the organization built all across north Texas, allowing students like Thompson to play in junior leagues in that area.
Oklahoma has seen some success with the Tulsa Oilers, now a minor league affiliate for the Anaheim Ducks and former affiliate for the St. Louis Blues during their 2019 Stanley Cup title season.
"I think Oklahoma mimics Texas because now Oklahoma has a travel team and a junior team. OU and UCO both have teams. So I don't think a shortage of players will be a problem again," Thompson said.
OSU even uses one of the minor league team's arenas. Arctic Edge Ice Arena in Edmond, home of UCO and the Oklahoma City Ice Hawks — formerly the Jr. Blazers — serves as the home rink for the Cowboys.
"It is good," Thompson said. "It holds a lot of people and the drive isn't terrible. The ultimate goal is to get one in Stillwater. That is our thing we are working on right now is to get one in Stillwater. We have had a lot of turnout for our games and it has been really fun."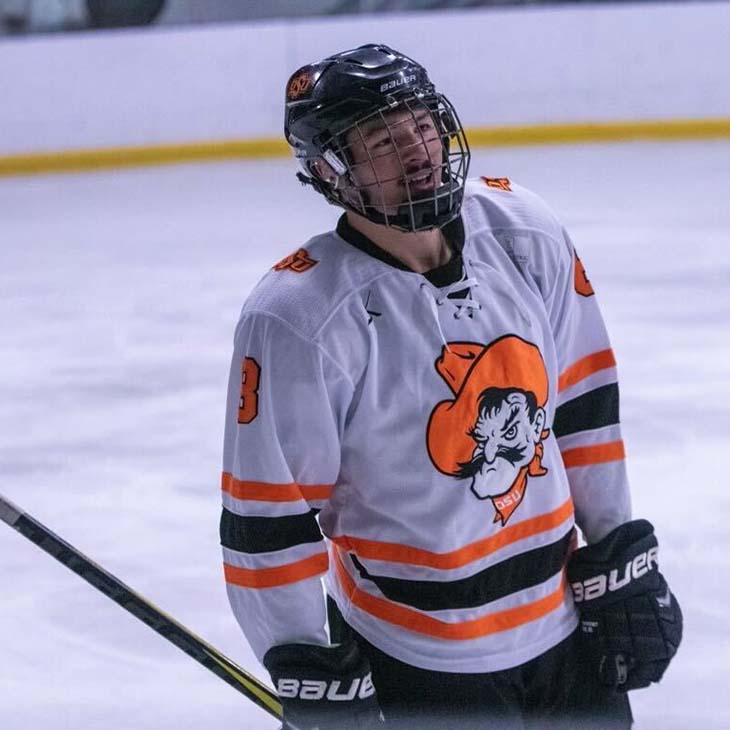 Thompson and OSU coach Dylan Pacheco try to have at least one practice for the team a week. Since the season started last fall, they have seen a lot of improvement.
With a schedule that includes several well-established clubs, the Cowboys have faced a quick learning curve. But they have seen some success already.
"It is definitely interesting because with hockey chemistry is a huge thing, and you are playing against teams whose players have played together for a few years and we have only played with each other for a few months," Thompson said. "We are still trying to figure out how we work well together. It has been awesome seeing how much we have grown throughout the months. We look like a completely different team.
"We may not be able to practice as much as other teams because the rink is 50 minutes away, but we are being competitive against some good programs. I am excited to see how next year looks when we get some new players."
In its last outing, OSU beat the University of Kansas 4-3 in overtime and the example of how much the team has learned in such a short time was fully on display.
Jake Hickox, a junior center for OSU studying aviation, said it was incredible seeing OSU pull out the win.
"John Seals, one of our players, scored on literally the first play," Hickox said. "We got the puck and got it to our defense and we passed it up to him. Instead of going up the middle like he always did and losing the puck, he finally went around the defenseman and put it right through and scored. It was a great moment."
For the away games, the players are mostly driving themselves, but with dues and new potential sponsorships the players are hoping they can get a vehicle to carpool for the longer trips.
Since most of the players have experience from high school or travel teams, they already have equipment. That's a plus, and Thompson said the jerseys have been a hit on campus.
From not existing a year ago to a program packed with momentum, Pacheco said it has been amazing to watch. While he grew up in the hockey-crazy environment of Rhode Island and New England, he said there is a significant and growing interest in hockey at OSU. He said he is glad to be a part of the push to revive Cowboy hockey.
"It is growing down in Texas and there is no reason why we shouldn't bring it to Oklahoma," said Pacheco. "I think it is a great thing for the community because they can really broaden their horizons on the sport."
The popularity of the team's jerseys and social media presence has elevated its recruiting efforts for next year.
"I have high hopes, especially with OU also having a team, that we can keep this going," Hickox said. "Our [team] president will be there for a few years and he has done an amazing job with promotion and spreading the word and getting kids to have tryouts.
"I think we have a nice road ahead of us."
For more information about the OSU club hockey team, visit http://okstatehockey.com/ and follow on Instagram @okstatehockey.