OSU rocketry team competes at Spaceport America Cup
Thursday, July 14, 2022
Media Contact: Harrison Hill | Senior Research Communications Specialist | 405-744-5827 | harrison.c.hill@okstate.edu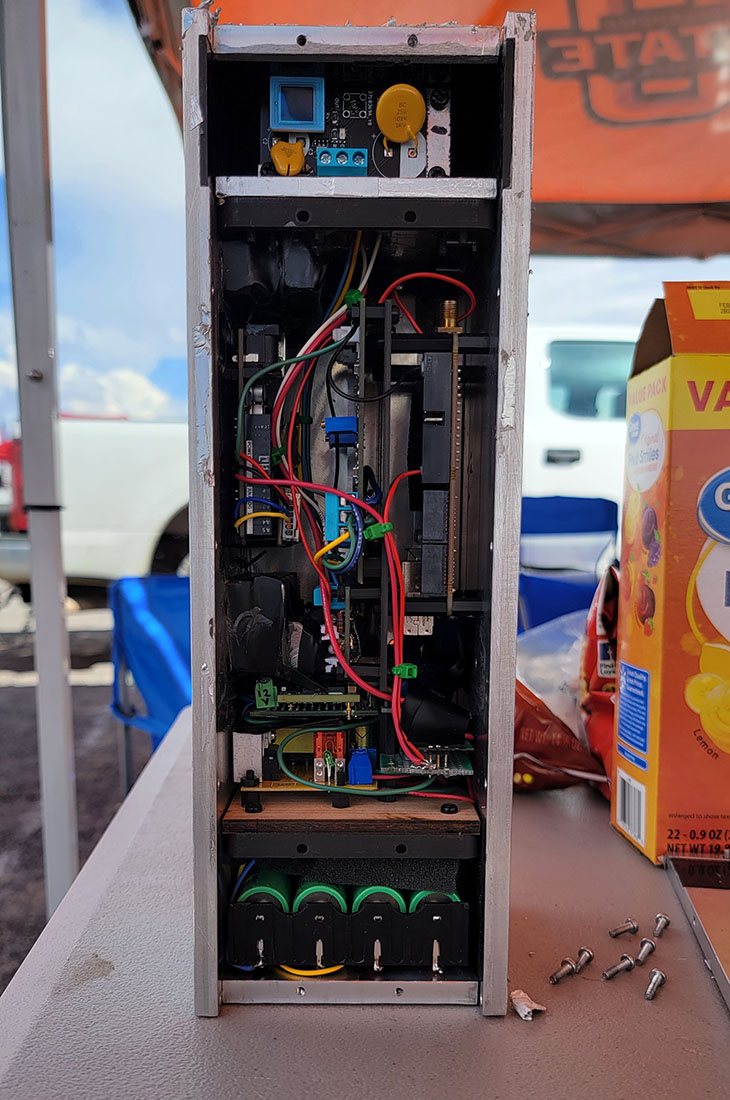 Miles of desert span outside of Las Cruces, New Mexico, perfect for high-powered rocketry launches.
That is exactly what a team from Oklahoma State University was doing earlier this month at the annual Spaceport America Cup — the world's largest intercollegiate rocket engineering conference and competition with over 1,700 students and faculty competing.
With just the Jornada Mountain Range separating the competition from White Sands Missile Range, the controlled airspace allows student rocketeers to launch their rockets to unprecedented heights.
The OSU team consisted of four members of the High Power Rocketry Club: Patrick Williams, Dylan Gore, Christopher Rathman and Joshua Anderson, as well as a unique addition to the team — two students from the physics department, Conner Heffernan and Garret Thornton.
The team placed 32nd out of 100 teams in the overall competition and 16th out of 46 teams in our category.
"Conner and I acted as the payload specialist," Thornton said. "And the four others built the rocket.
For the competition, the team got extra points for launching a working piece of scientific equipment as their payload.
"The whole reason we were able to do this was because Josh Anderson, one of the engineers, met me and Garrett at the 2021 Niblack Research Symposium," Heffernan said. "And we just kind of hit it off. And then he realized that we flew payloads and he needed somebody to make a payload for the competition."
Heffernan and Thornton built an atmospheric ionizing radiation silicon detector to measure radiation levels as the rocket went up and made its return to earth.
"What we expected to see, and thankfully, what we saw, was that as the detector went up, we would get an increase in the number of radiation events counted per second," Heffernan said.
That means their payload was a success, even at extreme temperatures — close to 140 degrees Fahrenheit while they were waiting to recover it — and up to 13 G's of acceleration during launch.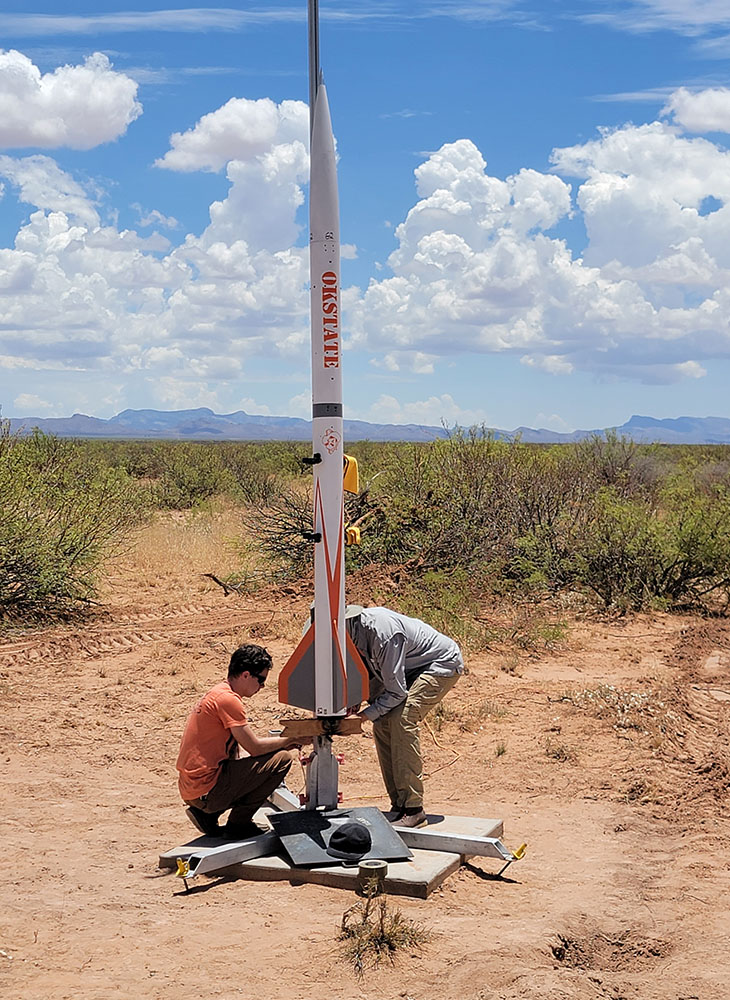 "The rocket was up there for only like, three minutes, and only went to about 13,000 feet above sea level. So seeing that, that's about all we expected to see," Heffernan said. "But it also means that the detector works and was able to survive."
The rocketry club competed in this competition in 2019, but the event was canceled in 2020 and 2021 due to COVID-19.
"We were all happy that we would be able to compete before we graduated," Rathman said. "Individually, this was everyone's first time competing in the competition."
The goal of the rocketry club is to give students interested in rocketry a place to apply what they learn in the classroom, said Rathman, club president.
"Members are encouraged to — and guidance is given on — building smaller rockets for getting Tripoli certifications," Rathman said. "We also compete in the Kloudbuster's Argonia Cup every year, giving the club a more structured project to work on."
One of the goals the club members are currently working toward next is designing and building a lightweight rocket that will fly at speeds as high as Mach 3, or three times faster than the speed of sound, Rathman said.
"The Spaceport America Cup was a lot of fun and there were a lot of great opportunities to network with other teams and companies sponsoring the event," Rathman said.