OSU symposiums showcase undergraduate students' research
Thursday, April 21, 2022
Media Contact: Harrison Hill | Senior Research Communications Specialist | 405-744-5827 | harrison.c.hill@okstate.edu
Research at Oklahoma State University was on full display this month at a series of student-focused research symposiums culminating with the inaugural undergraduate research symposium.
On Tuesday, students filled the ConocoPhillips OSU Alumni Center throughout the day as they presented their work on poster boards.
"The symposium was a reflection of the research conducted at a comprehensive, R1 institution," said Dr. Christine Johnson, associate vice president for research. "We had students presenting their creative and research activities in disciplines such as architecture, English, languages and literatures, plant and soil sciences, chemistry and mechanical engineering."
The event was held in conjunction with national Undergraduate Research Week, established by the U.S. House of Representatives in 2010, and celebrated at institutions across the country. More than 35 academic programs were represented in the student's presentations.
"For several years now, the university's undergraduate research committee has intended to host a campuswide undergraduate research symposium," Johnson said.
Originally planned for April 2020, the event had to be postponed due to the pandemic. However, two years later, 180 students were able to highlight their research and discoveries.
At the event Dr. Kenneth Sewell, vice president for research, spoke to the students and guests.
"I want to not only congratulate all of you who are here, but also all of the people who participated in the research symposium today, because you might not have thought about it this way. But you all have made a transition that very few people ever achieved in their lives," Sewell said. "You remember when you were in the third grade, and you quit learning to read and started reading to learn? Well, ever since the third grade, you have been learning prepackaged knowledge that other people have been providing to you … But you all have made the transition of now producing knowledge, generating discoveries and generating new ways of seeing the world."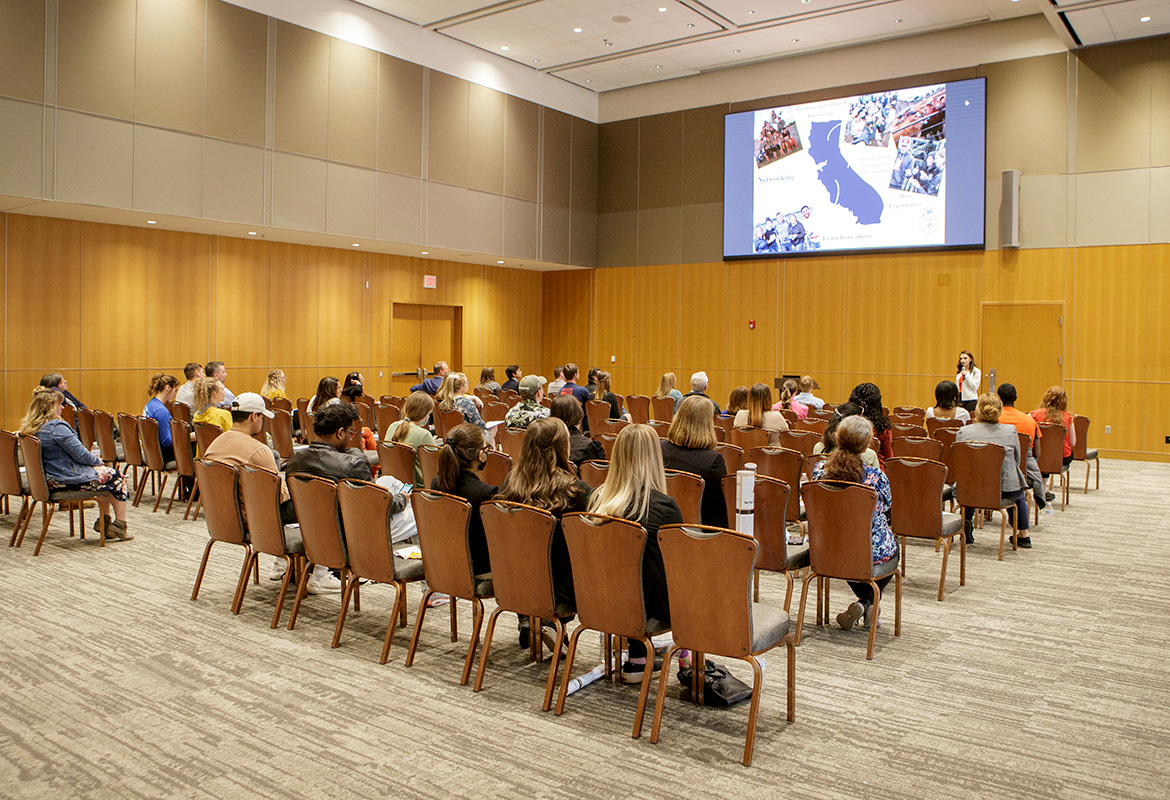 The symposium was an opportunity for all OSU undergraduates, regardless of academic major or stage in the research process, Johnson said.
"It was a chance to disseminate what they have learned through their research and creative activities to their peers, faculty and other members of the OSU community — as well as friends and family," she said.
Dr. Jeanette Mendez, interim provost, also spoke at the event.
"Thank you so much for being here," she said. "I am so proud of you all, I get to be a cheerleader as well in this. And I have to tell you, as a first-generation college student who knew nothing about research, it was transformative to my life.
"Watching you all at this point in your careers, I am in awe that you're just getting up here so seamlessly, talking about research that is still probably a little unfamiliar to you — you're being guided by remarkable faculty — you just spoke with competence and with ease. And so we're just so proud of the research that you're doing."
For Latasha Taşci, coordinator of undergraduate research in the Office of Scholar Development and Undergraduate Research, seeing and hearing from the students in person was important.
"It was inspiring to hear how excited students were to present in person," Taşci said. "Some students have been actively engaged in research for several years now, but have not yet had the opportunity to present in person."
Involvement in undergraduate research equips students with a broad skillset, she added.
"It goes beyond skills used directly in their project and often includes life skills, as well," Taşci said. "It encourages creativity, problem-solving and critical thinking. It empowers them by giving them confidence in themselves. They have the ability to do actual research that can have an impact, and that in itself is empowering."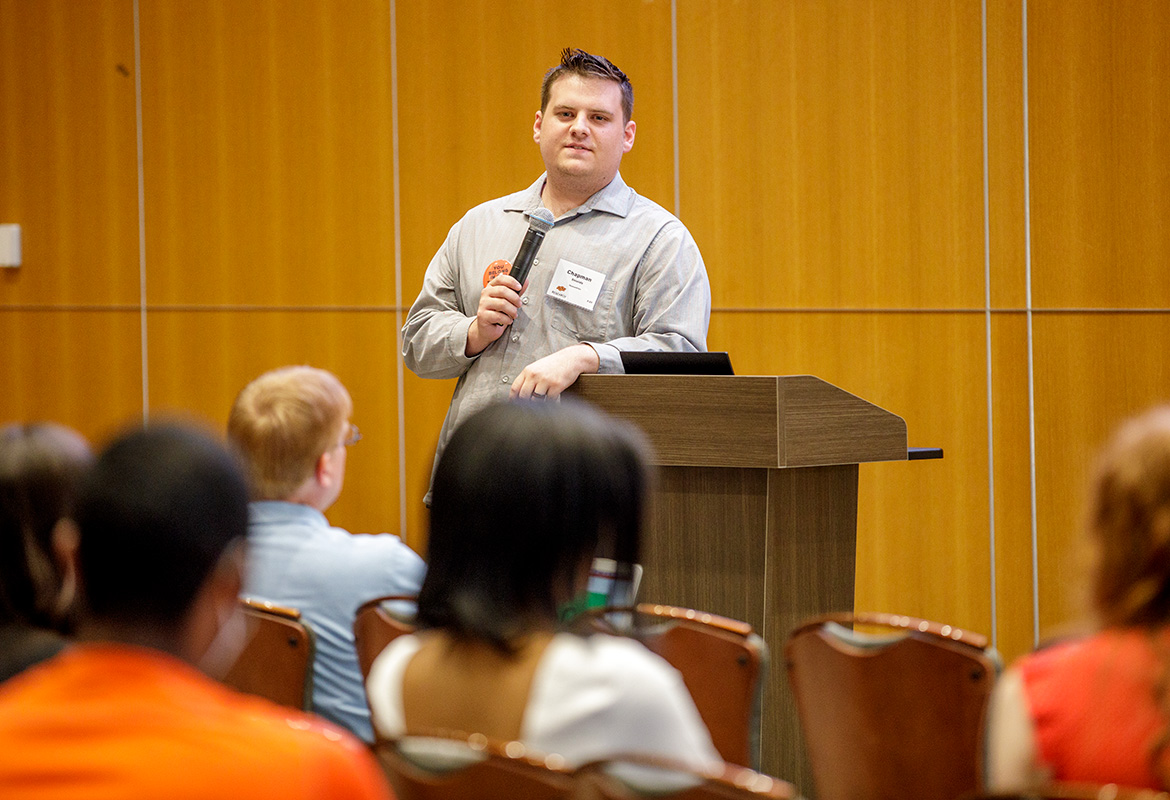 Members of the Freshman Research Scholars Program presented at their symposium on April 8 while the Wentz and Purdie Research Scholars Symposium was held on April 15. These are focused on participants of formal scholarship programs.
However, many of those scholars were also present at the campuswide Undergraduate Research Symposium, which was intended to highlight student research across campus.
The Undergraduate Research Committee has plans to grow the event in coming years.
"Next year, we hope to have awards for Outstanding Faculty Mentoring of Undergraduates in Research," Johnson said. "Drawing upon award guidelines and criteria from the National Council on Undergraduate Research, we envision multiple award recipients across our broad disciplinary categories."
This symposium and others like it across the university continue to provide opportunities for students to grow, learn and demonstrate their expertise.
"The symposiums provide forums for students, faculty and the community to share in the research, scholarship and creative activity of our outstanding OSU students," Johnson said. "It also offers the opportunity to examine the connections between research and instruction."