President Shrum makes personable impression in first year at helm
Friday, July 1, 2022
Media Contact: Jordan Bishop | Editor, Department of Brand Management | 405-744-7193 | jordan.bishop@okstate.edu
President Kayse Shrum has worn many hats, both in her career and in life, but her focus always comes back to people.
A recurring takeaway for those who have interacted with Dr. Shrum is her kind and approachable demeanor. On the anniversary of Shrum's first year as president of Oklahoma State University, students, friends and acquaintances have shared stories about her — some touching and heartwarming and some comedic.
Rep. John Talley, who represents District 33, has known Shrum since she was president of the OSU Center for Health Sciences. Talley said he used to bring students over to Tulsa and Shrum herself would lead the tours.
When Shrum became president of the OSU system on July 1, 2021, Talley reached out to see if her and First Cowboy Darren Shrum would speak to students at a Fellowship of Christian Athletes meeting. The duo, both former athletes themselves, agreed.
"She opened her heart up and told them how she felt about kids and how important they were," Talley said. "She answered questions for them. And Darren got up there and talked as they just went back and forth about dating and relationships. It made them feel like real people."
Talley said he has seen the Stillwater community embrace the Shrums since they came to the OSU campus.
"I've brought several groups of people to the campus, and they said it was the friendliest campus they had ever been on," Talley said. "And they've been on lots of campuses across the United States. And so to me, she has made the campus feel very welcoming by the way she has treated people. She walks the walk. She not only says she cares, but the way she acts shows that she cares. I think that is trickling down to everyone."

Speaking of walking the walk, Shrum has become known for her fashion sense, something the Department of Design, Housing and Merchandising tried to tap into this year. During the annual Euphoria Fashion Show, Shrum modeled a design from student Carson Scott.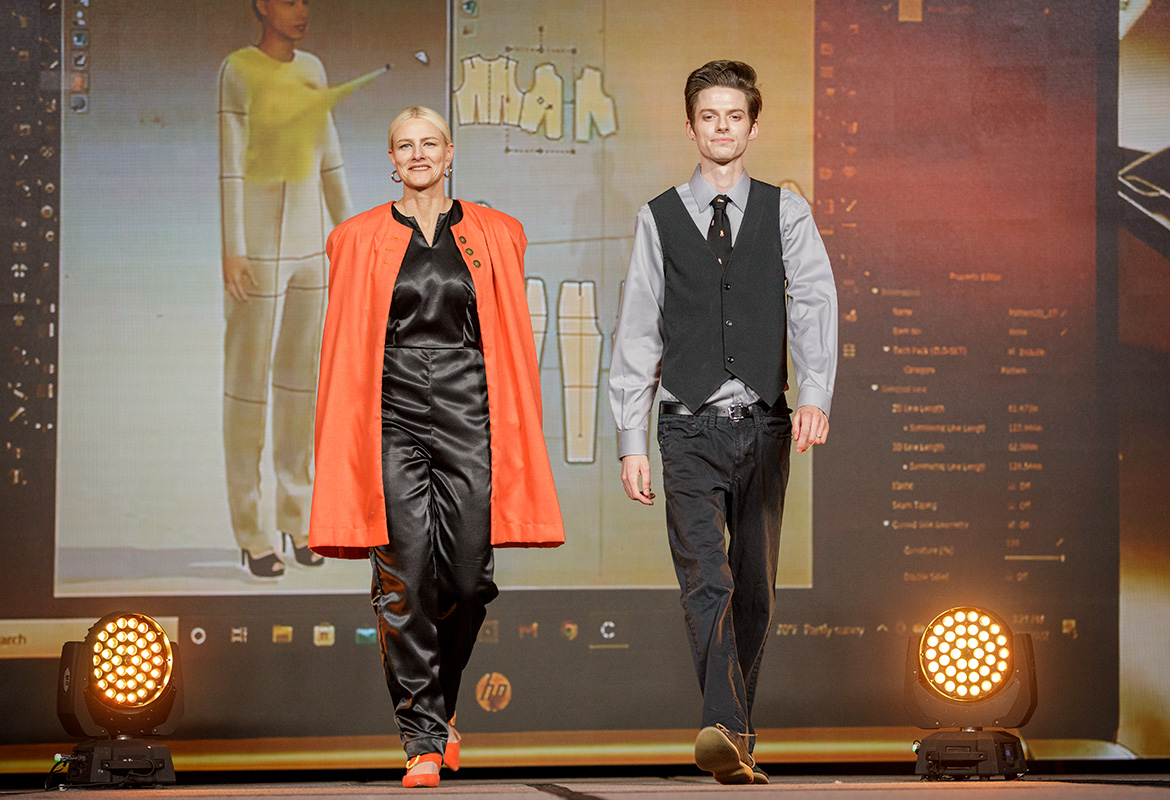 Scott created a 3D scan of Shrum when designing the outfit — a rare opportunity for students to design a garment using a live model.
"To have her as my very first live model was an incredible opportunity," Scott said. "Kind of a once-in-a-lifetime opportunity honestly to have the president of the university be the first person that you're modeling something for."
When he first received the assignment, Scott said he was nervous. He didn't know much about Shrum. That changed quickly.
"The moment I met her, all my worries just kind of fell away because she was so nice and just so kind," he said.
On the night of the fashion show, Scott was anxious, but Shrum was there to offer encouragement.
"I have stage fright and she sensed that so she gave me some advice to just look into the crowd and to see just one person smiling and focus on them," Scott said. "... That little advice really comforted me while I was out there on the stage, and honestly, she's just a really nice person. She's so approachable."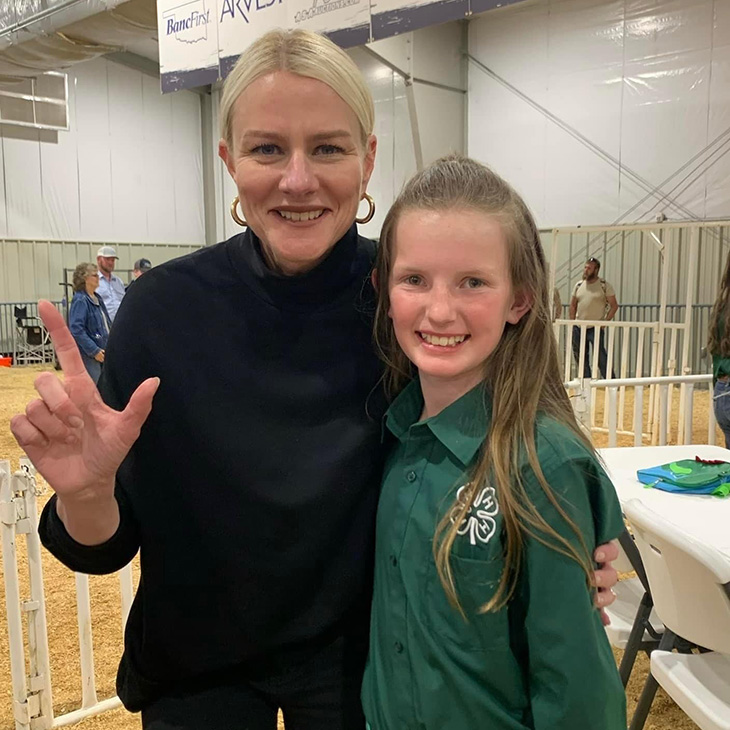 It wasn't the first time during the year that Shrum's fashion sense led to new connections. When she was at a regional cattle show in March, Shrum met Muskogee County 4-H Club member Alyson Dillingham. The 10-year-old had modeled her hair after Shrum's now iconic style.
Dillingham said she wears the "Shrum bun" at every cattle show and loved meeting her role model.
"She's a great woman," Dillingham said. "She inspires people. She wants a better future for everybody."
Always quick to lend a hand to those in need — no matter how big or how small — Shrum made a graduating senior's day when she lent her heels for a photo shoot.
Jami McKibbin was on campus taking pictures one spring day when Shrum approached her and started to chat. McKibbin complimented her orange heels when Shrum asked the marketing graduate what her shoe size was.
"You don't expect something like that from her," McKibbin said. "She gave me her shoes for the photo. It's just something that somebody wouldn't just do."
It wasn't just the shoes that made the moment unforgettable for McKibbin; it was also the conversation that followed.
"She had asked me a couple of questions about myself and what I was doing after graduating. She genuinely seemed interested," McKibbin said. "I feel like she obviously had somewhere to be, right? Something much more important to be doing. It felt like she was genuinely asking these questions and wanting to hear the answers and was actually listening to me, which was refreshing, especially from the president. So that was really cool. She actually wanted to hear what I was telling her."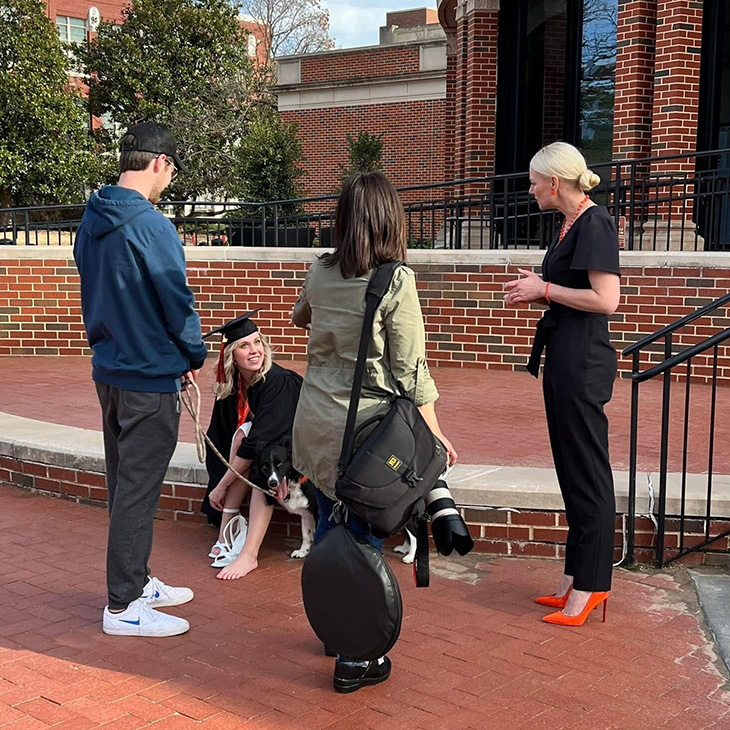 Madison Ramming worked closely with the president and First Cowboy as a student intern. A recent graduate, she said her experience working in the Office of the President was both enlightening and exciting.
Ramming, who aims to attend OSU-CHS in 2023, had the opportunity to talk with Shrum on several occasions about getting ready for a career in medicine. A 1998 graduate of the OSU College of Medicine, Shrum holds a doctorate of osteopathic medicine and specialized in pediatrics before joining the OSU faculty as an assistant professor in 2002.
"She's also just super easy to look up to. Her journey throughout college and medical school and becoming Oklahoma State's first female president, she's super awesome," Ramming said. "And I love picking her brain. She is genuinely nice and helpful and really took time out of her day to let me go in there and ask silly little questions."
Don Kyle, CEO of the National Center for Wellness and Recovery, said Shrum's medical background sets her apart as a university president. Kyle has known Shrum since her days at OSU-CHS and said all the personality traits people are learning about now have been known to the medical community for years.
"She knows how you incubate innovation and how to motivate scientific discovery, all those types of things," Kyle said. "She's got a great instinct for people and sciences and medicine and a real passion for putting it all together."
Kyle first reached out to Shrum by email when she was OSU-CHS president. He did not expect a swift response.
"Maybe I might get a note from an assistant about scheduling and stuff like that, [I thought]. She emailed me back within like 15 minutes. And it was personally from her," Kyle said. "It kind of blew me away, because I come from a corporate background, and that usually just doesn't work that way. But that really revealed to me her level of engagement and involvement."
"She's out front, she's wearing the orange, she's doing the right thing. She's promoting the school, she's promoting the state and her recognition in the state is pretty good. I think she's gonna make a difference because she's personal."
— Michael Hyatt, OSU donor on President Kayse Shrum
Shrum's medical training also came into effect at a Brighter Orange donor event when a woman fell over and hit her head on the floor.
Rae Hyatt, spouse of OSU alumnus and donor Michael Hyatt, was unconscious at one point. Shrum ran over to check her pulse and provide assistance until Rae regained consciousness.
"She just took over and made sure everybody cleared out, got space and called 911," said Michael, a 1967 graduate and Spears Business Hall of Fame member. "She was watching over every minute. Rae blacked out for a bit, so it was kind of scary for a little while. But Shrum confirmed she had a pulse, the whole deal. She didn't forget her medical training. So I think that that really convinced us that she does take a personal approach to anything that's in front of her."
Michael, who serves on the OSU Foundation Board of Governors, said he has been impressed with Shrum since they met.
"She's out front, she's wearing the orange, she's doing the right thing." Michael said. "She's promoting the school, she's promoting the state and her recognition in the state is pretty good. I think she's gonna make a difference because she's personal."
Outside of the office, Shrum became involved with many student projects. For Veterans Day, she worked with a few students seeking to promote their Cowboys for Veterans bag program.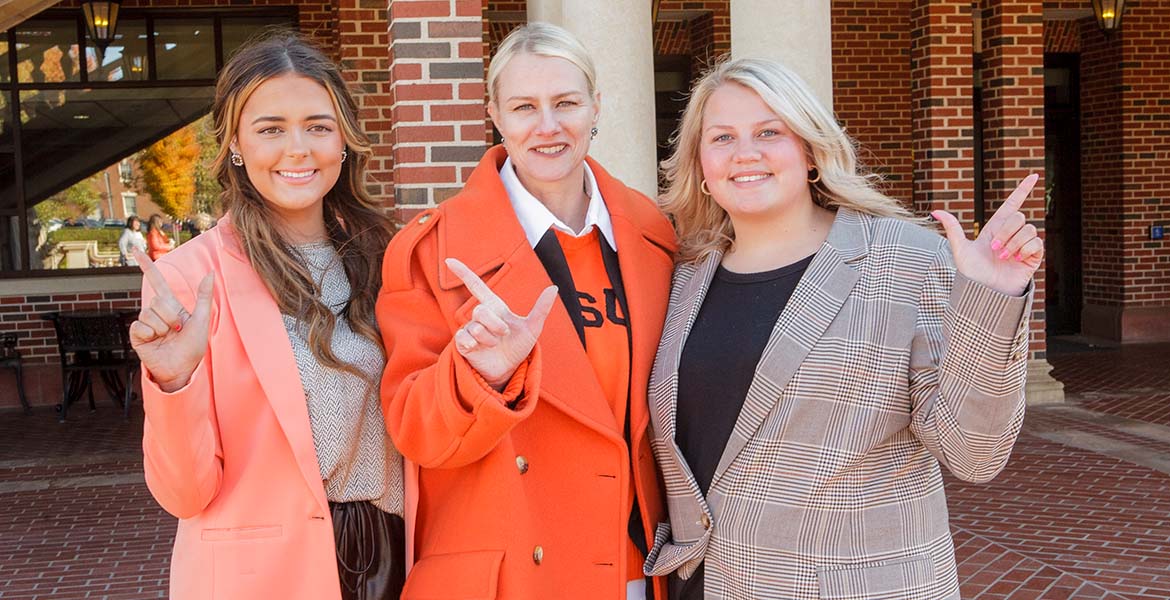 Ashlyn Oliver emailed Shrum thinking it would be a long shot, but within a couple of days Shrum was fully committed.
With Shrum's father being a Vietnam veteran, the project really spoke to her. Oliver met with Shrum and saw her passion for helping veterans firsthand.
"Everyone loves her," Oliver said. "And I've always thought she just has such a mom characteristic of caring and just being that mom when everybody's away at college and might not have their mom right with them or might not have a motherly figure in their life. And she has nailed that down to a 'T' just walking into the room. Not being higher up than anybody, just simply talking like you're at a dinner table.
" I've never once felt less than her or belittled by her. It's always been very casual and welcoming with her."
Addressing the crowd at Gallagher-Iba Arena during freshman convocation in 2021, Shrum made an impression on countless members of the Cowboy family. One such Cowgirl was Coralee Castle, a rodeo team member who was still getting used to campus and didn't know OSU had named a female president.
"I saw her there. And I was like, 'Oh this lady's so cool,'" Castle said. "I'm going to be here for four years so I really hope one day I might get to meet her."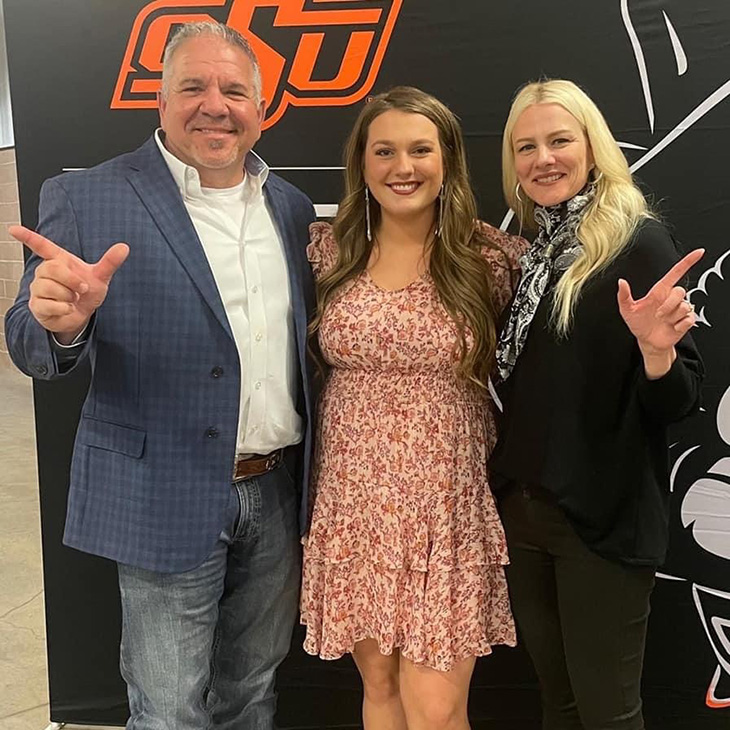 Castle got her wish at the Cowboy Stampede, Stillwater's annual hometown rodeo. Castle walked up to Shrum and introduced herself, launching a conversation about classes and medical school.
Shrum tracked down Castle's phone number and invited the freshman to her home for Bible study. Right before her scheduled visit, Castle came down with pneumonia and the rodeo team lost its assistant coach, Lariat Larner, in a tragic car accident.
Shrum made sure to check in on Castle and told her the invitation still stands.
"I went to their house and I knocked on the door. She answered the door and she said, 'Oh my gosh, we're so happy you're here,'" Castle said. "I was there for the Bible study. And she said the Bible study got canceled, but they were celebrating a birthday instead so she invited me in to meet the family. I met everybody there.
"As I was sitting there having dinner, I thought 'Whose birthday?' I could not figure it out and Darren goes, 'OK, let's have cake and sing happy birthday.' I think, 'Oh my gosh, I'm going to figure out whose birthday it is.' They walked over and sat the cake down in front of her. And I knew I had accidentally showed up to her birthday party. So that was the first time I met [the family] in person, and the relationship kind of just grew after that."
Castle said she never expected to develop such a relationship with Shrum, but it's one she treasures.
"Young girls, and just young adults in general, we look up to these people. Maybe we see them on social media, or see them on the news or something like that, but getting that kind of one-on-one contact is special," Castle said.
The day Castle first saw Shrum at freshman convocation, game day host and OSU hype man Les Thomas introduced Shrum to the crowd. Thomas said getting to know the Shrums has been a highlight of his time at OSU.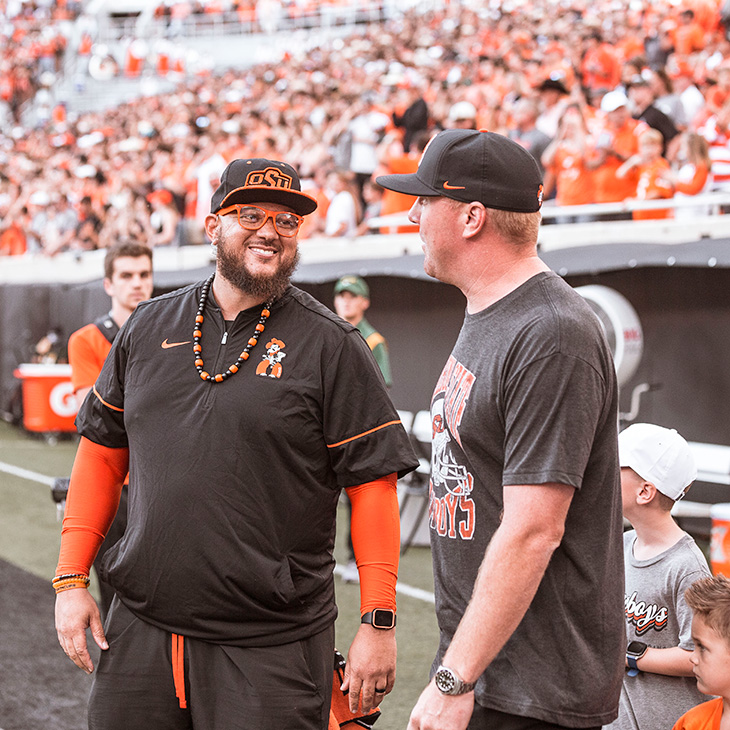 "Really the biggest thing is that she's down-to-earth, transparent and even vulnerable," Thomas said. "She opens up and at that level, it's kind of hard to really be transparent because you're judged so harshly, being in a leadership position that high, but I've noticed that she's transparent. That's a great quality to have. That makes people cheer for you. That makes people want to see you win."
Thomas said being that personable is crucial for a modern university president, because students respond well to a president they can relate to.
"You have to have someone relatable, someone who can understand the importance of the now, but also at the same time understand the future," Thomas said. "Dr. Shrum is that president. I would vote Dr. Shrum for president of the United States of America."
Thomas said seeing the Shrums at athletic events throughout the year is just one of the many ways they show their support for the university.
"The fact that they're at as many as they can shows that they understand the position they are in for the people, for the students, for the fans, for the staff, and it automatically gives the fans and players a boost of energy to see their support," Thomas said. "The support is everything because as a leader, for them to come to you, and to do it often, it just helps the energy in any facility that they come to."
Student-athletes, like Malcom Rodriguez, have noticed that support on and off the field. He said it's nice to see the orange power couple revisit their own athletic roots. Shrum was a pitcher at Connors State College in Warner, Oklahoma, and Darren played football at the University of Central Arkansas.
"Darren played college football, so for him to come watch the game and be on the sideline was awesome," said Rodriguez, who was drafted by the Detroit Lions this spring. "That's one of the things, this guy, he's really involved with the team and Kayse, the same with softball, throwing out the first pitch. There's stuff like that. All the fans and the community of Stillwater love stuff like that. So I think it's just one of those things where she's going to be around for a long time, just being involved with the community, and everyone's going to love that."
Rodriguez also enjoyed chatting with the Shrums about growing up. He was raised in Wagoner, Oklahoma, just 16 miles away from Shrum's hometown of Coweta.
"They're fun to be around," Rodriguez said. "They're a great couple. So, every time I talked to them, it just felt like talking to a friend, just someone back home, not the president."
Cowboy basketball senior Kalib Boone said he appreciated how the Shrums saw him as more than an athlete.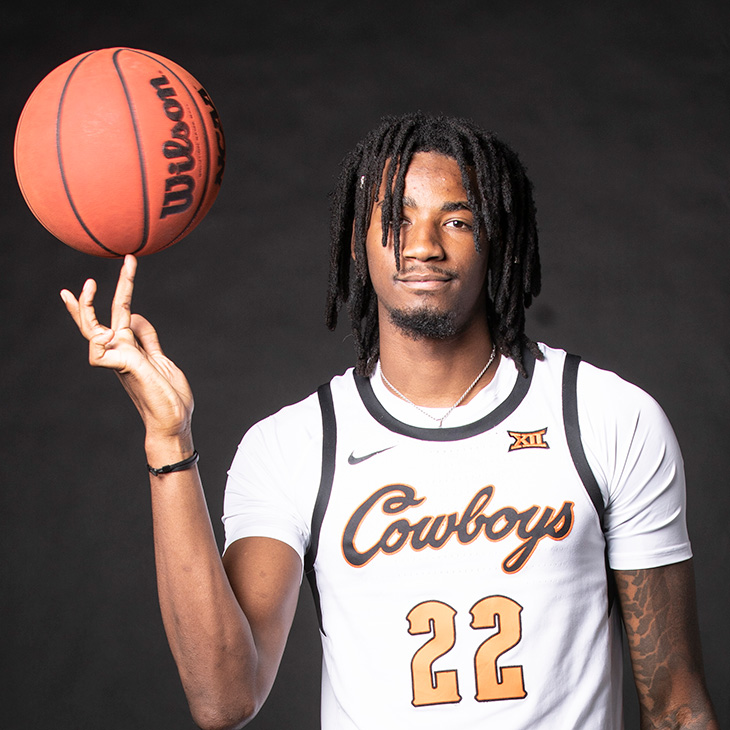 "It's a great feeling, honestly, because like most athletes, you go through the, 'Oh, he's an athlete, athlete, athlete, athlete.' You are labeled as just a basketball player, football player, baseball player, it's always just that sport," Boone said. "But when you get the president talking to you and she knows how you are doing, and talks to your coach and everything like that … it shows they care more about you as a human being than just entertainment."
Boone said he is excited to see what Shrum can do in the future after seeing the success of this first year.
"They have done a lot in the matter of one year and it has been all for the good," he said.
When Regent Rick Davis and the rest of the OSU/A&M Board of Regents named Shrum the president-in-waiting in April 2021, they were confident in her ability to lead.
"I always knew that she had great vision," Davis said. "And she had the ability to develop a strategy because you can just look at her career and see that she can develop a strategy to attain that vision. But then what separates her from a lot of people, she has the ability to either acquire resources or to gather talent, and people that are needed to make that strategy come together."
Though it has been a busy first year for Shrum, Davis said he thinks it has helped her grow as president.
"She has grown in my opinion in so many areas, but in one area in particular: I think she's really learned the value of reaching out to all the constituencies, whether it be faculty, students, staff, our board. I mean, she takes the time to listen as she develops this long-term strategy for the institution," Davis said.
Dr. Gina Peek, former Faculty Council chair, said she first met Shrum during the presidential interview process and was impressed by her candor.
"I really appreciate how she speaks in a group. She's very careful," said Peek, interim associate dean of extension, engagement and continuing education for the College of Education and Human Sciences. "I think she weighs her words carefully. And I really appreciate that. And she's thoughtful, which is probably the first thing that comes to mind. I feel like she cares very deeply and it comes across to me."
Peek said she is looking forward to all Shrum can do in the future, as well as continuing to see her inspire those around her.
"We cannot overlook the fact that she's our first president who is a woman," Peek said. "I support her 100%. She is making statements and she is making a place for other women to feel like they can be women in leadership.
"She is a role model. She's for the next generation. I think that her leadership, [and her goal to make OSU] the premier land grant university, is something that we should all embrace and work toward. She is setting the stage for that."