Solving the puzzle: Boyntons balance parenthood with full work schedules
Friday, June 17, 2022
Media Contact: Patrick Osborne | Assistant Director of Athletic Communications | 405-744-7714 | patrick.osborne10@okstate.edu
Mike Boynton learns a lot from doing a jigsaw puzzle with his family.
One of his favorite activities from the man who claims he doesn't have many hobbies, puzzles became quite the bonding activity in the Boynton household during COVID-19 lockdown.
"You know, a puzzle can tell you a lot about people," said Boynton, Oklahoma State University's men's basketball coach. "Sit down with your family and do a thousand piece puzzle. You can learn how people think, how quickly people get frustrated. It's pretty interesting. But we kind of rallied around each other during that and it was pretty fun."
Boynton said he knows he was fortunate to enjoy that time with his family during a time of uncertainty for many. Getting to hang out more with his wife, Jenny, and their two kids — son Ace and daughter Zoe — are moments he always cherishes.
For Mike and Jenny, working full-time athletics jobs at a Division I university along with raising two children has been a bit of a puzzle itself, but the two always make sure to fit all the pieces of their lives together.
The two met while Jenny was a dietitian and Mike was an assistant coach at the University of South Carolina. In May 2011, they married and shortly after, welcomed Ace into the world.
A little after that, the double life of being a coach and a parent started to cross over. Mike lost his assistant coaching job at South Carolina. The family was carpooling everywhere and uncertain of what the next step was.
Jenny and Mike talked, deciding on moving the three of them to Texas for Mike's career. He had received a job offer from Stephen F. Austin State University in Nacogdoches.
"It was a challenge because we didn't have any family," Mike said. "We had never lived in Texas, we never really spent time there. And Jenny uprooted herself and a 5-month-old at the time, to a place where she didn't have any friends, didn't have anybody to help her with the kid and it was hard."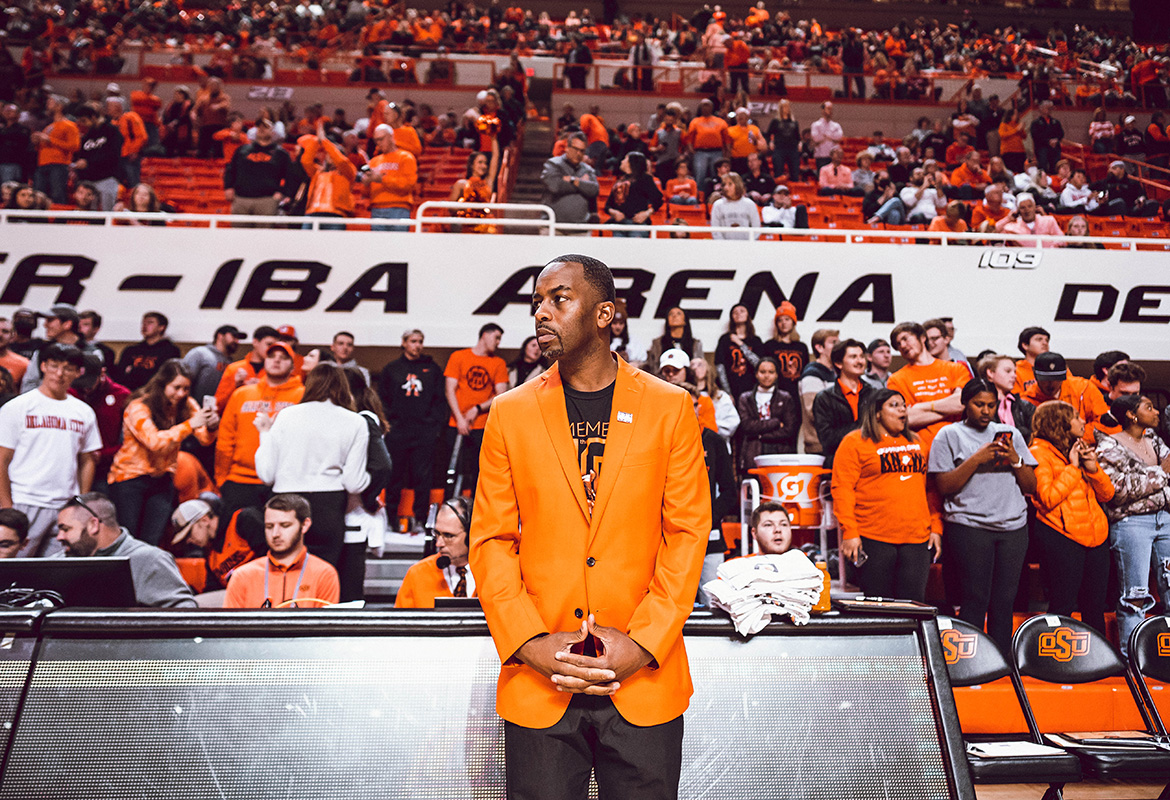 Jenny, a sports nutritionist at OSU, said after settling in at SFA, her parents along with Mike's parents and sisters were able to come down and help out when Ace was young and when Zoe was born. It really demonstrated the importance of family in the Boynton's lives.
Both Mike and Jenny had been prepared for the constantly changing locales of being involved in athletics, so over the years, Ace and Zoe have learned to enjoy the travel.
"I think it comes pretty natural again to us, because we've moved around so much our whole lives. I'm from Michigan, went to Virginia, down to Florida, South Carolina. He's from Brooklyn," Jenny said. "We've just grown our network of friends and connections through every place that we've been. So it's more of a new adventure, new journey, how's this all gonna play out and we look forward to the unknown in that. I think with the kids, we've kind of instilled that wherever we go, we make new friends. And we have old friends of where we came from.
"... It's a fun journey of where we are going. So I think that helps and they're just great kids, they go with the flow. They're easy. They sometimes sleep better in hotel rooms than they do at home. I mean, they just roll with it, too. They're a blessing."
Ace and Zoe have always been used to the basketball lifestyle. During a 2014 NCAA Tournament game, SFA went into overtime against Virginia Commonwealth University in a game the Lumberjacks would eventually earn an upset. The crowd in San Diego was going insane and meanwhile, Ace was sound asleep.
"It lulled him to sleep," Jenny said. "That was a very vivid memory, like the sounds, the noise, it's just part of what we've done. He was born when March Madness was on, he's always heard the shoes squeaking and whistle blowing."
A few years later, Zoe did the same thing at the Big 12 Tournament in Kansas City, Missouri. The fans were going crazy and there laid Zoe, eyes closed, undeterred.
Those first few years when they were really young, it was sticker books and snacks that kept Ace and Zoe preoccupied during the games. Now, they are both fully invested.
"It's fun, Ace is into the game, wears the jerseys, knows the stats," Jenny said. "And Zoe's getting there. She can last pretty good up until about halftime and then we kind of tap out but Ace is into it. He knows the guy's shoes, numbers, jerseys, the whole thing."
While basketball and athletics are obviously important to the Boyntons, they try to ensure Ace and Zoe have as much as a well-rounded upbringing as they can. It's something both Jenny and Mike learned from their own childhoods.
Jenny came from a long line of single child families. Her parents, Nancy and Brian Hill, were extremely supportive of her. Whether it was sports in the backyard or just for a shoulder to cry on, Brian was a rock for Jenny. She sees those same qualities in Mike.
"I think that resonates with both of them, I think to me more than anything else is that they're just stand up guys that will be there for their family, for whatever is needed," Jenny said.
With Nancy being a special education teacher and Brian working as a social worker for the state, Jenny realized her parents knew pretty much everyone, so it was a no-nonsense upbringing. But they made their support clear. When she started playing volleyball on scholarship at Virginia Tech, Brian and Nancy drove to every home game to see their daughter.
"... I know the power of education. My parents were quite limited in their opportunities because they weren't as educated from an academic standpoint. I have seen how my life has taken off in a different way because of the access that I had. So I have a true understanding of the value of it. And that we want the same for our kids."
- Mike Boynton, OSU men's basketball coach
While the size of Mike's family was anything but the same, that tandem of accountability and support was still present for Mike growing up in Brooklyn.
Millicent Boynton is the youngest of 10 children while Mike Boynton Sr. is the middle child of nine. Millicent worked a number of retail jobs and Mike Sr. was a runner for Charles Schwab on the New York Stock Exchange on top of a myriad of other jobs. Together, they made ends meet.
Although Mike Jr. grew up poor, he said he never knew it because of the love his parents gave him and his four sisters.
"We had all the things that we needed, for the most part. We just didn't have any extra, which is fine," Mike said. "But now I can appreciate having things because I know what it was like to not have to have stuff and to be able to provide those same things to my children, but still give them those lessons about how you never want to get caught up in money and status and stuff like that. It's being a good person, treating people the right way, working as hard as you can. And over time, good things will happen for you."
Millicent and Mike Sr. strongly encouraged education in their household. Mike Jr. took every opportunity he could, eventually earning a basketball scholarship to South Carolina. He became the first in his family with a college education.
"I view myself as a lifelong learner," Mike said. "And I try to impart that to my kids. They don't always believe in it because I'm like, the corny old man. My daughter is adamant that every day, she has to tell me that I'm 40. Like her announcement to anyone she's around, 'Dad you're 40, I can't do that with you.' But it's cool to me, because I know the power of education. My parents were quite limited in their opportunities because they weren't as educated from an academic standpoint.
"I have seen how my life has taken off in a different way because of the access that I had. So I have a true understanding of the value of it. And that we want the same for our kids."
Mike and Jenny enjoy helping Ace and Zoe with their homework, along with seeing them always learn new things. On a recent trip to Houston for USA Basketball, Jenny took the kids to museums all over the city. Mike said Ace is probably in the top five in the country in terms of museums visited.
It's not only museums Ace and Zoe enjoy, but the two have been to zoos in almost every city they have been to.
"Zoe loves all animals, she thinks she's like a vegetarian, but she doesn't realize that chickens are also animals because she likes chicken," Mike said. "But she will say, 'Don't kill animals, don't kill bugs.' And I say, 'It's a mosquito, it will bite you.' But she wants to save it. She saves the flies around the house and is super earthy, very conscious that way."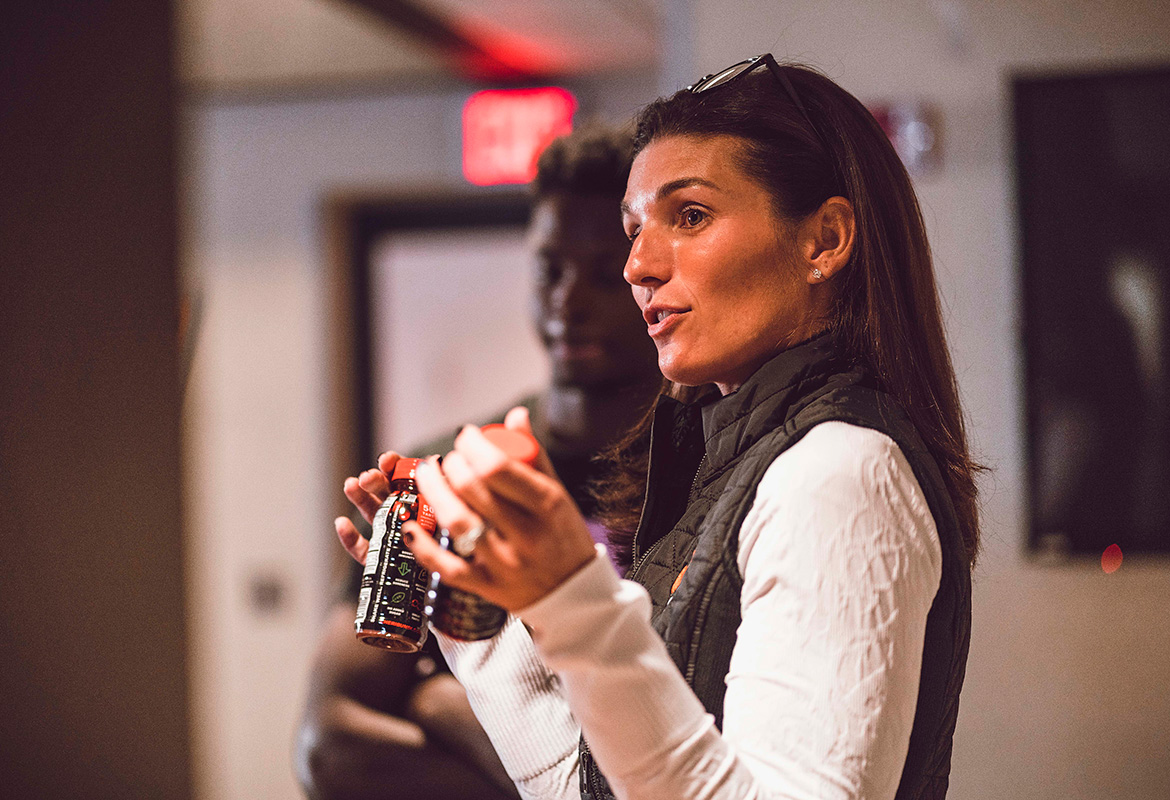 Zoe, who is going into second grade, is currently interested in being a veterinarian. Ace, who will be a fourth-grader in the fall, has a new topic he is interested in every week, but Mike thinks he could be an engineer or architect based on all of his Lego sets he has built.
Mike loves to read and hopes to have imparted that fervor into Ace and Zoe. Ace's current favorite books at storytime are the Diary of the Wimpy Kid and Big Nate book series.
"So, we're not reading To Kill a Mockingbird, but I think there's a seed planted," Mike said. "Everything starts from a grassroots development standpoint. And that exposure is something that hopefully will grow and they won't dread reading when they have to read To Kill a Mockingbird or about World War II in 10 years."
Jenny and Mike aren't only parents at home, but they have become parental figures for all the OSU student-athletes they interact with day in and day out.
For Jenny, it's seeing students from every sport in her nutritionist role and trying to keep them on the right track.
"How do we manage just those aspects of emotions with food and make sure that we're doing it in a happy performance-based kind of way?" Jenny said. "That has always just been what I've really, really enjoyed to do. So I think the kids give me some enjoyment in trying to help them figure it out."
For Mike, he enjoys seeing someone come in as an 18-year-old kid and leave as a man who has grown up in their time at OSU. Sometimes, it isn't easy. Just like being a father, Mike has to set the right example, even if it isn't an easy choice.
"Sometimes it requires us not playing as well, because we've got to make sure that these kids are learning some lessons that don't necessarily equate to winning," Mike said. "But I believe if you get that part right, then ultimately, we're successful.
"We may not win as much as people hope, even as much as I hope, because I want to win every game. But I don't want to sacrifice the really, really important work that I have to do in terms of helping these people become responsible adults along the way."
Coaching the Cowboys consists of a lot of long days, but Mike feels like it is all worth it when he gets to go home to his family, who has been on this journey every puzzle piece of the way. His quest to being a great father wouldn't be possible without Jenny being the exceptional wife and mother she is.
"For me, the only way any of this works is I have a great partner. And there's a lot of times that I miss school things, recreational activities, dinner time, bed time," Mike said. "Because I have a great wife who is understanding, flexible and able to handle it all, I kind of get a pass to be able to do my job effectively. But then when I'm there, they make me feel like I'm special and welcome.
"... Any coach would tell you, if you don't have a great wife, this job's impossible. So I've been really, really fortunate."
Story By: Jordan Bishop | jordan.bishop@okstate.edu