2023 Miss Black OSU crowned
Monday, February 27, 2023
Media Contact: Jordan Bishop | Editor, Department of Brand Management | 405-744-7193 | jordan.bishop@okstate.edu
Donning an elegant green ball gown, Kerri Benard was crowned the 2023 Miss Black Oklahoma State University on Saturday night in the Student Union Theater.
An OSU senior, Benard is a psychology major and competed against one other contestant in six categories: private interview, platform, cultural wear, talent, evening wear and extemporaneous question.
The night was a celebration of Black history and culture, with Black history trivia for the audience and a cultural wear contest that honored influential Black women Whitney Houston and Serena Williams.
Judges for the event included Karen Wilson, program coordinator for the Center for Africana Studies at OSU; Kirstin Sylvester, a third-year counseling psychology Ph.D candidate at OSU; and Dr. Devan Moore, assistant director of bands and assistant director of the Cowboy Marching Band.
"I've been excited since the moment I woke up this morning," Benard said. "I knew no matter what the outcome was I would have a great time."
Included in the yearlong reign, Bernard won a $1,500 scholarship and will advance her platform, The Melanin Movement, which will examine the representation and preservation of Black culture and identity on campus.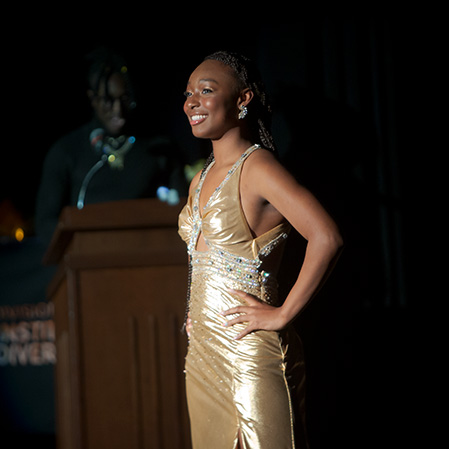 "I'm super grateful," Benard said. "It's incredibly honoring to be a part of this legacy and continuing to build the history that we have here at OSU."
Michaela Parnell, a 2022 contestant and second runner-up, hosted the event and also is on the planning committee for the scholarship pageant.
"This event means everything to me," Parnell said. "This was the first event where I was able to connect with people and feel a sense of belonging. It was such a joy to come back and be able to host it and feeling a sense of nostalgia."
At the end of the night, reigning Miss Black OSU Bobbi Jarmon took her final walk and crowned Benard. Jarmon is also the pageant coach for the event and on the planning committee.
Runner-up Daisha Blation will receive a $500 scholarship.
Story By: Olivia Trolinger | olivia.trolinger@okstate.edu