Boeing partners with Choctaw Nation of Oklahoma and OSU to advance STEM education from space
Friday, November 17, 2023
Media Contact: Kurt LaBelle | Boeing Communications | 314-683-8089 | kurt.j.labelle@boeing.com
Choctaw Nation of Oklahoma heirloom seeds will fly to the International Space Station as part of a partnership with Boeing.
The seeds will be planted and studied upon their return by Native American youth at a CNO boarding school and incorporated into a middle school STEM curriculum at Oklahoma State University.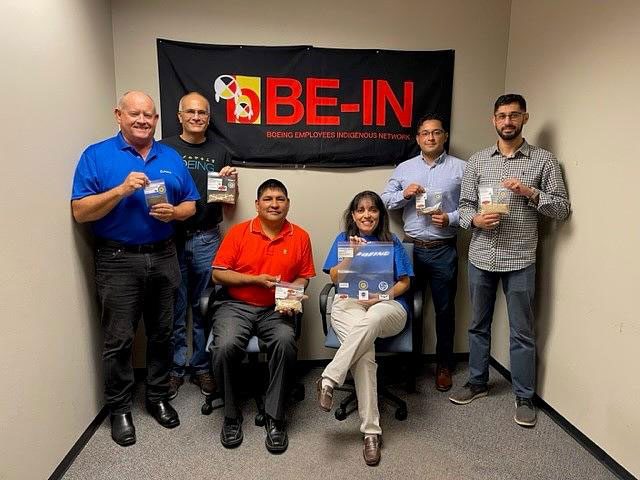 The history of Choctaw heirloom seeds is deeply intertwined with the culture and agricultural practices of the Choctaw Nation, a Native American tribe originally from the southeastern United States. Heirloom seeds refer to seeds that have been passed down through generations, often preserving unique and culturally significant varieties of crops.
In 2018, Boeing announced a partnership with the CNO to help advance science, technology, engineering and math education along with workforce development opportunities in aerospace and technology.
After the seeds have flown on the space station for several months, they will return and be planted at Jones Academy, a boarding school for Native American youth in Hartshorne, Oklahoma. The seeds that flew in space will be grown in a CNO Growing Hope garden next to the same type of non-flown seeds. The Jones Academy students will make a prediction about the growth of the two groups of seeds and make scientific observations during the plants' growing season in order to test their hypothesis.
The story of the seeds' travel and stay on the space station, and the results of the students' experiment, will be incorporated into the middle school earth-sky STEM curriculum being created for the NASA Science Activation program Native Earth | Native Sky at OSU.
After the culmination of the seeds' project, the curriculum will be available for free as an open educational resource in early 2024.
Boeing's Research Integration Team in Houston and the local Boeing Employees Indigenous Network, an employee-led Business Resource Group, worked together to provide the integration, safety and flight certification of about 16 ounces of CNO heirloom seeds scheduled to launch to the International Space Station in early November.
"This project demonstrates the effective use of the ISS National Lab as it elevates Native culture and voices in a society where Native populations are underrepresented in STEM fields," said Scott Copeland, director of Boeing ISS Research Integration. "We hope one outcome of this project is that more Native youth will be encouraged to pursue STEM careers."
The heirloom seeds heading to the ISS include:
Isito (Choctaw sweet potato squash)

Tobi (Choctaw Smith peas)

Tanchi Tohbi (Choctaw flour corn)

Tvnishi (Choctaw Lamb's quarter)

Chukfi (Choctaw peas)
With forced relocations, colonization and the disruption of Indigenous ways of life, many traditional agricultural practices and heirloom seed varieties have been threatened or lost. Efforts are underway to identify, collect and reintroduce these seeds into communities.
"The seeds represent centuries of Indigenous, particularly CNO, culture," said Anthony Chee, who leads the Boeing Employees Indigenous Network (BE-IN) in Houston. "Most poignantly, they represent the sustainment of life and Native culture and provide hope and embody the spirit of learning."