Firefighter Mental Health Research Receives New OSU Public Impact Research Award
Monday, October 30, 2023
Media Contact: Harrison Hill | Senior Research Communications Specialist | 405-744-5827 | harrison.c.hill@okstate.edu
Based on their research on first responders and their work-related stressors, Dr. Lindsey Greco from the Spears School of Business and her co-PI, Dr. Dale Li from Oklahoma State University's College of Engineering, Architecture and Technology, were named the recipients of OSU's Public Impact Research Award.
Their research project focused on better understanding how first responders cope with stress.
"I am deeply honored to have received OSU's Public Impact Research Award," Greco said. "This recognition serves as a testament to the dedication and commitment of our entire team and reaffirms our shared mission to make a positive impact on those who give so much to our society by working as first responders."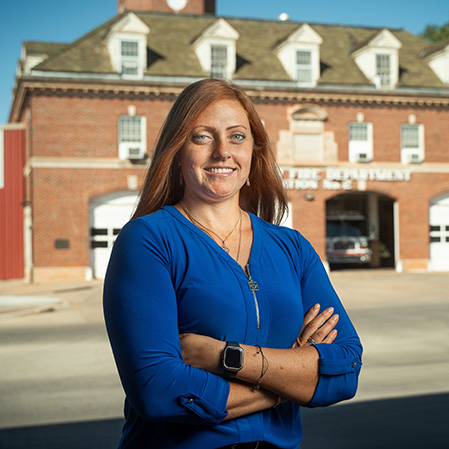 The team's research began in 2020 and involved working with multiple fire departments to determine the impact the department's culture was having on mental health and stress and identify ways to alleviate that.
"A former undergraduate student, who was a fire captain, reported in his milestone course paper that the masculine culture and several other toxic traditions in firehouses could do more harm than benefit to the mental health of firefighters," Li said. "As 100% scholars who have never fought a fire, it can be very difficult for the entire research team (David Huntsman, Greco, and I) to fully understand the challenges and struggles faced by those in the line of duty as well as those in leadership positions throughout the departments."
However, through engaging with the people facing the issues directly, the researchers were able to identify issues and present solutions. The impact of their research is clear, as the team has already seen organizations make direct changes to budgets, adjustments to department structure, and increases in attention to mental health initiatives. In addition, the research team presented at many conferences across the nation to disseminate their findings to other departments.
"Their research initiatives have created positive change for the firefighting community," wrote Jeff Matthews, Battalion Chief of the Charlotte, North Carolina, Fire Department Health and Safety Division, in a letter of support. "Their research outcomes have directly benefited the department and also have implications for firefighters and other first responder organizations across the country."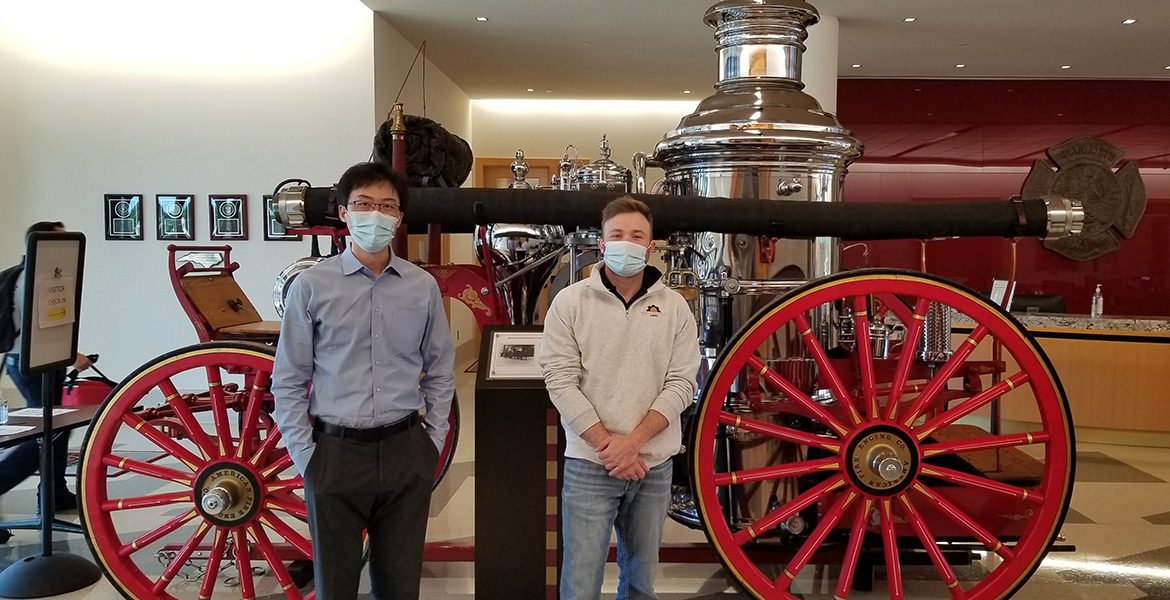 Given by the OSU Vice President for Research, the award recognizes research efforts that have demonstrated exceptional performance in the potential for public impact and community involvement.
"The OSU research enterprise is 100% committed to solving problems that matter to society," said Dr. Kenneth Sewell, OSU vice president for research. "Our Public Impact Research Award was designed to celebrate the OSU research projects and people who best exemplify that spirit of engagement and real-world solution-creation."
Greco and Li will each receive $500 in professional development funds and a plaque to be presented at the university's Awards Convocation in December.
They will also be OSU's nominees for the National Association of Public and Land-Grand Universities Public Impact Research Award
"It is a privilege to be recognized for our work, and we look forward to continuing with research that supports the pursuit of knowledge for the betterment of our society," Greco said.