Freshmen welcomed at 2023 Cowboy Kickoff
Monday, August 21, 2023
Media Contact: Jordan Bishop | Editor | 405-744-7193 | jordan.bishop@okstate.edu
Cowboy Kickoff, the freshman student convocation at Oklahoma State University, started the fall 2023 semester with a bang last Friday inside Gallagher-Iba Arena.
President Kayse Shrum led the kickoff, introducing the incoming freshmen to OSU.
"Let me tell you something, no matter where you're from, Stillwater is home and OSU will always be home to you because you are now a part of the OSU family," Dr. Shrum said. "No matter where you go, OSU is going to go with you."
Cowboy Kickoff gave students an opportunity to see what they will be walking into on Monday before classes begin. Karen Chen, the vice president for enrollment management, said the event was a culmination of great work.
"Hopefully, students will be inspired to be here," Chen said.
Incoming freshmen, after being on campus for around a week, were introduced to new friends and old traditions at the event. There was a lot of fun and energy, as well as speeches from other students. A few freshmen out of OSU's record-breaking class showed up at Gallagher-Iba, filling the floor of Eddie Sutton Court and the stands.
Chen said the faculty was excited to welcome all the students and parents during welcome week, where they entrusted their children to the staff.
"It is our goal to make sure they're well taken care of, not only in the classroom, but also outside it," Chen said. "We're excited to see what they're going to be doing in the next four years of their career."
Students felt the energy from the staff and were excited about the kickoff. One incoming freshman, Rachel Steele, said she had been feeling the love all welcome week.
"Everybody's super welcoming," Steele said. "Everybody is so nice, too. Everywhere we go, everybody says, 'Hey, what's up?'"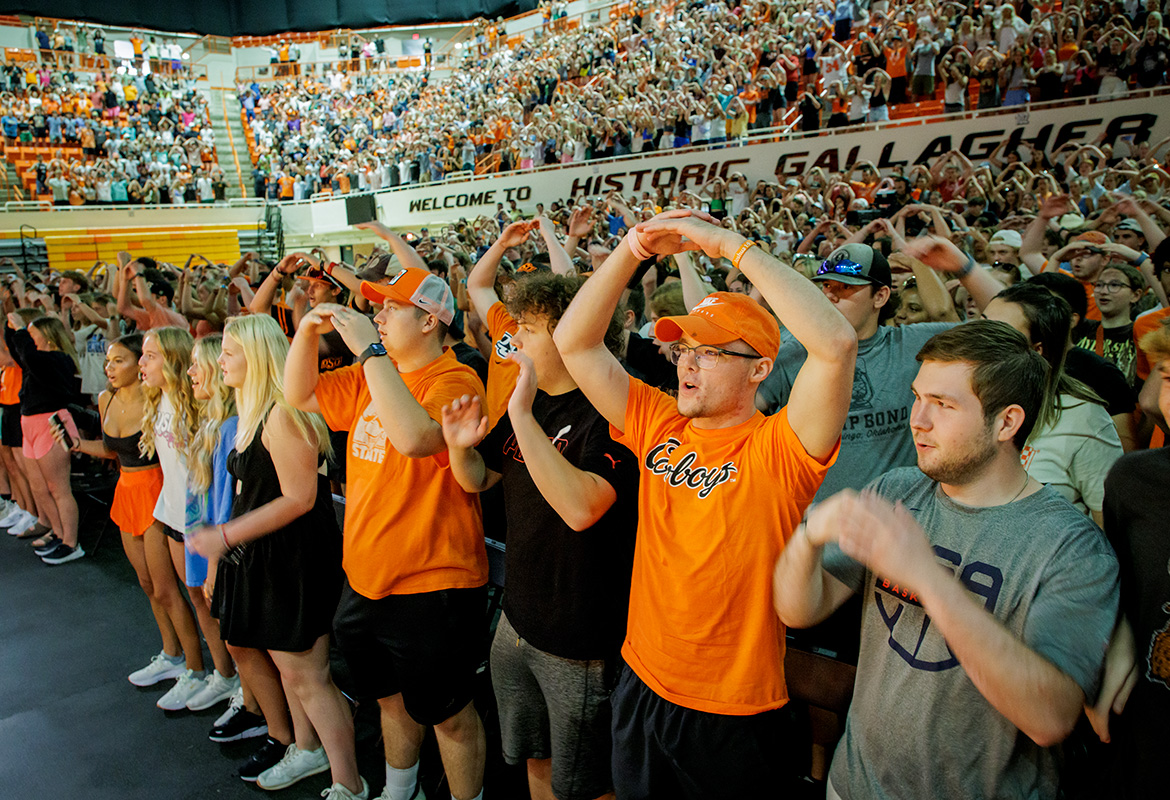 Over the summer, Stillwater tends to empty as OSU students make up nearly half the population. The town goes quiet and the OSU campus doesn't get much attention. In the past week, people have been thrilled to see the students flood back into Stillwater.
First Cowboy Darren Shrum said he was ready all summer long for the students to roll back into town.
"The energy they bring back to the campus is unbelievable, I can't wait," Darren Shrum said. "All summer, it's kind of flat around here and I can't wait until they come back. Nothing like having these guys and gals here that are just going to come and have a great time."
Story By: Mak Vandruff | makenzie.vandruff@okstate.edu