Garth Brooks returns to alma mater, shares passion for supporting student scholarships
Monday, April 17, 2023
Media Contact: Mack Burke | Associate Director of Media Relations | 405-744-5540 | mack.burke_iv@okstate.edu
Country music superstar Garth Brooks returned to Oklahoma State University for the first of two concert fundraisers last weekend to support student scholarships at his alma mater.
Joined by OSU President Kayse Shrum, Brooks spoke at a news conference Friday prior to the student-only concert at The McKnight Center for the Performing Arts, sharing his passion for OSU and supporting student scholarships the best way he knows how — from the stage.
"Our father did everything he could to get us to college. But the truth is, you know, they could barely do it. I was the last of six kids," Brooks said. "But we all got a shot to go to college either through student government loans or athletic scholarships."
Brooks also mentioned how important it was for students to not only get the opportunity to go to college but also leave debt free.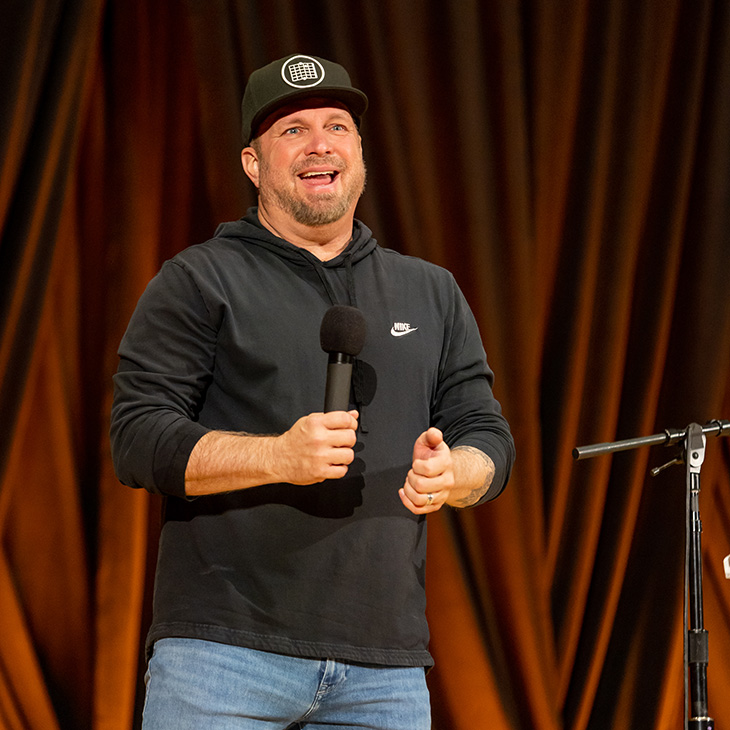 "Oklahoma State is very, I'm very proud of this statistic that over 50% of the people that come here, leave debt free," Brooks said. "And they're not happy with that. Oklahoma State's not. They want to keep pushing it up. For me, that means they have the student in mind more than the university itself."
Funding challenges and rising costs across the higher education landscape mean that access is a challenge for an increasing number of students and their families. As OSU announced in its "We are Land Grant" strategy in October, the university is enhancing its efforts to extend access by working to reduce student debt through scholarships.
"Garth Brooks personifies the Cowboy Code that we live by here at Oklahoma State University," Dr. Shrum said. "As a student, he dreamed as big as the sky, he faced challenges and persisted. And today, he is recognized, and is one of the most recognized artists in the world. And while he's a world renowned artist, here at OSU, he's family, and we are so proud of him."
The concerts raised more than $2 million, and the Oklahoma State University Foundation is working with donors to secure additional support. Shrum said scholarships will help advance OSU's land-grant mission to improve access to higher education by directly benefiting students pursuing degree programs at OSU.
"You won't be surprised to hear that when I told him that we had set an ambitious goal last year to increase student access to scholarships the first thing he asked was, 'How can I help?' Actually, the first thing he said is, 'Ms. Kayse, how can I help?' And here we are today kicking off a two-concert series as a part of a new fundraising initiative to support scholarships at OSU," Shrum said Friday ahead of the student concert.
Brooks, a 1984 advertising graduate, famously got his start just a few blocks away from The McKnight Center for the Performing Arts at Willie's Saloon on Washington Street, aka The Strip. He said Friday's fundraiser concert was the first time he had performed in Stillwater since the early 1990s. His return was accompanied by a flood of emotions.
"'I wish I was playing in big stadiums. I wish I was playing in arenas,'" Brooks recalled, remembering the time before his big break. "And then what's cool is, in a big stadium — you're playing Ireland, you're playing wherever — and these people are singing along and all you can think of is, 'I wish I was playing at Willie's.'"
Brooks' second concert — an exclusive event for alumni, donors, faculty and staff — was Saturday at The McKnight Center. It was familiar territory for him, as he hosted a special Industry Insights series last year where he shared behind-the-scenes knowledge of the music business with OSU students.
"It's great to be back here," he said.