Hollywood actor Ellis speaks about the legacy of MLK; essay and art contest winners announced
Monday, January 23, 2023
Media Contact: Mack Burke | Associate Director of Media Relations | 405-744-5540 | news@okstate.edu
Members of the Cowboy family and Tulsa Public Schools gathered Thursday night at The McKnight Center for the Performing Arts as actor Jay Ellis spoke about the life and legacy of Dr. Martin Luther King Jr.
Ellis, an NAACP award-winning actor known for his roles as Lawrence Walker in the HBO series Insecure, as well as his recent role as "Payback" in Top Gun: Maverick, was the keynote speaker for Oklahoma State University's 2023 MLK celebration week. The OSU Speakers Board coordinated the event with the Celebration Committee and the McKnight Center.
Meghan Robinson of Inside OSU held a Q&A panel with Ellis as she asked questions from the Cowboy family about his formative years in Tulsa and the impact Dr. King had on him.
"I probably wouldn't be able to sit on this stage had he not done what he did," Ellis said. "I know there's a lot of us in this room that would not have been able to be here."
Dr. King's most famous "I Have a Dream" speech given at the Lincoln Memorial on Aug. 28, 1963, demanded an end to race inequality and racism in the United States. When asked if he believed Dr. King's dream was "idealistic, or realistic," Ellis said that it was realistic.
"I work in an industry that is completely made up," Ellis said. "We always have to be seeing and believing and have a strong point of view, because that becomes your reality. Language is powerful, and when you are constantly speaking something into existence, that thing will come into existence."
Ellis said that recognition of history is important, emphasizing that even though it has been nearly 60 years since the end of segregation, there is still a long way to go for people of color in the U.S.
"I think we lose sight of humanity sometimes," Ellis said. "There are huge inequalities in a lot of places in this country and a lot of that leads back to black folks and folks of color. I think we need to be able to talk about and find real solutions for that."
Growing up in Tulsa, Ellis said that he didn't learn from school about the 1921 Tulsa Race Massacre. Instead, he learned growing up in the community around him and through his mother, who he remembers was tasked with photographing survivors for a memorial project.
"I remember that being my first real grasp of what happened, and really understanding from all their stories of how it all started and how it all ended," he said.
Ellis was also asked questions about his career as an actor and the demanding task of preparing for his role in Top Gun: Maverick, where he and his castmates had to pass a seven-hour fitness test in the water and even learned to fly aircraft. As hard as it was, Ellis said the bond he created with his co-stars kept each other going.
"When you don't want to do it and you look over to your left and right and see your castmates going through the same thing, you want to do it because they're doing it," Ellis said.
Jillian McGee, co-chair of the Celebration Committee, mentioned how ecstatic students were to have Ellis come speak, given his Tulsa roots and the layer of relatability that added to the experience.
"Our goal is to continue having impactful speakers and events in the future that encourage the OSU community to come out and celebrate our commitment to diversity, equity and inclusion," said McGee, who works in the Department of Brand Management.
A podcast interview with Ellis can be found below.
Dr. Leon McClinton Jr., OSU director of Housing and Residential Life, was the emcee of the event. Apart from introducing Ellis as guest speaker, McClinton also announced the winners of the annual student essay contest and art contest.
Essay contest winners
The essay contest gathered 32 total submissions reviewed by Matt Upson and his team at Edmon Low Library.
The prompt given to students was: "What does the Cowboy Code mean to you? How do you care for your fellow Cowboys? How do your fellow Cowboys inspire you to chase your dreams?"
The winners were:
Chrissy Kyles, College of Education and Human Sciences - $1,500

Parna Ghosh, College of Arts and Sciences - $1,000

Brittanie Cannon, College of Arts and Sciences - $500
Art contest submissions
The OSU Arts Committee hosted the 2023 Powerful Love Contest as a way for students to express themselves through art.
The four submissions are on display at the Orange Wall Art Gallery in the basement of the Student Union until Jan. 31. Artists and their work are listed below.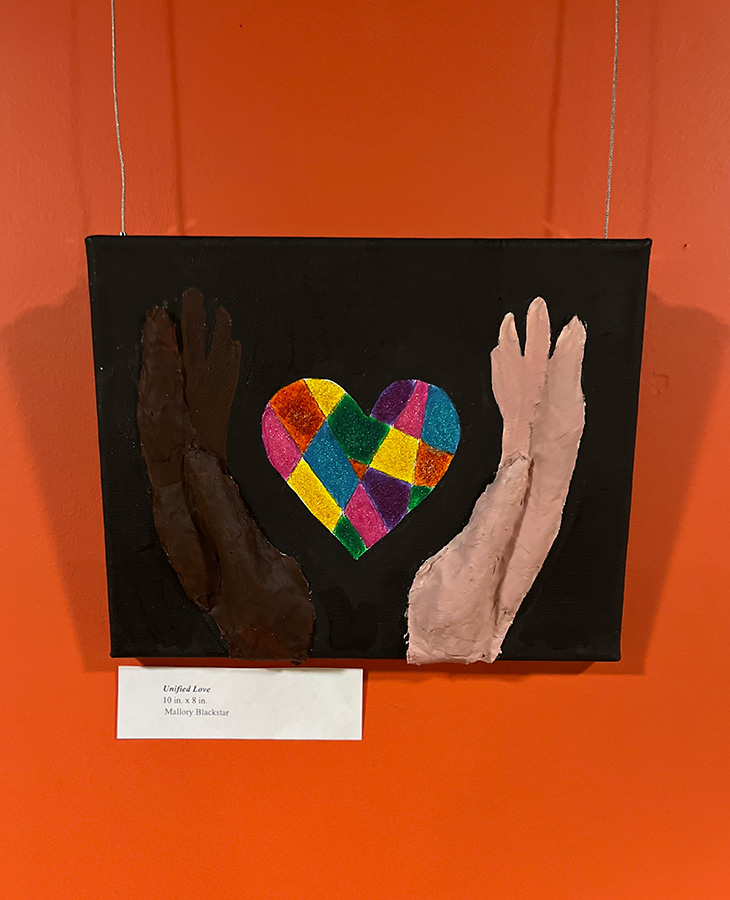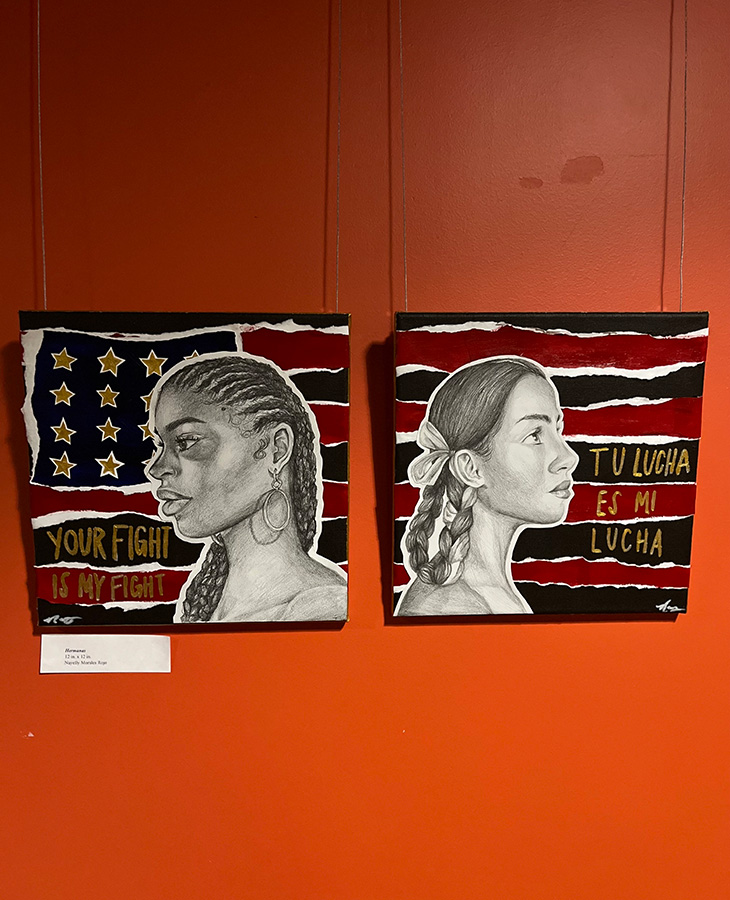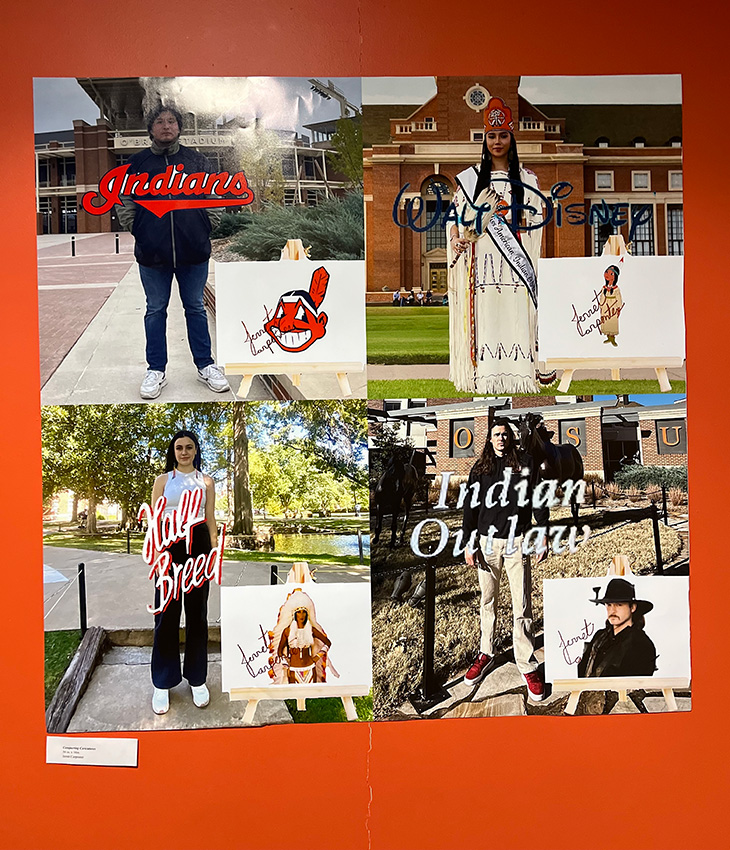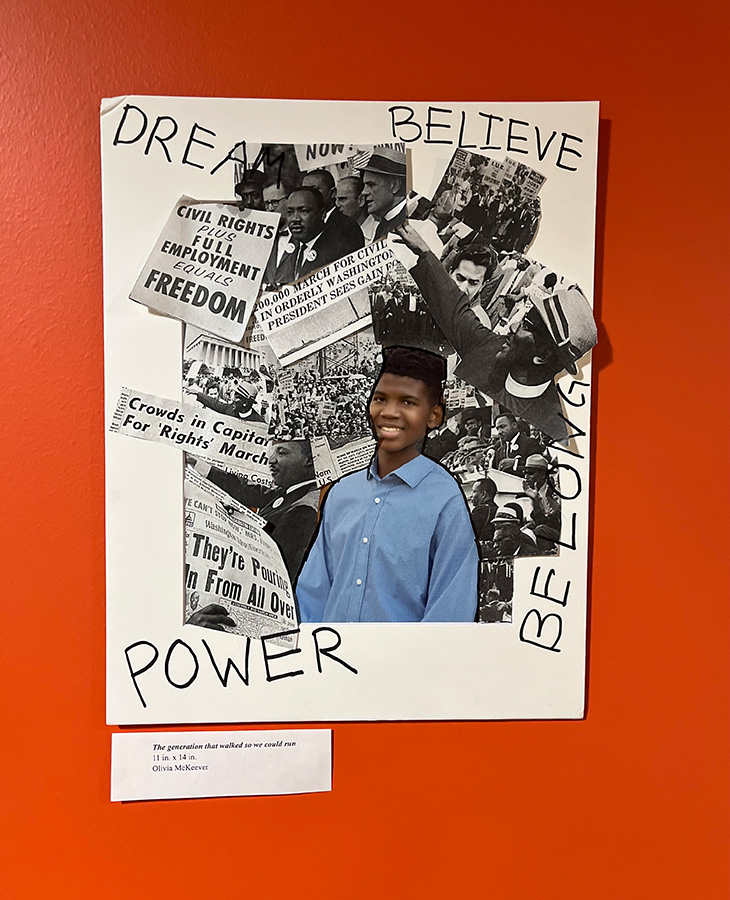 Story By: Sam Milek | smilek@okstate.edu