OSU alumna leads research contributing to insect conservation
Friday, April 14, 2023
Media Contact: Harrison Hill | Senior Research Communications Specialist | 405-744-5827 | harrison.c.hill@okstate.edu
Before Europeans arrived in North America, Tall Grass Prairies could be found from the northern part of what is now Oklahoma stretching all the way up into Canada. Now an estimated 1% remains.
Although patch-burn grazing — a management method used to help maintain what remains of this unique habitat — is helping keep the prairie alive, how the fires impact butterfly communities is not well understood.
That is where Dr. Emily Geest, along with Drs. Ray Moranz and Kristen Baum, come in.
During her Ph.D program at Oklahoma State University, Geest led a study focused on the effects of fire on the tallgrass prairie butterfly community, which was recently published in the Journal of Insect Conservation and Diversity, a scientific publication for insect research.
Overall, researchers concluded that patch-burn grazing can be beneficial to the overall butterfly community by creating patchy habitats that support multiple species with different habitat needs compared to the use of a single fire treatment that benefits a few select species.
Geest, along with her collaborators, conducted the study at The Nature Conservancy's Joseph H. Williams' Tallgrass Prairie Preserve in Pawhuska, Oklahoma, investigating how the time between controlled burns and season they are performed in impacts butterflies.
The researchers looked at sites that had undergone recent burns (<1 year since fire), intermediate burns (1-2 years since fire), and older burns (>2 years since fire) as well as sites burned in the spring and in the summer.
That meant a lot of walking, because when it comes to measuring the number of butterflies in an area, there is a standardized method, called a Pollard walk.
"It's really just a very slow walk, it kind of feels like a wedding march, because you walk so slow, like you try to walk as slow as humanly possible," Geest said. "And you're doing kind of a figure eight with your head, looking left and right in a standardized way. And you're recording all of the butterflies you see."
The team adapted the Pollard walk method for Oklahoma and got to work counting butterflies after controlled burns.
"It's always the same, you walk a set path, and you keep walking it over and over again, over your whole sampling season," she said. "You keep track of all of the species and the abundances of those species. And then at the end, you have this data set that you can use to evaluate how the butterflies respond to the different times and seasons of burn."
They found that species like the monarch butterfly, Arogos skipper and common wood-nymph may benefit from fire every 1-2 years, while other species such as the Reakirt's blue may need longer times between fire treatments. Additionally, the season the burn is performed in is important. Summer burned sites had higher butterfly species diversity than spring burned sites.
"Butterflies are really complex. Every species has different needs," Geest said. "And so for a while in the literature they would suggest [burning] every two years or every three years — these are blanket statements that may not work well for the overall butterfly community."
"What I was hoping with my paper is to show that if you do this patch burn, if you're managing different parts of your land at different times, where some places are burned once a year, some are burned every two years, some are burned every three years, just doing this diversity, you're actually helping support the overall community at a bigger spatial scale."
Originally from St. Louis, Geest found her love for butterflies as an undergraduate.
"I had an opportunity to work in caterpillar labs and bird disease labs. And I was really interested in the combination of disease and butterflies," she said.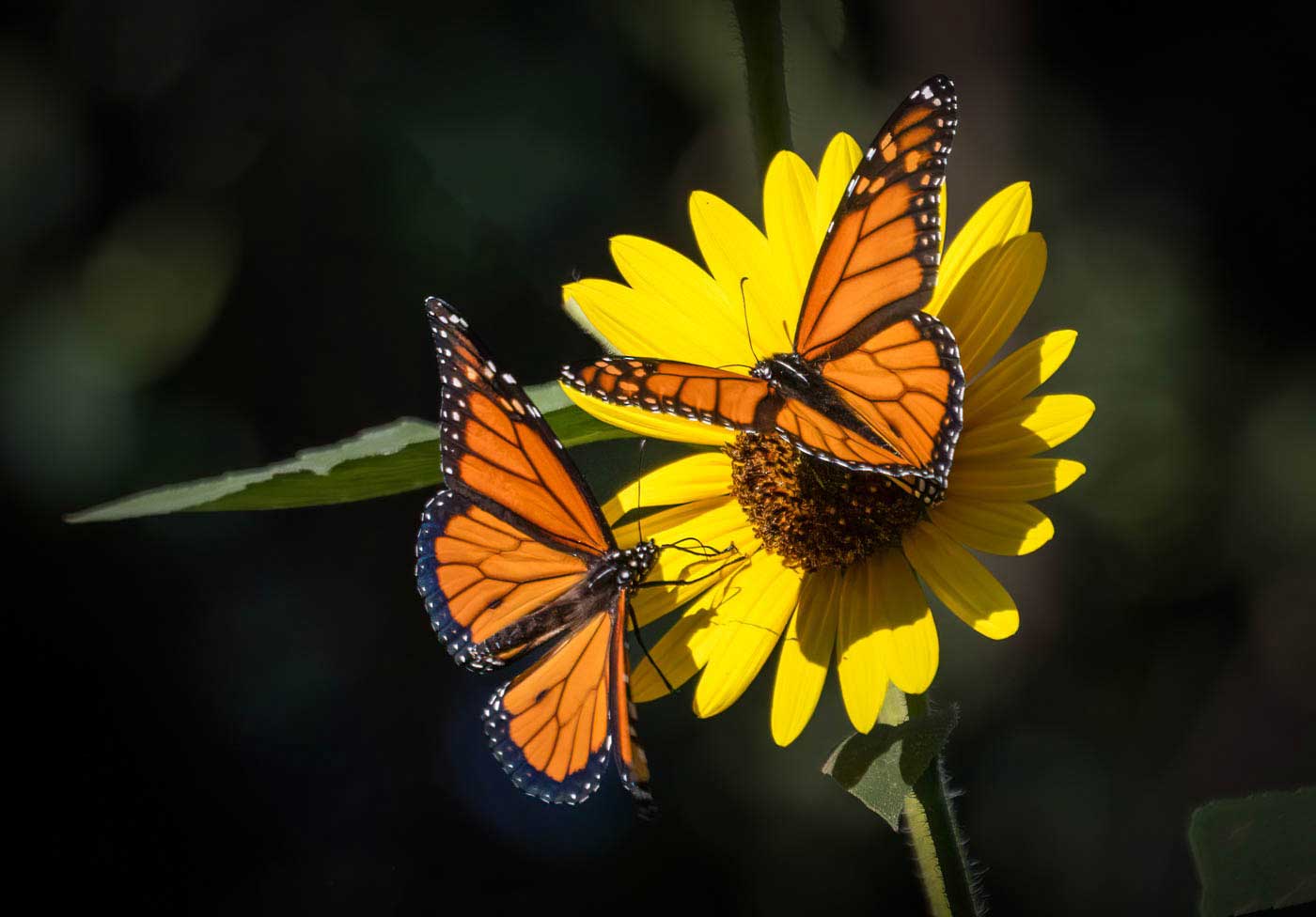 Geest went to Omaha, Nebraska, for her master's degree and completed her thesis on monarch butterfly health.
"Once I got into the world of Monarch butterflies, I could never look back," she said. "It was all butterflies all the way. So then, of course, Dr. Kristen Baum is like the foremost monarch researcher in the southern Great Plains. So I had to go to OSU to join her lab."
Geest joined Dr. Baum's lab in January 2018.
"The postdoc at the Oklahoma City Zoo and Botanical Garden is a great fit for Dr. Geest, providing the opportunity for her to combine her research interests with her passion for outreach and connecting people with science," said Dr. Kristen Baum, associate dean of research in the College of Arts and Sciences. "We have also been comparing notes about the migration patterns of the monarch butterfly, and it is interesting how locations that are relatively close together can have different patterns, which opens up some new research ideas for us to work on together."
Geest looks back on the time in Dr. Baum's lab, and at OSU, fondly.
"OSU was one of the most amazing places," Geest said. "I really loved it, I did everything. I loved that it helped develop my soft skills and my professional skills, and it made it so easy to finish my doctorate and then go right into the early career professional science world.
"So I'm always very grateful for OSU and "Go Pokes."
Geest, now the Oklahoma City Zoo and Botanical Garden's postdoctoral fellow in conservation and science, is still working on land management and how it affects butterflies, but now it is more urban focused.
"I'm working on a couple of different projects, but one of them is looking at school gardens, which are scattered throughout the metro area," she said.
The OKC Zoo provides a living classroom grants program to eligible schools in the metro area that provides funding and training to put in pollinator gardens or monarch gardens. Geest is studying if they're actually being used by the pollinators or by butterflies.
"That way, we can recommend what kinds of gardens work better and what locations work better. That's the goal for that project," she said.
Geest is also looking at the zoo grounds and trying to understand how wild butterflies navigate the specialized and diverse horticulture and botanical regions found in zoo habitats.
"I just really love that I can keep working with my collaborators at OSU that I built over the years and I'm still able to work at the zoo and be able to bridge this gap between these two areas. So, I'm really excited," Geest said.