Student Arts Alliance challenges OSU fashion designers to use second-hand sources
Monday, February 20, 2023
Media Contact: Jordan Bishop | Editor, Department of Brand Management | 405-744-7193 | jordan.bishop@okstate.edu
The Oklahoma State University Student Arts Alliance held its first thrift shop fashion show featuring student-curated designs Feb. 16. on the Student Union theater runway.
The Student Arts Alliance is a campus organization that supports students in all art disciplines to express themselves creatively and increase the art representation at OSU. The show was open to all students regardless of major. Entry was free to the audience, and alliance members provided snacks and drinks at the door.
Each designer had a specific theme, spanning "Gilmore Girls" and glitter, to post-apocalyptic fashion. The alliance gave designers $100 upon entry and three weeks to curate their looks. The show required that designers locally sourced all pieces from thrift stores in Stillwater, such as Elite Repeat, Thrifty Butterfly Boutique and Karman Korner Resale Shop.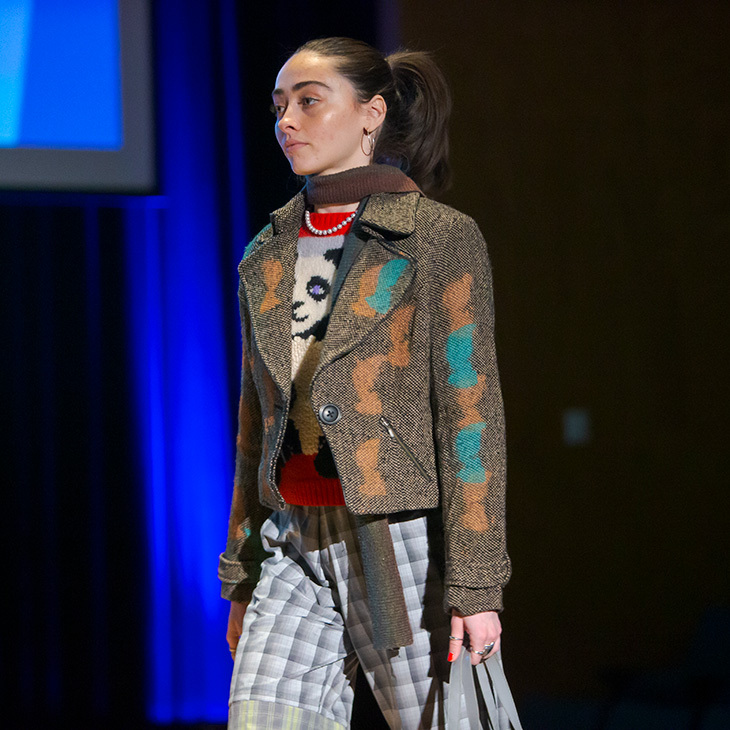 Designers paired runway styles with a carefully chosen playlist of songs to enhance the mood of the style. A notable collection came from junior Sebastian Arias. Arias' looks were fresh, springy and slightly reminiscent of workwear. He had a clear theme and looks that complemented each other.
"My main focus with this collection was just to have fun with it and not take it too seriously and have an art focus," Arias said. "It's more of an art show to me than a fashion show. I just wanted to have fun with it and express my creativity."
Another set of unique looks sprouted from designer Owe Morris, a freshman theatre major, who took their inspiration from historical fashion and costume design. Morris went beyond the thrift shop requirements and dug a little into their trash. They reused torn-up curtains to create their rosettes — a fabric rose element reminiscent of the 17th century — on a few shirts.
"I take a lot of inspiration from historical garments," Morris said. "I like to mash everything together and create a post-apocalyptic look known for mixing things together. I put a huge emphasis on reusing everything."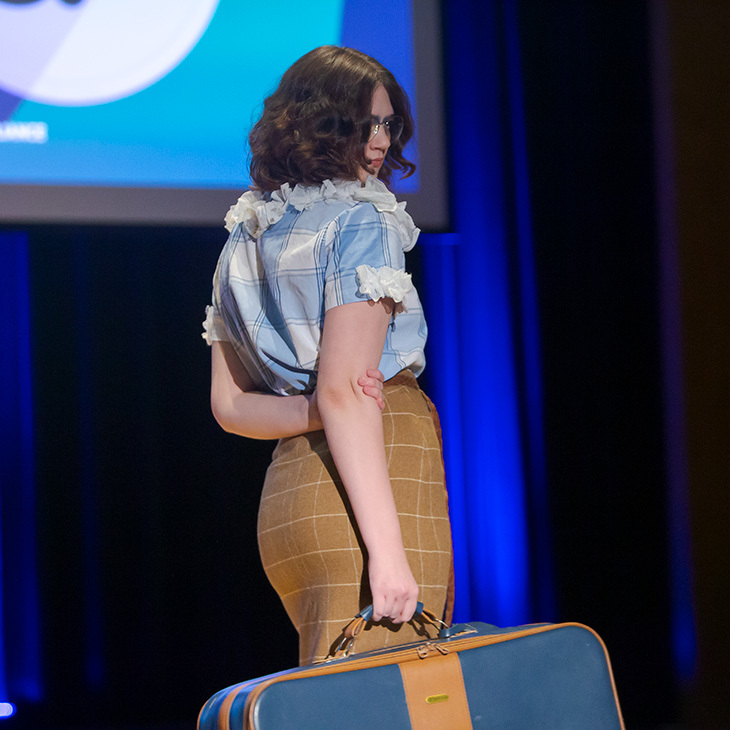 President Sierra Do currently runs the Student Art Alliance, and hosts various events each semester, including the art festival, DIY Wednesdays, the orange wall art competition, stop-motion film festivals and many others.
For more information, visit https://lcl.okstate.edu/alliedarts/ or contact Kayla Loper at student_arts_alliance@okstate.edu.
Story By: Haley Simpson | haley.simpson@okstate.edu