Swim Club returns to the pool hoping to make a splash
Friday, September 15, 2023
Media Contact: Jordan Bishop | Editor | 405-744-7193 | jordan.bishop@okstate.edu
After a year-long hiatus, the Oklahoma State University Swim Club is making waves again, ready to bring competitive swimming back to the OSU campus.
The club returned to OSU because of passionate students who care about swimming and are determined to revive a sense of community and competition around the sport. Although it was officially gone for a year, the new OSU swim club hopes to get more participation than it has had in many years.
The swim club's return brought together swimmers of various levels, from beginners to those with extensive experience. Avary Hickman, an international student from Alberta, Canada, is a junior majoring in child care and family services who emphasized the inclusive nature of the club.
"Everybody is so welcoming and excited," Hickman said, "There are people who are competing who have never competed before. We care more about having fun than excluding people from the team because they aren't experienced."
OSU's swim club competes in the Southwest Swim League with College Club Swimming. Although the university used to compete in the NCAA, those days are long gone. The state's only NCAA swim team is from Oklahoma Christian University in Edmond. Oklahoma Baptist University had a swimming team but cut its program in 2021.
OSU had to overcome many challenges when bringing the swim club back, club president Shyanna Kuehn said.
"We want to bring the realization that we're back," Kuehn said. "We're here, and we want to stay here. We're competing, and we want to bring light to the fact that swimming is important."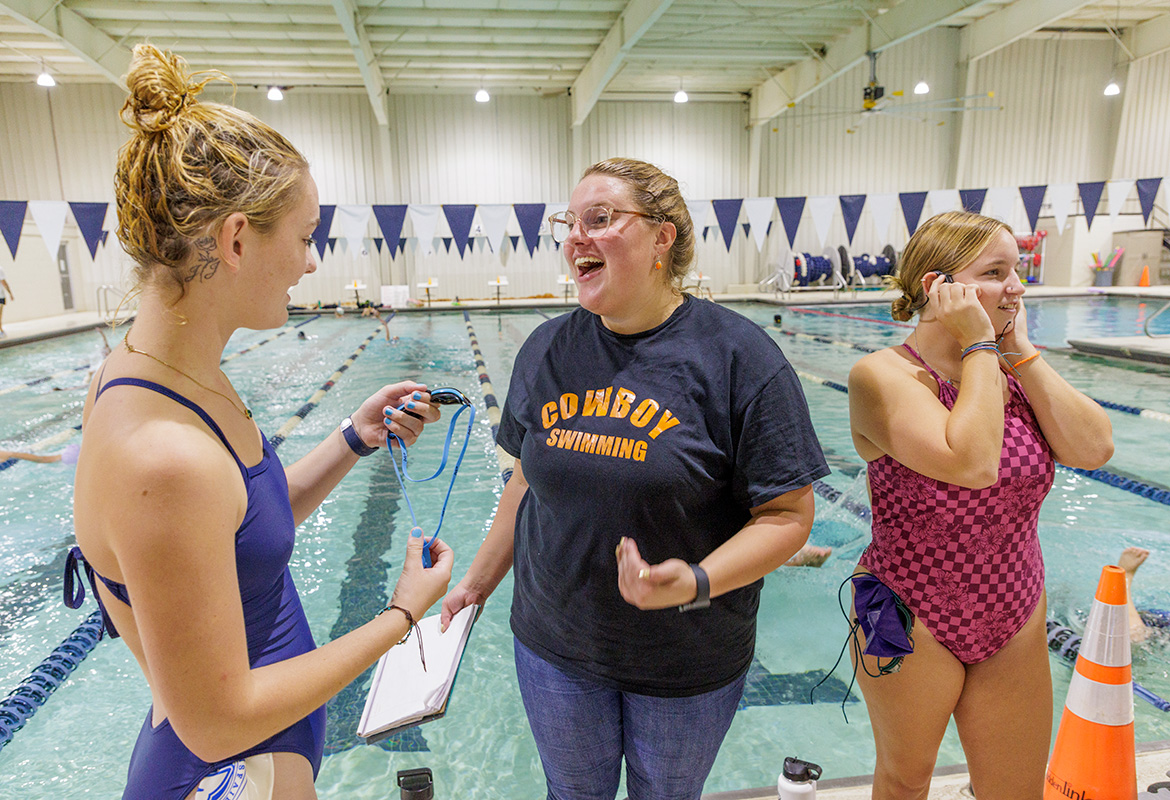 In recent years, the Colvin Recreation Center on campus, where the Cowboy and Cowgirl swim teams used to compete, had to close its indoor pool because of age related maintenance issues and repair needs. With the pool being over 50 years old, it began to deteriorate in 2018 when the air handling unit failed. The Colvin managed to fix half of it, but in 2020, more disaster struck. A large iron pipe under the pool burst causing significant damage to the pool's plumbing. No one was hurt, but the damages were done.
"The estimate came in around $2 million," said Dr. Todd Misener, assistant vice president of student affairs and chief wellness officer. "We don't have $2 million. We didn't have it then, and we don't have it now."
Misener said that the Colvin pools were running a deficit of $200,000 to $300,000 yearly, and only 100 unique people swam in the indoor pool on average at that time. It would take $15 million to create an entirely new indoor pool, and the funds to build it aren't there without a large donation.
"I'm a big fan of the swim club and a big advocate for swimming in general," Misener said. "I did approach the city and had a very preliminary, nothing formal meeting because I was interested in partnering with the city to see if they would fund a pool's construction. Then we would fund operating the pool and making it available, developing contracts with community groups and local schools as a win-win for everybody."
The city partnered with the Stillwater YMCA instead, which Misener said is finishing its funding campaign to build another pool on 12th Street.
Despite their challenges, including the Colvin's indoor pool's closure, the club is determined to thrive. Currently, Kuehn is looking for donations from someone passionate about Oklahoma swimming. The team currently practices in the YMCA, which is where it hosts home meets.
One of OSU's first tests in the pool is a Bedlam meet against its rivals from the University of Oklahoma on Nov. 10. While the swimmers are excited about the upcoming competition, they acknowledge it's a nerve-wracking experience.
"I personally have high hopes," said William "Brodie" Morris, vice president of the swim club. "We may not have Bedlam football after this year, but hopefully we can smash them in the pool every year."
Kuehn said the OSU Swim Club is not just about competition; it's about building a supportive community and promoting the benefits of swimming to all athletes.
"It's great offseason training," Kuehn said. "It gives stability and balances lung capacity. It has a lot of benefits, not just for swimmers."
Despite the swim club just getting back on its feet and looking for a permanent home, the team is getting increasingly excited about the future.
"The swim club is mostly what you make of it," said Shiloh Pickering, a "super senior" at OSU and experienced swimmer. "So if you're all about trying to go to the Olympics, or you just want to get faster or try something out, the swim club will have somebody there for you whether you're a beginner or a professional. It's nice to have that variety.
"It's been really heartwarming and welcoming in this club."
Donations to the swim club can be sent via the club's website. One can contact the swim club at Okstateswimclub0@gmail.com and follow on Instagram at osuswimclub_ and Facebook at Cowboy Swimming. If you'd like to get more information or inquire about joining the team, you can do so here.
Story By: Mak Vandruff | makenzie.vandruff@okstate.edu