The Thunder welcomes high school students, OSU experts for Aero-Student Day
Friday, January 27, 2023
Media Contact: Mack Burke | Associate Director of Media Relations | 405-744-5540 | mack.burke_iv@okstate.edu
Hundreds of high school students flocked to Paycom Center on Friday to engage with aerospace experts from Oklahoma State University for the Oklahoma City Thunder's Aero-Student Day.
Surrounded by various drones, a Jet Stream 500 wind tunnel and even an FLS micro jet, students were able to connect with OSU aerospace industry professionals.
"The future of aerospace is the youth — not only being able to fill all the roles in terms of jobs, but providing diversity in perspective and ideas," said Dr. Jamey Jacob, OSU professor and Unmanned Systems Research Institute (USRI) director. "They make the impossible happen."
While addressing the students as emcee, Jacob noted the aerospace industry in Oklahoma is even bigger than oil and gas. For the audience, the possibilities seemed endless as one OSU panelist shared her experiences in high-altitude ballooning, studying the surface of Venus from 60,000 feet and examining solar eclipses in Chile.
There were 15 exhibitors ranging from universities to training schools, the National Guard and flight simulators. Following the panel speakers, students crowded around displays in the Paycom Center concourse to examine various types of aerospace equipment and make contact with industry professionals.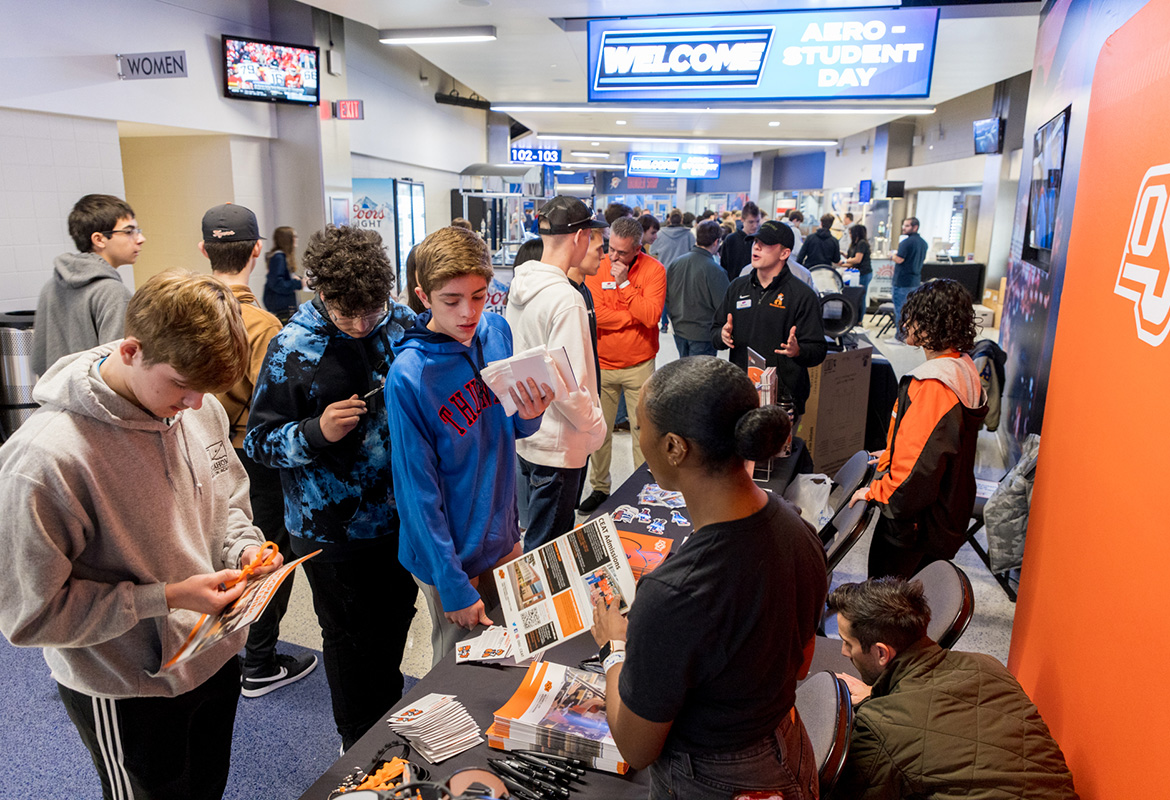 For OSU's Josh Stephens, a student recruitment assistant for the College of Education and Human Sciences, engaging with those interested in the aerospace industry was a full-circle moment. It wasn't long ago that Stephens, now a professional pilot major at OSU, was in their shoes.
"It's a really awesome case of your dreams becoming reality," Stephens said. "It's really awesome to be on the other side of it now, where I'm looking at the kids who are still dreaming of it and wanting to make it a reality."
Stephens applied to 15 different schools to pursue a career in aerospace. All 15 programs accepted him, but OSU was his dream school. At Aero-Student Day, Stephens had meaningful conversations with students, aiming to help them achieve their dreams in the industry.
"I'm here to speak to students about what they're passionate about and what they feel their purpose in life is," he said. "It's an honor to be able to talk to people who are so passionate about what you're passionate about and bring them into your world, which will hopefully be their world."
With the U.S. facing an ongoing flight crew shortage, Jacob said the time is now to invest in aerospace and nurture this key industry in Oklahoma. Those kinds of challenges and a desire to inspire the next generation of aerospace professionals are what led Jacob to help with the event.
"It's part of our land-grant mission," he said. "What OSU is really founded on is being able to serve the state and the community. And it's not just through instruction and research, but also outreach. It's part of our job to enlighten students to what new opportunities are out there to help make Oklahoma better."