Undergraduate research showcased at annual summer expo
Friday, August 4, 2023
Media Contact: Harrison Hill | Senior Research Communications Specialist | 405-744-5827 | harrison.c.hill@okstate.edu
Students play a vital role in research across universities. Although a majority of research is done in their time as a graduate student, undergraduates hone those skills by spending hundreds of hours in labs.
On Aug. 2 in the great hall of the Nancy Randolph Davis Building, Oklahoma State University undergraduates showcased their findings in the annual Undergraduate Summer Research Expo.
"We are so pleased that we have had some undergraduate students who have been on campus for many weeks this summer in the labs," said Dr. Christine Johnson, OSU associate vice president for research. "You've been in the lab and you've been working away and today is the culmination to share and disseminate some of your discoveries."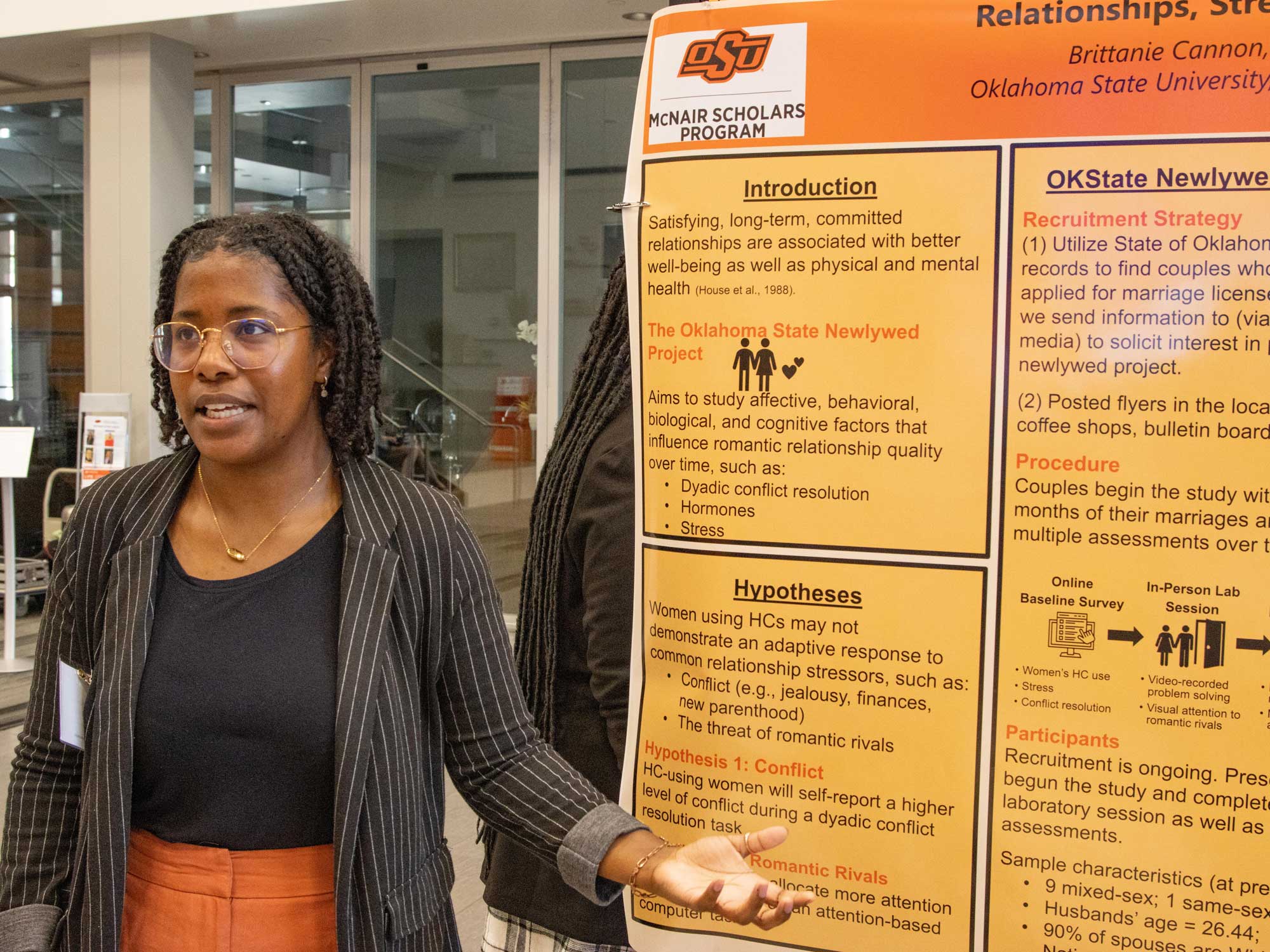 The annual Undergraduate Summer Research Expo held at OSU highlights these undergrads and their projects. Multiple schools and majors are showcased with research in various areas, from computer science to pharmaceuticals.
"If you want to know what diversity should look like at a university, it's in this hall right now," said Dr. Kenneth Sewell, vice president for research. "I mean that in every sense of the word, the diversity of topics, the diversity of thought, the diversity of people. This is about enriching their lives and enriching the lives of our state."
The summer research program helps equip undergraduates with connections and tools to pursue graduate school as they continue researching. One student, Brittanie Cannon — a McNair Scholar studying psychology — was hesitant to join the program.
"I want to go to graduate school and honestly, it didn't seem feasible to me," Cannon said. "I didn't know the process of how to get where I wanted to get to. As I talked with leaders of [the OSU Undergraduate research program] they assured me that this would equip me with what I needed to be able to make it to graduate school and beyond."
Cannon was hesitant because of the intimidation she felt when thinking about research. She didn't think she would be good at it. But, after spending the summer pursuing this project, she said she feels quite differently.
"Research is not as scary as I thought it was," she said. "In my head I was thinking about it without guidance, I was imagining I was like a fish swimming in really big waves, but with all the guidance I've had, it has made the transition and the experience seamless."
Story By: Abigail Cage | abcage@okstate.edu