OSU teams with nonprofit to send students messages of hope and support
Friday, November 20, 2020
Thousands of Oklahoma State University students living on campus and in the Greek community received messages of support and mental health resources this week, courtesy of the nonprofit organization Hope is Oxygen.
The nonprofit, which focuses on suicide prevention and hope restoration, is run by Linda Pulver, a 1983 OSU alumna who benefited from mental health resources as a student. She understands the novel coronavirus has had a substantial impact on students' lives.
"College students around the nation are struggling with the impact from isolation," she said. "Kids feel isolated, and many are struggling with depression or anxiety. When that happens, not everyone will become suicidal; some will resort to drugs or medicating with alcohol. These are behaviors that happen when you start losing hope."
Pulver's sorority sister and OSU alumna Vicki Mosier had seen online how the "Hugs from Home" organization had been offering hugs to OSU students to help their mental health, and Mosier thought giving students a physical list of resources may be helpful as well.
Pulver liked the idea and knew it could give hope to students. She said giving students a physical card was a good idea because simply "getting out of bed in the morning when you are depressed or anxious" is hard enough and they may not be capable of digging through a website to find resources.
Mosier and Pulver took the idea to Dr. Douglas Hallenbeck, OSU's vice president of Student Affairs, who approved it and asked how quickly 10,000 Hope Sacks could be put together so students could receive them ahead of the Thanksgiving break.
The sacks contain letters from Hallenbeck, Pulver and mental health resources including information about OSU's University Counseling Services and the National Suicide Prevention Lifeline phone number, 1-800-273-8255.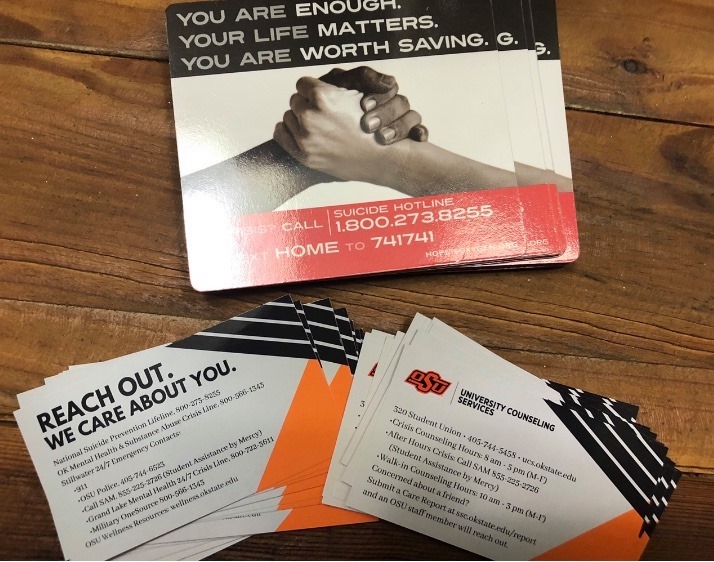 "You are important to Oklahoma State University, and I want you to know that we care about you," Hallenbeck wrote in his letter. "While this year has been one stressful event after another, all while we are struggling to deal with the pandemic, I want you to know there is hope.
"The materials in this sack are designed to provide you the resources if you ever need them, whether for you, for a loved one or for a friend. As a member of the OSU community, you are not alone; the faculty and staff care about you and your well-being. Please reach out if you need help, and be a person that others can reach out to for support."
A request for donations to pay for the Hope Sacks went out, and $7,200 was raised within a week, with nearly half coming from Pulver and Mosier's sorority, Gamma Phi Beta.
"I am so incredibly proud of my OSU sorority sisters, both the actives and alumni," Mosier said. "The request to Gamma Phi Beta alumni to fund the OSU Hope Sacks was answered in a big way and was immediate. They understood the need and wanted to help."
Hundreds of volunteers from throughout Oklahoma spent the next week putting together 10,000 Hope Sacks.
"I really do believe that when people have gone through hard times, they really want to help other people," Pulver said. "A lot of them had lost a loved one to suicide or had a family member who struggled with mental health."
The deadline was met and earlier this week, Hope Sacks were placed in mailboxes for all students in residential housing, married student housing and distributed within Greek Life.
Students have expressed gratitude for the information, and Pulver is grateful that the OSU administration recognized the need and allowed her organization to help.
"We are grateful for OSU's administration working hard to provide help and hope to our students in many ways," Pulver said.
MEDIA CONTACT: Mack Burke | OSU Editorial Coordinator | 405.744.5540 | mack.burke_iv@okstate.edu