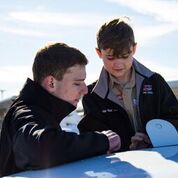 On Jan. 27, 2018, the Oklahoma State University Flying Aggies Flight Team held the inaugural Boy Scouts of America Aviation Merit Badge Day at Stillwater Regional Airport.
Eighteen Boy Scouts from the surrounding Stillwater area traveled to the OSU Flight Center for the day's festivities, which kicked off at 9 a.m. With high hopes and much anticipation, the entire flight team comprised of 17 professional pilots was tasked with instructing these Scouts in all things aviation. The team was excited to offer their expertise and share their love for aviation, especially since a number of flight team members were former Boy Scouts and Eagle Scouts themselves.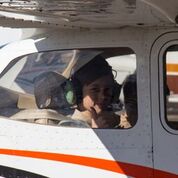 The combination of great weather and eager young minds led to a productive day. Flight team members provided a unique learning experience and helped the Scouts complete the five requirements necessary for the merit badge. The Scouts learned about aircraft preflight, instrumentation, engines, aviation careers, aircraft recognition and how to build two different types of homemade gliders. Participants even had the opportunity to fly the state-of-the-art Red Bird simulator. By the end of the day, all the Boy Scouts earned their aviation merit badges.
"Our hope was that each Scout left with not only a greater knowledge of aviation at OSU, but if lucky, the sprouting of a love for aviation much like our own," said Dr. Matt Vance, assistant professor in the OSU Aviation and Space Program.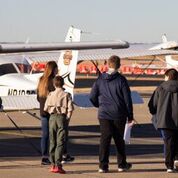 To top off an already thrilling day, nine lucky Scouts got to take an orientation flight in an OSU aircraft with three flight team instructors. This memorable experience was earned by those who won the glider competition at the end of the day's activities.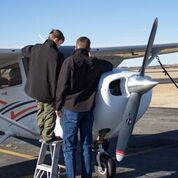 "This event allowed us to come together as a team and give back to our community while also propelling us into the upcoming competitive season," Vance said. "A colossal thank you is in order to flight team member Jacob White, who coordinated and organized a spectacular event for all who were in attendance. We look forward to seeing more Scouts at this event in the future."
The OSU Flying Aggies Flight Team will represent NIFA Region 6 at the National Intercollegiate Flying Association SAFECON 2018 in Terra Haute, Ind. the first week of May.