The Oklahoma State University Aviation Program has been selected to participate in the 2019 Top Hawk program, a partnership between Textron Aviation and top university aviation schools that provides students with access to the world's most popular single-engine aircraft, the Cessna® Skyhawk®.
Oklahoma State will receive its factory-new, custom-branded Cessna Skyhawk this spring. The aircraft will be used to support flight training and promote aviation at air shows, aviation contests and recruiting events throughout the year.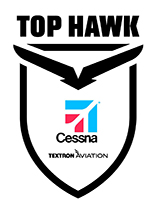 "Being named a Top Hawk school is a tremendous honor that reflects OSU aviation's rich tradition of excellence and strong national reputation," said Lance Fortney, program manager for the OSU Flight Center. "Having access to this aircraft will help improve flight training efficiencies and allow our students to train in a top-of-the-line aircraft. The Flying Aggies will take the aircraft to numerous airshows and competitions across the country, which will provide excellent visibility for the partnership between Oklahoma State and Textron."
Oklahoma State is among four universities selected for the 2019 program, which aims to promote general aviation and connect future pilots to higher education. Additional participants include Ohio University, Texas Southern University and Utah Valley University.