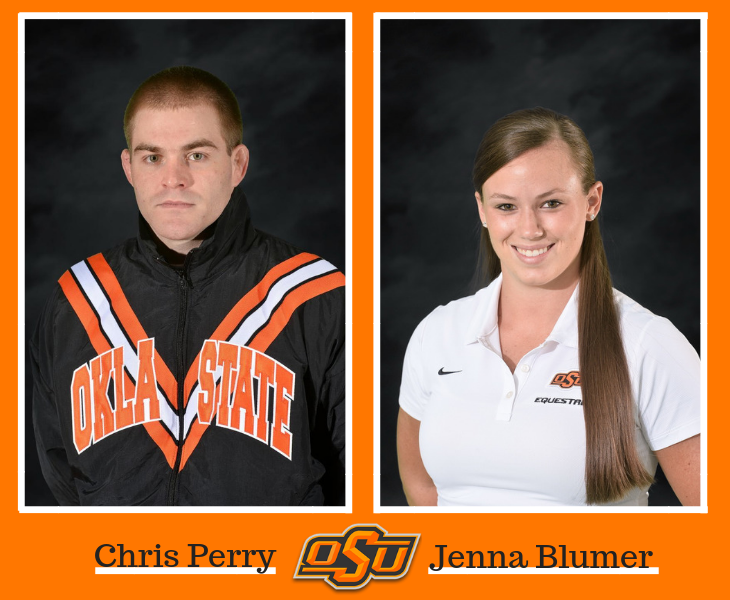 COE Students are OSU Student-Athletes of the Year
Wednesday, June 25, 2014
College of Education students Oklahoma State wrestler Chris Perry and equestrian rider Jenna Blumer are the 2013-14 OSU male and female Student Athletes of the Year.
Perry was a senior on the 2013-14 wrestling squad and wrapped up his career with his second-consecutive national title at 174 pounds. The Stillwater native finished the season with an overall record of 30-1, spending the majority of the year ranked No. 1 nationally and finishing as one of five finalists for the Dan Hodge Trophy. He graduated in May with a B.S. in education.
A three-time All-American, Blumer was a senior on the 2013-14 reining team and ended the season with a 12-3 record and three Most Outstanding Performer awards. The Spring Brook, Pa., native earned a spot on the NCEA All-Championship Reining Team thanks to her two victories during the national tournament. Blumer is in the College of Education's 4 + 1 special education program. Her undergraduate program is elementary education and she is pursuing a master's degree.
The OSU male and female Student-Athlete of the Year awards are annually presented to one male and one female student-athlete. To qualify for the award, a student-athlete was required to maintain a GPA of 3.0 or higher, and have completed more than 100 academic credit hours.