College of Education Introduces New Bachelor's Degree in Applied Exercise Science
Friday, July 22, 2016
The Oklahoma State University College of Education will offer a bachelor's degree in applied exercise science beginning this fall. The degree plan, housed in the School of Applied Health and Educational Psychology, has options for pre-professional and strength and conditioning.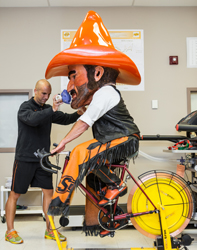 The applied exercise science degree focuses on careers that involve exercise prescription and fitness program design for individuals and groups. It is heavily immersed in science courses with specific exercise physiology-related coursework.
The Pre-Professional concentration is designed for undergraduates interested in careers in clinical exercise physiology, cardiac/stroke rehabilitation, physical therapy, occupational therapy, athletic training and graduate school.
The Strength and Conditioning concentration is designed for students interested in careers in strength and conditioning, personal training, fitness instructing, coaching, fitness facility management and more. This degree serves to prepare the student for various professional certification examinations, such as Certified Strength and Conditioning Specialist (CSCS), Certified Special Population Specialist (CSPS), Certified Personal Trainer (NSCA=CPT), Physical Therapist (CPT), Certified Health Fitness Specialist (HFS), Certified Exercise Physiologists (EP-C) and others.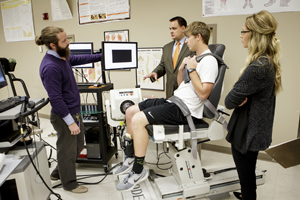 The degree program centers on interventions and includes courses specific to exercise physiology, fitness assessment and prescription, biomechanics, strength and conditioning, athletic injury, applied anatomy and ethics in sports administration.
Students who graduate with a degree in applied exercise science graduates become professionals who collaborate with athletic trainers, physicians, physical therapists, sport coaches and individuals who seek the advice of such specialists.
The bachelor's degree in applied exercise science is an option for those interested in eventually pursuing the athletic training master's degree at the OSU Center for Health Sciences in Tulsa.
Prospective students who are interested in learning more about the program should contact Meredith Shepard at meredith.shepard@okstate.edu or call 405.744.6614.