American Association on Intellectual and Developmental Disabilities recognizes Human Development and Family Science grad students' research
Monday, August 7, 2017
Two Human Development and Family Science graduate students recently received honors at the 2017 American Association on Intellectual and Developmental Disabilities (AAIDD) conference in Hartford, Connecticut in June.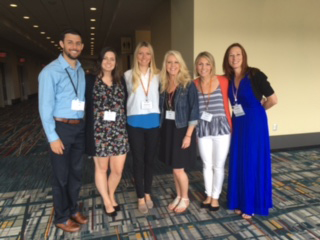 Trent Call, a master's student in the marriage and family therapy program, received the Direct Support Professionals Division award and scholarship for his paper, "Exploring Wellbeing Among Caregivers: A Comparison of Paid Staff and Family Members in the Caregiving Role."
Jillian Caldwell, a doctoral student, received the Student & Early Career Professional Division and AAIDD award and scholarship for her paper, "Predictors of Resilience in Families of Adults with Intellectual and Developmental Disabilities Following Deinstitutionalization."
Both awards were developed to acknowledge and foster outstanding contributions to AAIDD. Of the many high quality submissions received by AAIDD for the 2017 national conference, only eight awards of this kind were given.
Kami Gallus, HDFS associate professor and Jennifer Jones, HDFS assistant professor, created the IDD Network at OSU to promote research education and community engage among individuals with intellectual and developmental disabilities.
"Dr. Gallus and I are so proud of Jillian and Trent," Jones said. "It is always a joy to see students thoughtfully engage in research and invest in improving the lives of individuals with intellectual and developmental disabilities and their families. AAIDD's recognition of their scholarly work endorses the importance of the collaborative research we conduct with Oklahoma's Developmental Disabilities Services."
OSU attendees included HDFS graduate students Trent Call, Jillian Caldwell, and Samantha Johnson along with Dr. Kami Gallus, Kacey Vierling and Dr. Jennifer Jones at the conference.
AAIDD is the oldest and largest interdisciplinary organization of professionals and citizens focused on intellectual and developmental disabilities. Membership in the organization totals more than 5,000 people across the United States and in 55 countries worldwide. AAIDD's mission is to promote progressive policies, sound research, effective practices, and universal human rights for people with intellectual and developmental disabilities.