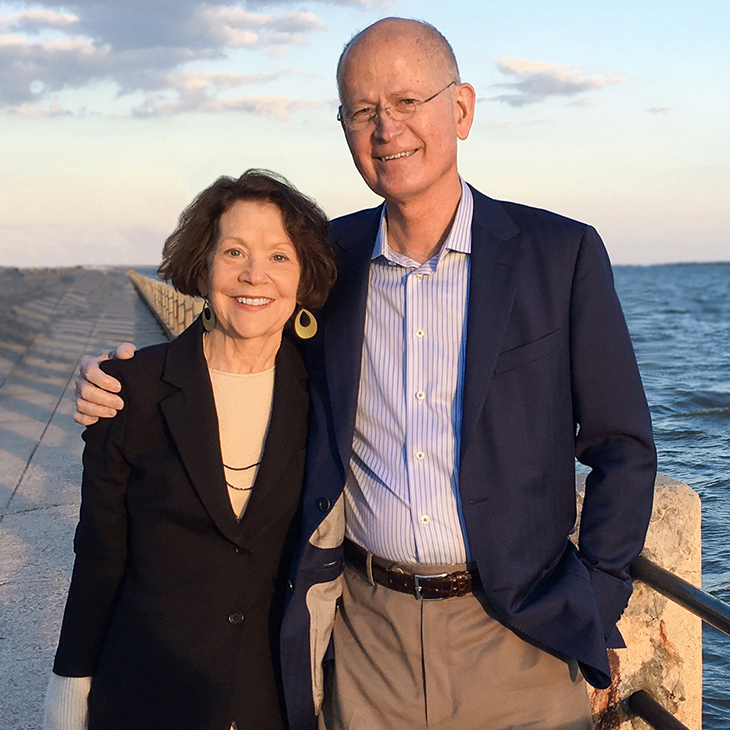 College of Human Sciences honors Marilynn and Carl Thoma
Friday, April 14, 2017
The College of Human Sciences at Oklahoma State University inducted Marilynn Thoma into its Hall of Fame and named Carl Thoma an Honorary Alumnus of the college. The awards were presented during the Wine Forum of Oklahoma, a biennial event the Thomas founded.
After completing their degrees in 1970, Carl in agricultural economics and Marilynn in home economics, the couple continued their education earning MBAs from Stanford's Graduate School of Business. Those degrees and experiences have served them well in Chicago, where they have been leaders in business, education, art and philanthropy for more than 40 years.
Marilynn oversees marketing activities for Van Duzer Vineyards, the winery the Thoma family owns in Oregon's Willamette Valley, drawing from her experience in brand management at Quaker Oats, Cellular Network and Proxy Communications. Currently, Carl serves as the founding partner of Thoma Bravo private equity firm with offices in Chicago and San Francisco.
In 1986 the Thomas established a family foundation to fulfill their broad passion for philanthropy. The Thomas created the Carl & Marilynn Thoma Art Foundation in 2014 to distinguish their initiatives in and support of visual art.
Their vision for the College of Human Sciences led to the establishment of the Marilynn Thoma Chair and a generous gift to launch the Wine Forum of Oklahoma in the School of Hotel and Restaurant Administration which they continue to support.
The Thomas have supported many needs at OSU with gifts to the Ranchers Club, the Spears School of Business, the Learning and Student Success Opportunity Center and the OSU Museum of Art. Most recently, their $5 million gift established the Marilynn and Carl Thoma Executive Director leadership position at OSU's McKnight Center for the Performing Arts.
They have both received OSU's highest honor as inductees into the OSU Alumni Association Hall of Fame in 2010. Previously, Carl was inducted into the Spears School of Business Hall of Fame in 1996 and received the OSU Distinguished Alumni Award in 2002. Marilynn was honored with the Human Sciences Distinguished Alumni Award in 2004 and the Women for OSU Philanthropist of the Year recognition in 2009.