Stillwater Super Bowl-Fest to support children's therapy needs
Tuesday, April 18, 2017
When Sarrah and Zach Owens moved to Stillwater in January 2016, one of the first things they looked for was a school for their son Jaxon.
The Child Development Lab in the College of Education and Human Sciences was just what they needed for the three-year-old as it provided speech and occupational therapies for children who required them.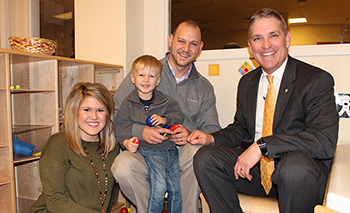 But in June, they and other parents of CDL students would be disappointed when the Oklahoma Board of Education eliminated $529, 297 in funding that provided physical therapy, occupational therapy, speech and language therapy, music therapy, and warm water services for children who live with delays and disabilities.
OSU and Mya's Promise committed to provide temporary assistance to the program for one year. However, additional funding sources are needed for the therapies to continue for future sessions.
The young newcomers to Stillwater soon discovered the Stillwater spirit when Zach visited with community leaders about raising funds to assure therapies continue for children in the CDL.
"Losing funding to support inclusive programming means that the CDL cannot provide early childhood education for the 20-25% of its students with a diagnosed disability," said Kevin Fowler, Bank SNB senior vice-president. "We felt this was a need in the community that needed attention."
The Stillwater Super Bowl-Fest will be hosted by Bank SNB during the 2017 Super Bowl on Sunday, Feb. 5, to raise funds for the educational and therapeutic services to CDL students.
Sarrah Owens said Jaxon has made extraordinary progress in the few short months he has been enrolled in the CDL.
"When he started the CDL over the summer, our son had virtually no vocabulary, but now he knows his entire alphabet and can count to 10 as well as a growing vocabulary," she said. "We cannot thank the CDL enough for their part in this. Knowing he is receiving all the services he needs there allows us to be parents again. We do not need to stress about playing the role of therapist at home."
Scott Jones, Bank SNB senior vice-president and a long-time supporter of the CDL said maintaining the reputation and vision of the CDL requires the need for proper funding.
"Outside funding is essential to preserve the educational services for the development of children and the program's existence," said Jones.
Stillwater Super Bowl-Fest will be held Sunday, February 5, 2017, at Meditations Catering & Banquet Facility at 1205 N Country Club in Stillwater, Oklahoma. Tickets are $125 per person or $1,000 for a table of 10. All-you-can-eat barbeque, drinks and gourmet sides are included in the price. For event details, please visit www.stwsuperbowlfest.org. Questions or inquires can be made by contacting Kevin Fowler at 405-742-1826.
"We invite anyone who is interested in the CDL to join us," Fowler said. "The importance of these programs demands that some level of experience will be created to insure that an inclusive educational environment is a part of the model to which children and families are serviced and OSU students are exposed."