Two marriage and family therapy students receive fellowships to study minority youth
Tuesday, April 18, 2017
Media Contact: Brittany Bowman | communications specialist | 405-744-9347 | brittany.bowman@okstate.edu
Oklahoma State University graduate students Chelsea Keel and Alicia Johnson have been named fellows in the Now is the Time: Minority Fellowship Program-Youth. Keel and Johnson are master's students in the marriage and family therapy program in the College of Education and Human Sciences.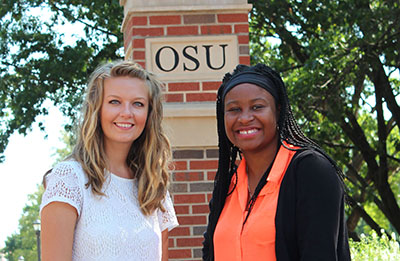 As part of the MFP fellowship, Keel and Johnson will have a professional training appointment into a community of other students and professionals who hold similar professional interests. The MFP provides stipends to students who hold the fellowships, facilitates leadership development, and provides professional guidance with the aim of deepening the skills sets and knowledge base of the fellows in areas related to minority mental health research and services.
The American Association of Marriage and Family Therapy established the Now is the Time: Minority Fellowship Program-Youth in 2014 with funding from the Substance Abuse and Mental Health Services Administration. The fellowship program supports the training of practitioners and researchers in culturally competent mental health and substance abuse services, treatment and prevention.
Keel's clinical and research interest focuses on working with African American adolescents and their families.
"This age is a crucial time for identity and personal development," Keel said. "When not handled well it could make youth vulnerable to situations that could negatively impact mental health outcomes into adulthood.
"African American youth commonly face a multitude of adverse stressors that could lead to a decline in mental health. This risk is increased significantly by the lack of services rendered to this population compared to a non-minority population."
After earning her master's degree in marriage and family therapy, Keel hopes to promote emotional health and well-being in this population by increasing awareness and access to quality mental health service.
Johnson plans to work with military families after she completes her MFT degree.
"I am interested in the trauma veterans face and how that impacts other family members, specifically the children," Johnson said.
As an underserved community, military families experience secondary trauma that often is not addressed.
"My goal is to work at a Veteran's Affair Medical Center to advocate for veterans and their families. I want to be a safe place for children and adolescents to talk to and help the families heal as well as deal with new roles and reintegration," Johnson said.
Objectives of the program include reducing health disparities and improving behavioral health care outcomes in racially and ethnically diverse populations. The fellowship aims to increase the number of culturally competent master level behavioral health professionals serving children, adolescents and populations in transition to adulthood.
As an agency within the U.S. Department of Health and Human Services, the Substance Abuse and Mental Health Services Administration leads public health efforts to advance the behavioral health of the nation. Its mission is to reduce the impact of substance abuse and mental illness on America's communities. The program is part of the President's Plan, Now is the Time, which increases access to mental health services for the youth in the United States.