Technology Lab Facilitates Creative Collaboration
Thursday, March 29, 2018
The College of Education, Health and Aviation provides students and faculty a unique learning opportunity through the Emerging Technologies and Creativity Research Lab. The lab explores innovative, creative and imaginative ways to improve research, teaching and learning with emerging technologies.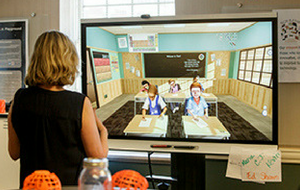 The lab was initially introduced as the Transforming Education through Creative Habits (T.E.C.H.) Playground in 2013 by Dr. Susan Stansberry, head of the School of Educational Foundations, Leadership and Aviation. Over the past five years, the lab has grown and evolved. The new name, Emerging Technologies and Creativity Research Lab, better identifies its mission and purpose. Dr. Tutaleni Asino, assistant professor in educational technology, now oversees the lab.
Visitors are instantly immersed in a creative space filled with top-of-the-line technology, including a flight simulator, 3D printing machine, TeachLive mixed reality simulator, treadmill desk, robots and numerous other gadgets. The goal is for students to look for creative solutions to transform education using these resources.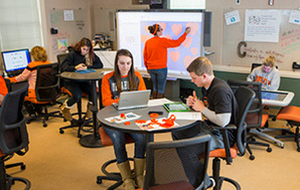 "Research around creativity is growing, but it still has a ways to go. There are not many creativity labs, and for us to have one in the college is very special," Asino says. "It's a place where we can come and feel empowered to explore and discuss solutions."
As director, Asino focuses on promoting the lab as a destination for multi and interdisciplinary research and encouraging those within the college to take advantage of the opportunities it has to offer. The lab is open daily and available to anyone interested in exploring emerging technologies, multidisciplinary research or collaborating on creative projects.
"We are always looking for more collaboration and engagement with students as well as faculty," Asino says. "For us it is really simple; we would like to see more people come and visit the lab and learn about what's there. Being in the space generates conversations and spurs creative ideas, which we hope can translate into collaborative research and projects."