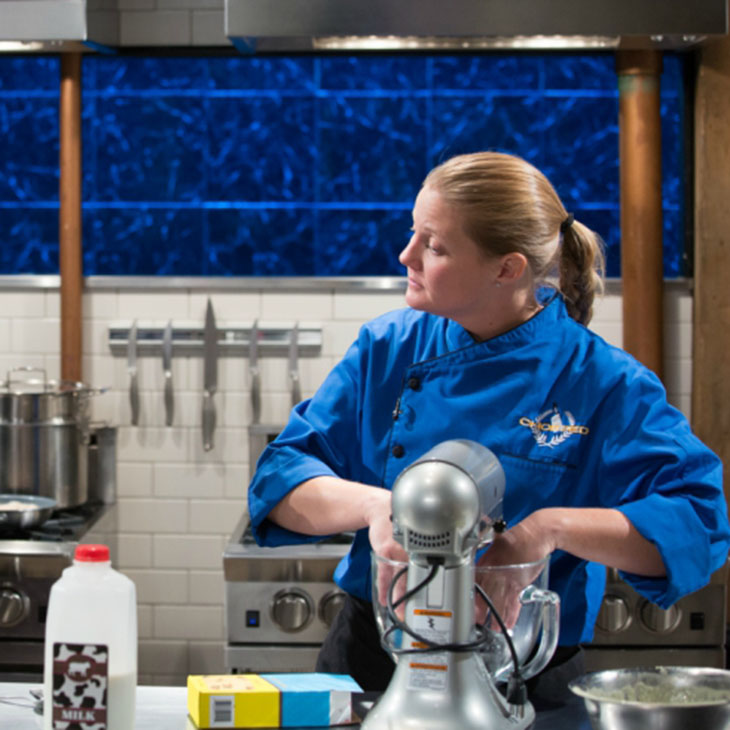 HTM alumna wins Food Network's Chopped
Monday, January 29, 2018
Hospitality and Tourism Management alumna Sarah Wade was the winning chef on the Gold Medal Games Finale of the Food Network's hit show Chopped (aired on January 30, 2018). Read more about Sarah and her OSU experience:
When Sarah Wade arrived at Oklahoma State University, she planned to pursue the dream of owning a coffee shop. But a special experience as part of her major in hotel and restaurant administration, led her to discover her true passion.
"When I worked my first chef event, I fell in love with cooking and the kitchen. That was it, I wanted to be a chef," she said.
Every semester, the School of Hospitality and Tourism Management hosts The Distinguished Chef Benefit Series, welcoming a diverse lineup of successful chefs to campus. For students, the Chef Series combines service, marketing, culinary arts and hospitality and the opportunity to apply what they are learning in this real-life, high end hospitality experience.
Wade is currently the executive chef at Lulu's Allston, a restaurant located in the Boston area. The Edmond, Oklahoma, native says her 2005 bachelor's degree in hotel and restaurant administration prepared her well for her career and as leader in the hospitality industry.
"I made so many great contacts and met mentors in the program, many of whom I am still in touch with," Wade said. "I was glad to get into the industry and have a good grasp on the business aspect of restaurants. You can be the best chef, but if you can't (help) the owners make money, you are not successful."