A passion rooted in aviation
Thursday, December 19, 2019
Aviation runs in Josh Haynes' blood. With a grandfather who piloted in the Air Force and a father who flew for US Airways, Josh was always around planes or listening to stories about flying. As he grew up, he developed a deep passion for aviation and knew he wanted to pursue a career in that field. The aerospace administration and operations senior started his journey at Texas Tech University as a psychology major, but he never quit flying. "I always found psychology interesting. But I was doing my flying on the side and having a lot more fun with it," Haynes said. "I made the switch and came here and fully committed to flying."
Haynes has cultivated his love for aviation even more since arriving at Oklahoma State University and found his place among the Flying Aggies, the university's official student flying club.
"I heard about the Flying Aggies at a student organization fair and ended up talking with the guys there for an hour about everything aviation related and immediately thought, 'These are my people,'" he said. "I started going to meetings and attending events and built a lot of friendships."
He began to compete with the team in the airplane recognition event and eventually ran for an officer position and was elected historian. As the historian, he has worked with the Flying Aggies president to engage alumni and give them a way to reminisce on their time in the club through digitizing all their scrapbook photos and putting them on the team website.
Outside of the Flying Aggies, Haynes also works as a Cowboy Caller in the OSU Foundation's call center. Helping donors find their passion and talking with new people each day is something he loves about the job.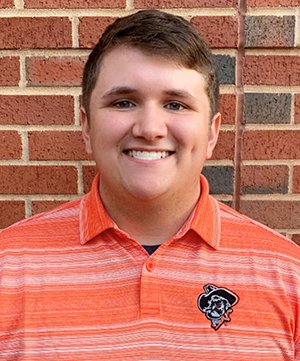 Haynes also enjoys creating scholarship opportunities for other students as a Cowboy Caller. With out-of-state tuition and flight costs, he has seen and experienced the impact scholarships can have on a student's college experience.
Haynes is a recipient of the Mary and Jerry Burson Scholarship, which has greatly lessened his financial burden. The scholarship also gave him confidence and reaffirmed the idea that he could be a good student. "I never viewed myself as a student who would receive scholarships,"Haynes said. "It was nice to see that when I really put my heart and mind into something that I can accomplish it."
Like many of the donors he speaks with, Haynes wants to give back. He is aiming to do that by staying at OSU after graduation and teaching at the flight center before taking the next step in his journey.
"We have to build up flight hours to meet the requirements of the Federal Aviation Administration, and there's nothing that says we have to stay here. But I always thought it'd be cool to stay back and instruct where I learned most of my flight training."
MEDIA CONTACT: Kyle Stringer | 405-385-5174 | kstringer@osugiving.com