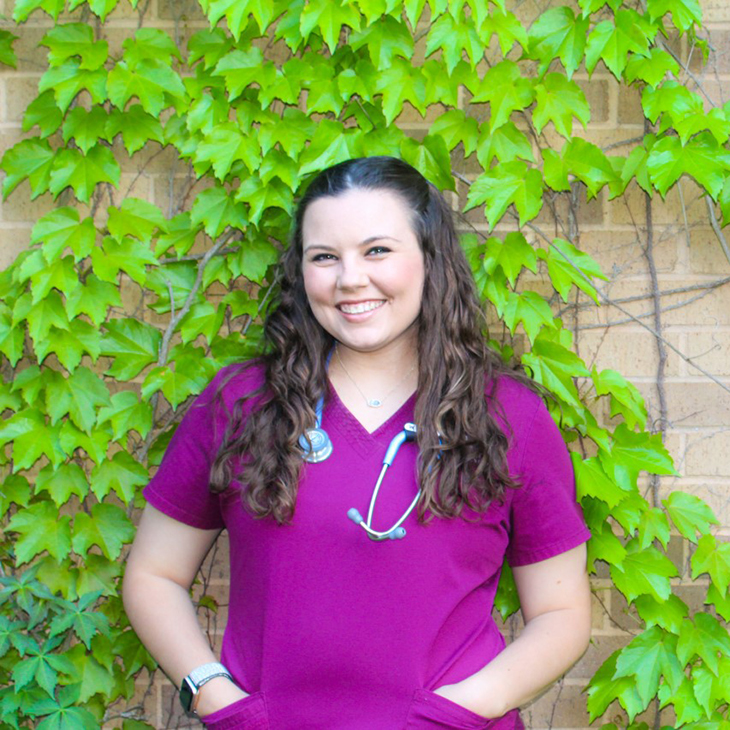 Alumni Feature: Emily McDaniel
Thursday, July 23, 2020
Emily McDaniel graduated in 2018 with a bachelor's in human development and family science, with an option in child and family services.
What inspired you to pursue a career in medicine, and what are your goals?
I love how medicine is always changing and adapting, and the constant learning aspect really appealed to me. I plan to get my master's and either become a nurse practitioner or a nursing clinical instructor. After that, I plan to keep learning and helping save lives every day.
What impact have you seen in patients' lives?
Being a nurse means sometimes you are there for a child who is scared and has no family to support them. In those times, being that support means the world to your patient and really changes their attitude about being in the hospital. I've had many patients in many different situations, each time that a patient says, "Thank you for being there for me." Seeing the smile on a child's face, it just makes all the long shifts worth it.
How did studying human development and family science prepare you for nursing school?
I came to OSU because I really wanted to go to a school that valued education and had many opportunities for growth. I started with the College of Human Sciences because they offered so many different majors. Talking one-on-one with the college recruitment advisor helped me realize human development and family science (HDFS) fit my interests. After my first classes that fall, I was hooked and I loved every minute of it! HDFS gave me some of my best friends and connections that will last a lifetime. The science prerequisites prepared me for nursing school, and discussing human development made my nursing classes easier to understand. HDFS really gave me a heart for people and helped teach me more about empathy and learning what makes people tick.
What were some of the most valuable lessons and experiences from your time at OSU?
One of the most valuable lessons I learned at OSU was to be myself. I discovered who I was as a person and what I loved to do in life. It helped me to find my passion for helping others and my drive for success. Helping to lead Into the Streets gave me a heart for community service. I helped with the event every semester, first as a committee member and then moving up into a leadership position. Being able to help someone in need, even if it is just yardwork, gave me a sense of purpose.
What advice do you have for current OSU HDFS students?
Pursue what you love. Majoring in HDFS can lead to career paths ranging from grad school to nonprofit work to medicine. In addition, I would tell them to take advantage of leadership opportunities. Clubs and organizations at OSU give students the experience to step out into the real world and be successful.