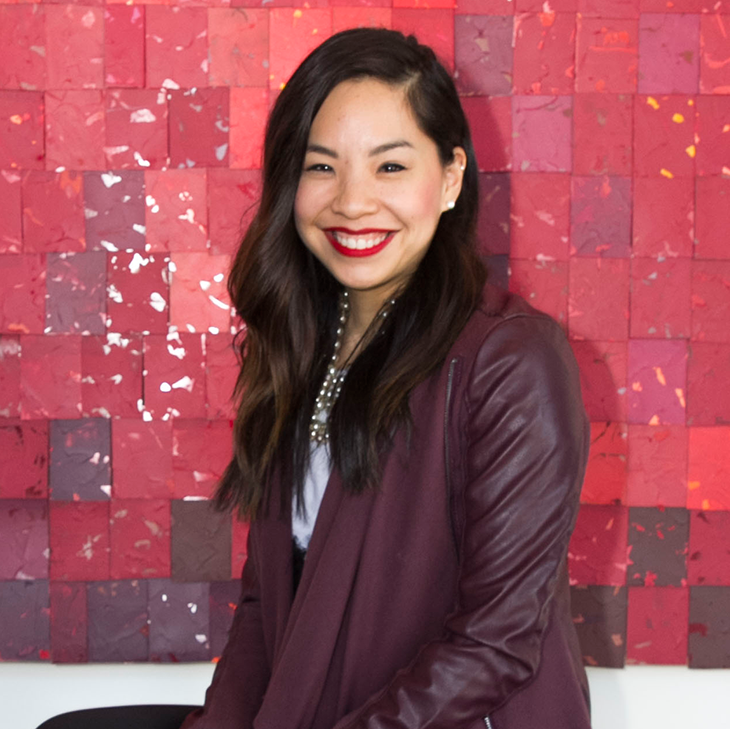 Alumni Feature: Joanne Hong
Monday, July 20, 2020
Joanne Hong graduated in 2008 with a bachelor's degree in apparel design and production. She is the founder and designer of Jolynn and Jolynn Kids.
You worked in the New York City fashion industry several years before launching your own brand. What inspired you to take the leap?
Both of my parents are entrepreneurs, and I always knew having my own company was my ultimate goal. After I gained more knowledge and experience working at several fashion companies, I wrote a business plan, raised money, and took the leap — never looking back. I've learned so much through my mistakes, the small victories and being open to new challenges and opportunities.
My journey ultimately led me to my custom eveningwear and bridal business. The most rewarding opportunity on a day-to-day basis is creating a dream dress for my client. I love the process of working with my client, combining her vision with my brand aesthetic and creating the dress itself. My style is feminine and romantic, with a touch of modern, so I love incorporating all types of laces, beading and 3D floral fabrics.
Describe your day-to-day responsibilities managing Jolynn.
The majority of my work days are spent either researching fabrics, pattern making, or sewing. I love being able to walk into fabric stores to touch and see fabrics in person. The biggest challenge for me after moving to Virginia from New York City last year was the immediate accessibility to special occasion fabrics. Transitioning to solely relying on my fabric vendors and online research has been a big change.
Before launching Jolynn, you worked for some leading fashion companies. Describe your work.
I have interned and worked for fashion companies ranging from the designer eveningwear and bridal company Marchesa to sportswear company Tahari ASL and QVC ready-to-wear company MDL. I worked with the design team to design and develop upcoming season collections, source fabrics, and conduct fittings. I also worked closely with in-house patternmakers/sewers and communicated with domestic/international vendors. I learned the structure and organization of the different departments within a fashion company and the in-depth process and responsibilities of the design team. I also gained more experience and knowledge in construction and pattern making.
What OSU experiences and coursework prepared you for your work now?
One of my favorite OSU experiences was going on the Fall NYC trip with (clinical instructor) Diane (Limbaugh). It was my first time visiting NYC, and I also landed my summer internship at DKNY. It opened my eyes to the world of fashion, and I knew I eventually wanted to move there after I graduated.
Some of the most valuable coursework to me, especially now that I do custom eveningwear/bridal gowns, were my sewing, draping and pattern-making classes. When I launched my own brand, I could make all of my patterns and samples myself, which saved a lot of money. I never wanted to rely 100 percent on someone or a factory to produce a garment for me; if I needed to make a sample, adjust a pattern piece or hem a garment, I wanted to have the ability to do it myself. There are still times when I need to communicate design ideas and changes/adjustments to the sewer or pattern maker I am directly working with, and I am thankful to have learned this foundation at OSU, too.
What advice do you have for current OSU students?
Network and find a trusted mentor. I was fortunate enough to have found an amazing mentor to guide me through my career. Looking back at my eight years in NYC, I'm most grateful for all of the relationships in the industry I made. I know wherever I live, I have built and now maintain strong relationships with factories, fabric vendors, pattern makers, and former colleagues I can reach out to with anything I need. I have formed my personal network and support system that will be by my side throughout my career.