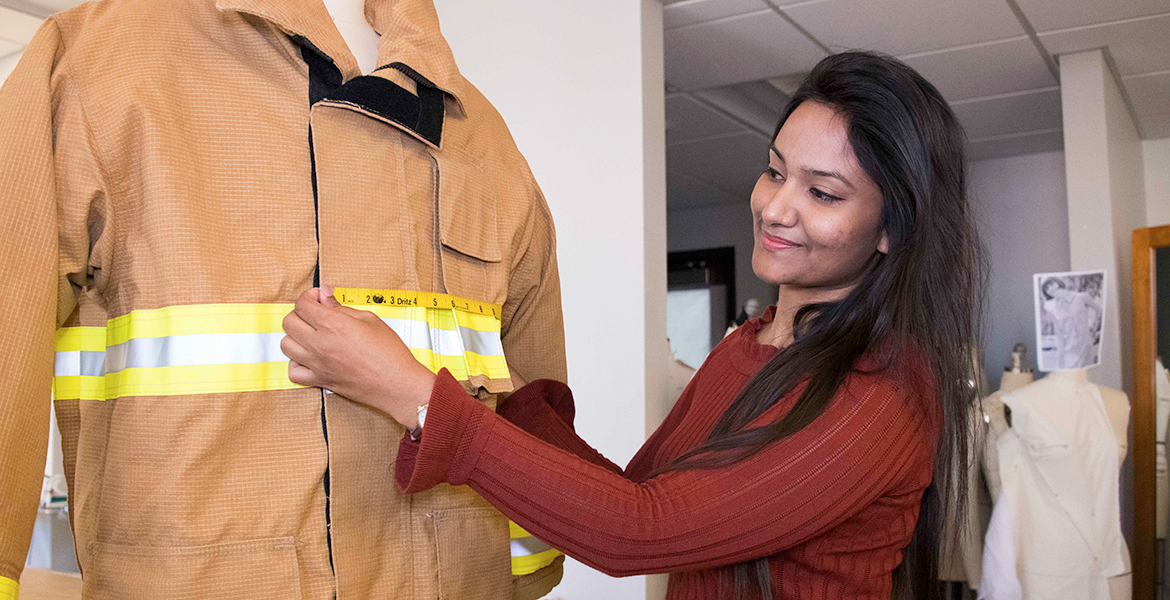 Designing fire-proof clothing with technology of the future
Wednesday, May 6, 2020
When firefighters enter a burning building, they wear heavy protective equipment. Far from the flames, textile researchers are using technology ranging from body scans to 800-1,100 degree C cone calorimeter to make that equipment safer.
Dr. Sumit Mandal, assistant professor, in the Oklahoma State University Department of Design, Housing and Merchandising, in collaboration with Dr. Rob Agnew, OSU assistant professor of fire protection and safety engineering technology burns clothing to study the heat and chemicals produced by fabric materials. Mandal has published nearly 30 journal articles about fire and textile safety and joins a diverse team of fire safety researchers working to meet an important need.
"Based on the previous reports of National Fire Protection Association (NFPA), between 64 and 70 firefighters die and 40,000 to 50,000 firefighting injuries happen in the U.S. every year," Mandal said. "The purpose of this research is to give first responders the protection and safety they deserve."
While Mandal studies the material of firefighters' clothing, Dr. Lynn Boorady, OSU professor and head of the Department of Design, Housing and Merchandising (DHM), has studied the clothing's functionality. She considered whether clothing styles allow full movement and how clothing layers may trap heat.
"The number one cause of death for firefighters is heatstroke," Dr. Boorady said. "When they come out of very high heat, they have to unzip in order to dissipate the heat as fast as possible."
Firefighting clothing protects from heat with three layers: a fireproof outer layer maintains the integrity of the clothing in fire, a middle section serving as a moisture barrier and providing resistance to water and chemicals, and an inner layer acts as a thermal insulator. However, the effectiveness of these layers depends on whether the clothing fits properly.
For example, if a jacket is too short, a firefighter's waist could be exposed to flames when reaching above the head. If gloves do not bend easily, firefighters may remove them to do a job quickly and accurately, risking heat exposure to their hands.
"While conventional firefighting equipment fits the larger population, it doesn't fit the smaller population, such as for women," Boorady said. "We have firefighters wearing gear that is too big for them, which means it's also heavier and bulkier than it needs to be."
To study this problem, Dr. Boorady uses a body scanner to measure firefighters' body dimensions down to the millimeter. In only 20 seconds, four cameras take 250 measurements of firefighter's body dimensions, and a computer generates a digital avatar with exact dimensions. The data helps equipment manufacturers better meet their clients' needs.
"The measurements are so detailed, I could even body scan an entire football team and tell what role each person is in because they have different body types," Boorady said.
Yet, even after exact measurements are taken, Mandal adds firefighters will still be uncomfortable if their clothing's material is not properly transferring their metabolic heat and sweat vapor. He tests materials' thermo-physiological comfort performance to determine how it handles firefighters' heat stress.
"We further analyze the different toxic gases to determine if chemicals are emitted that could cause cancer," Mandal said. "We also look at how quickly cloth loses mass and how much heat it produces."
According to Boorady, another dimension of developing new textile materials is comfort. Mandal uses a Kawabata instrument to study the flexibility of materials before it is ever worn by a firefighter.
"Mandal looks at the drape, how well it survives heat, how comfortable it is," Boorady said. "Can he add any sort of breathability? Or any materials that will dissipate heat faster and distribute it more?"
As researchers study how to better support firefighter equipment manufacturers, their students also have opportunities to use the same technologies in the DHM Textile Science lab.
Boorady says she hopes it opens students' eyes to the opportunities in functional fashion.
"It's not only about how you look, but rather how it feels and how it functions on your body."
MEDIA CONTACT: Brittany Bowman | 405-744-9347 | brittany.bowman@okstate.edu