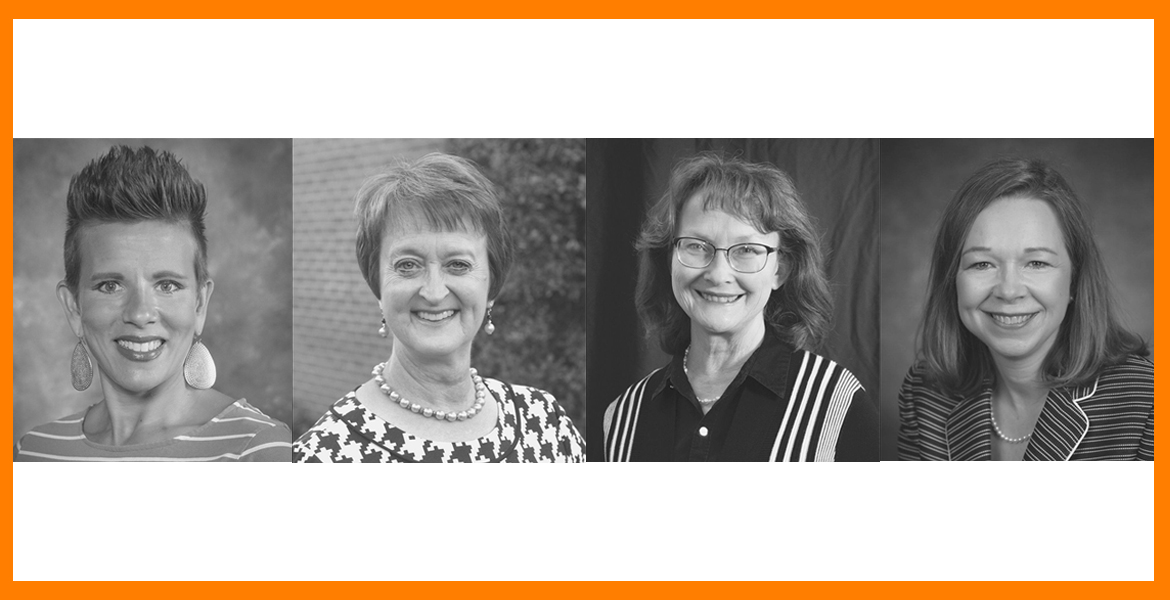 OSU alumnae inducted into FCCLA Leadership Hall of Fame
Friday, May 22, 2020
Four Oklahoma State University alumnae are set to be inducted into the National Family, Career and Community Leaders of America (FCCLA) Leadership Hall of Fame commemorating the organization's 75th anniversary after being founded in 1945. Dr. Paula Tripp, OSU family and consumer sciences education teaching professor; Rhonda Ashburn, FCCLA national staff for 24 years and current executive director for the American Financial Services Association Education Foundation; Denise Morris, Oklahoma FCCLA advisor; and Karen Davis, apparel design instructor at Tulsa Tech, were recognized.
Three of the inductees attended the same high school. Ashburn and Morris led community service projects as FCCLA members (formerly Future Homemakers of America) at Chisholm High School. Then, Morris returned as Chisholm's family and consumer sciences teacher and taught Karen Davis. With many to thank throughout their careers, each have two in common: their OSU professors and Bea Paul, Chisholm family and consumer sciences instructor for 15 years.
"She was a wonderful role model and got us engaged early on, helping us see the value of making a difference through community service and being involved in youth organizations," Ashburn said of Paul, her mother and family and consumer sciences teacher.
Paul studied home economics in the OSU College of Home Economics, now the College of Human Sciences. As a teacher, Paul said community service was an integral part of her FCCLA curriculum. Ashburn added class projects ranging from public education on energy conservation to leadership with March of Dimes prepared her for her career as national FCCLA staff.
"I'm partial, but I believe that FCCLA stands out (among many good career tech student organizations) because the students are so focused on how they can make a difference in their community," Ashburn said.
While working as national FCCLA staff, Ashburn helped promote community service initiatives, including the Families Acting for Community Traffic Safety (FACTS) and secured a $1.5 million grant to launch STOP (Students Taking on Prevention) the Violence, an effort to prevent school bullying. Through each program, Ashburn saw how FCCLA helped students grow.
"I worked with national officers for a good part of my career in various capacities, whether they were going on Capitol Hill or serving at a state level," Ashburn said. "That's really what FCCLA is all about - cultivating leaders in their families, careers and communities."
Morris added the friendships she developed at Chisholm High School prepared her to lead as Oklahoma FCCLA advisor.
"Rhonda was a lot like her mom Bea, who was our teacher, and always found opportunities for us," Morris said. "She was instrumental in me being a part of the State Advisors Coordinating Committee, and that group of individuals planned events for state advisor meetings at our National Leadership Conference."
Before becoming state FCCLA advisor, Morris studied family and consumer sciences at OSU, and was named Teacher of the Year at the two schools where she taught. She credits much to her OSU professors, including Dr. Gaffney.
"Being able to use some of the leadership skills I had learned in high school but then further developed in college definitely helps me in what I do now," Morris said. "I thought the professors and advisors I had at OSU definitely prepared you to teach in the classroom."
Morris sought to demonstrate the leadership and mentorship she received for her own students, including inductee Karen Davis.
"Denise Morris was the one who got me involved in FCCLA," Davis said. "It changed my life because it gave me a better outlook on life. I eventually ran for state office my senior year and then became a national officer candidate."
Davis would go on to work for the national FCCLA office while in college before becoming a classroom teacher and later being asked to serve on the FCCLA Board of Directors. Now, as an apparel design instructor at Tulsa Tech, she hopes to inspire her students like Morris inspired her.
"I always tell my students to get out and get involved in the community," Davis said. "I teach about leadership skills and what competitive events can do for them."
Davis added she has seen many changes in FCCLA throughout her involvement with the organization, including the adoption of red jackets as official dress while serving on the National Board of Directors. Davis collects historical items ranging from membership cards to letter openers bearing the FCCLA and FHA logos. She has devoted an entire room in her home to store the keepsakes and hopes to one day have them displayed in the Smithsonian.
"I enjoy researching the history and seeing how it used to be, seeing how they used to live and how the organization used to be set up, comparing it to the way it is now," Davis said.
Morris adds she has seen many changes as state FCCLA advisor, including the organization's name change from FHA to FCCLA in her first year as state advisor, an increase in male membership and the addition of more competitive events and camps.
However, throughout her career, Ashburn says the importance of FCCLA has remained the same.
"It's incredibly important that young people receive training for life skills, and that's really what FCCLA is doing," Ashburn said. "They're cultivating leaders, and those leadership skills come in all different forms – how to be a good parent, a good family member – and then soft skills like being able to communicate."
FCCLA's 75th anniversary celebrations were made virtual this year due to coronavirus, but inductees are set to be recognized in-person at the 2021 National Convention in Nashville, Tenn., Morris said. Bea Paul added she plans to attend. Dr. Paula Tripp, OSU family and consumer sciences education teaching professor, will also be recognized for her induction into the FCCLA Leadership Hall of Fame in Nashville.
MEDIA CONTACT: Brittany Bowman | 405-744-9347 | brittany.bowman@okstate.edu