Candle-lighting honors Nancy Randolph Davis' legacy
Friday, February 5, 2021
In 1949, Nancy Randolph Davis lit the pathway for future generations on the Oklahoma State University campus as the first African American student at OSU.
More than 70 years later, a candle-lighting celebrating her legacy was held Feb. 1, recognized annually as Nancy Randolph Davis Day at OSU and also the first day of Black History Month. Attendees both in-person and via livestream were challenged to "carry the torch" of Davis' legacy.
"While she was at OSU, she showed courage and continued to do so for the rest of her long life," said Dr. Stephan Wilson, College of Education and Human Sciences interim dean. "Her life was about far more than courage - she was deeply committed to enhancing human lives in so many humble and quiet ways."
Davis was a home economics teacher at Dunjee High School in Choctaw, Okla., when she began taking OSU summer classes in 1949. She graduated with a master's degree in 1952 and her career spanned more 40 years as an educator, lighting a love of learning in many students.
Joyce Smith, one of Davis' former students, shared her experience in Davis' classroom while watching the candle-lighting via livestream.
"Mrs. Davis was instrumental in helping shape my life from my time at Dunjee High School in her home economics classes to being my NAACP youth leader to the sisterhood of Alpha Kappa Alpha Sorority," Smith said in the livestream comments. "Much love and respect for Nancy R. Davis."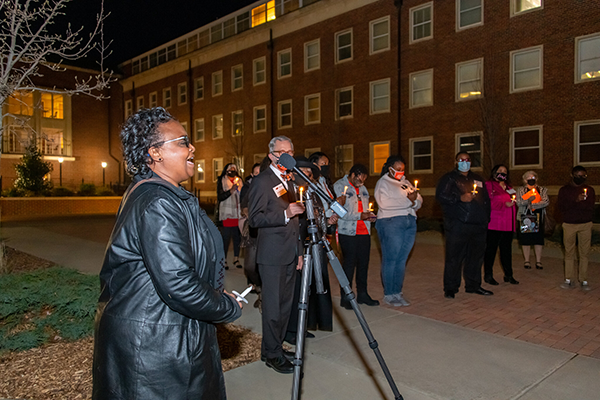 A member of Davis' sorority, Alpha Kappa Alpha, and numerous OSU student organization representatives shared remarks during the event. Dr. Jovette Dew, director of the OSU Office of Multicultural Affairs, challenged students to find their purpose, and Le Ann Simms, Mount Zion Missionary Baptist Church minister of music, sang "I Believe," by Elvis Presley.
Dr. Adrienne Sanogo, College of Education and Human Sciences associate dean for academic programs and services, challenged OSU students and faculty to carry the torch of Davis' legacy.
"We gather to thank Mrs. Davis for the incredible impact her sacrifice, persistence and courage has had on the lives of others and to commit ourselves to carrying her legacy forward," Sanogo said. "By doing hard things for the right reasons, we strive to create a more just and equitable future."
As large and long-lasting as Davis' legacy has been and continues to be, Davis' daughter Dr. Nancy Lynn Davis said her mother's decision to come to OSU began during a rather small moment with her father.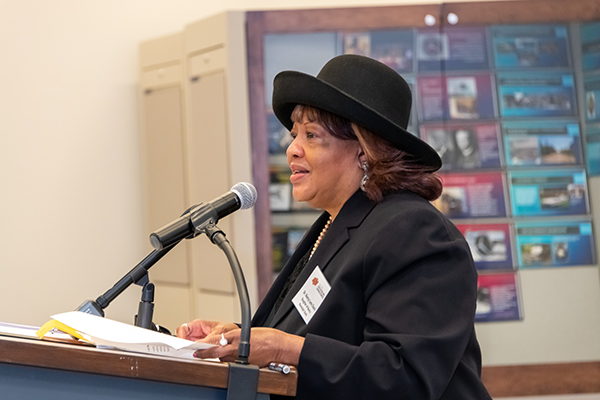 "[Nancy Randolph Davis' father] summoned his daughter at 16 years old to their front porch in Sapulpa and said, 'You know, Nancy, I hear great things are happening in that school in Stillwater,'" Dr. Davis said.
Davis' father, who had lived in an era of hardships, including Jim Crow laws, lynchings and the 1921 Tulsa Race Riot, saw in the darkness a glimmer of hope for his daughter.
"He told her 'You have to keep the faith. You have to hold on, but I believe if you want to go there one day, you will be able to go,'" Dr. Davis said.
Davis went on to experience hardships of her own, even sitting in the hallway of her OSU classroom until she earned the second-highest test score and her classmates insisted she be allowed inside.
The vision not only lit a fire in Davis, it changed OSU history and lit a torch for many OSU students to follow in Davis' footsteps. As attendees of the candle-lighting gathered around Davis' statue, Wilson challenged attendees to set a similar vision for their own lives and for OSU.
"She touched and forever changed the lives of numerous young adults as a teacher, mentor and friend," Wilson said. "We will light candles and then go out and spread our light into the sometimes dark world."
In the brisk February evening, each individual candle shone brightly as attendees gathered around Davis' statue. The statue's inscription stood as a reminder of Davis' both humble and lasting impact.
"I was never trying to make history," the inscription reads. "I was just a regular woman and teacher wanting to further my education so that I could improve my community and the lives of my students."
May we each, in the large and small moments of our lives, strive to brighten others' lives by promoting equal education for all and carrying the torch of Davis' legacy.
MEDIA CONTACT: Brittany Bowman | 405-744-9347 | brittany.bowman@okstate.edu