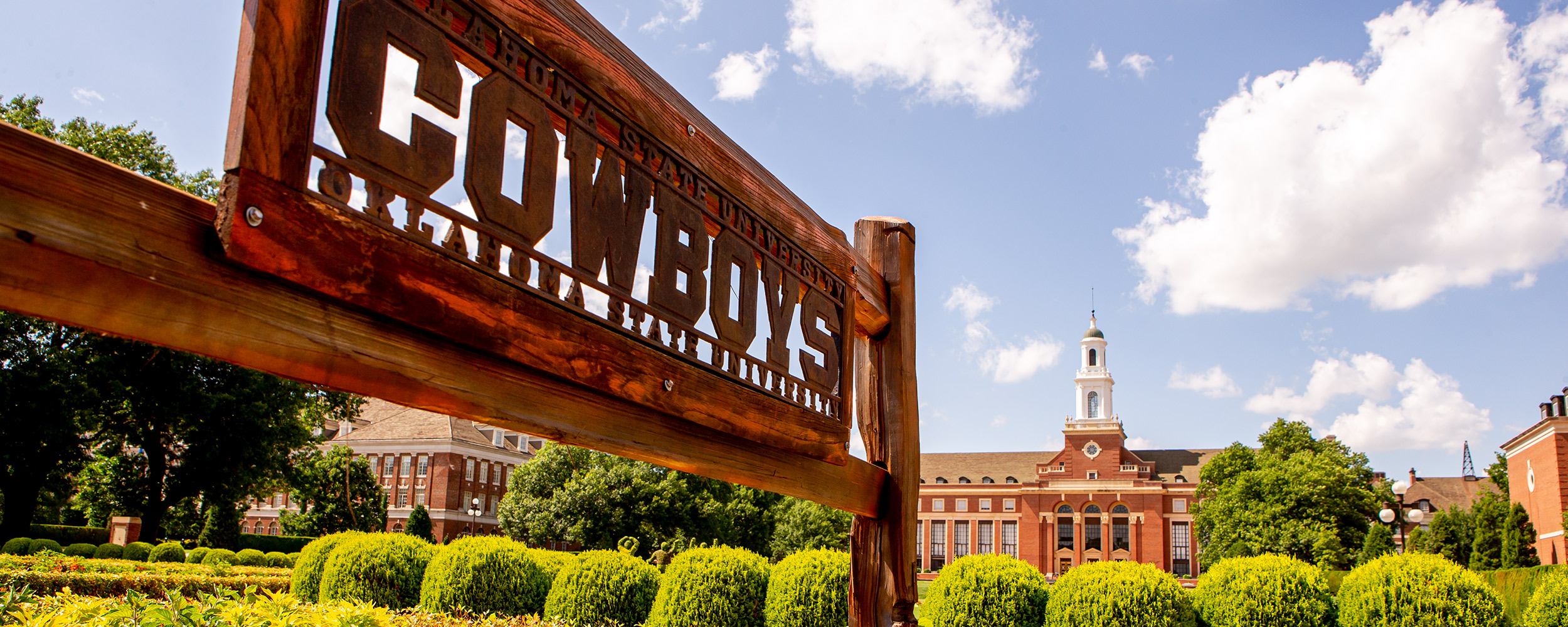 Hall of Fame and Outstanding Alumni Award recipients announced
Tuesday, April 27, 2021
Media Contact: Brittany Bowman | Communications Specialist | 405-744-9347 | brittany.bowman@okstate.edu
The Oklahoma State University College of Education and Human Sciences is pleased to recognize five exemplary individuals with Hall of Fame and Outstanding Alumni Awards. Recipients were celebrated during a virtual ceremony April 23.
"These alumni continue to make a significant and meaningful impact within their professions and communities," said Dr. Stephan Wilson, interim dean of the College of Education and Human Sciences. "It is an honor to celebrate their achievements, leadership and service. Their lives set an example for all faculty, staff and students in our college."
Hall of Fame Award
The OSU College of Education and Human Sciences Hall of Fame is the highest award presented to an individual by the college. It recognizes outstanding professional and personal achievements bringing honor and distinction to the college and university and that ultimately make society a better place.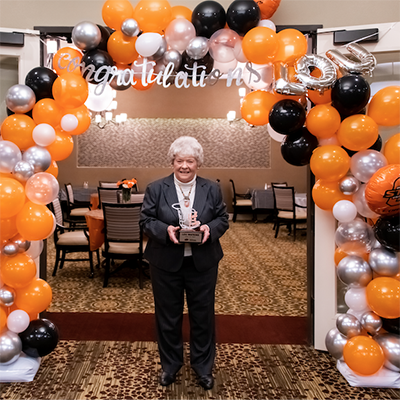 Lou Watkins earned a bachelor's in political science from OSU in 1964 and a master's in secondary education from OSU in 1966. When she discovered she could combine her passion for political science with a career in education, she truly found her purpose in helping students reach their full potential, teaching both at Wilburton High School and East Central University in Ada. With a heart for rural Oklahoma, Watkins was a member of the founding board for Leadership Oklahoma and served on the Oklahoma Academy for State Goals board. She was appointed to the OSU/A&M Board of Regents, serving three terms and a total of 23 years. Lou and her husband, Wes, have sponsored numerous OSU scholarships, and she is instrumental in her community through numerous volunteer commitments. Her dedication to teaching, mentorship and service truly embodies the "Cowboy Code."
Outstanding Alumni Award
The Outstanding Alumni Award recognizes individuals demonstrating excellence in their accomplishments, service to the community and leadership. Honorees seek opportunities to grow in their talents and purposefully serve others.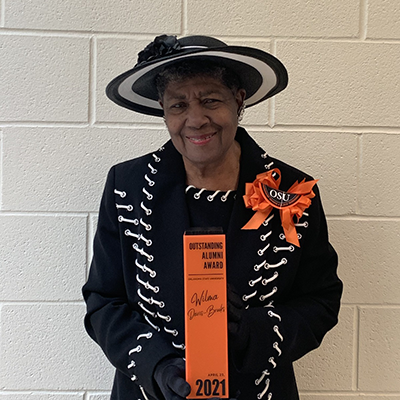 Wilma Davis-Brooks earned her bachelor's in home economics education in 1964 and her master's in family relations and child development in 1972 at OSU. Originally from Idabel, Oklahoma, she currently teaches family and consumer sciences at Harold Murphy Alternative High School in Hobbs, New Mexico. With more than 50 years of experience, she is the longest-serving active teacher in New Mexico. In 2020, Davis-Brooks was selected as a New Mexico Magazine True-Hero. She has also been recognized as the 2012 New Mexico Educator of the Year, and in 2017, she was awarded the Governor's Plaque and a State Senator's Proclamation for Dedicated Service in Education. As she will tell you, "Children are our world's most precious resource. The future of the world depends on how children and young adults learn and how they apply their learning."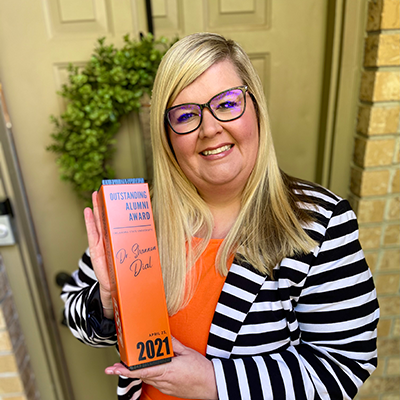 Dr. Shannon Dial of Ada, Oklahoma, graduated from OSU in 2005 with a master's in marriage and family therapy. She went on to earn her doctorate in marriage and family therapy from Texas Tech University in 2014. Dial is the appointed executive officer of integrated services at the Chickasaw Nation, where she leads the innovative Zero Suicide framework into the healthcare and mental health teams. Her work with Zero Suicide has led to numerous awards, including two National Indian Health Board Local Impact Awards and semi-finalist honors for the Harvard American Indian Economic Development Honoring Nations Award in 2018 and 2020. From 2010 to 2014, she served as the director of mental health and substance abuse at the Community Health Center of Lubbock. Dr. Dial has devoted her time and talents serving the university and the college as a member of the OSU Marriage and Family Therapy Alumni Board. Additionally, she was appointed to serve on the Oklahoma Suicide Prevention Council under Gov. Mary Fallin.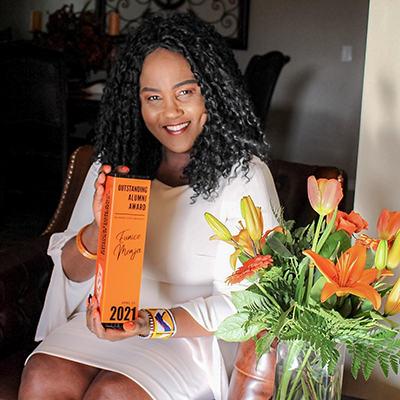 Eunice Menja earned her bachelor's in human development and family science from OSU in 2008 and her master's in human development and family science from OSU in 2011. She is pursuing a doctorate degree from Kenyatta University in Kenya, Africa. While an undergraduate student in 2007, she founded the nonprofit organization Upendo Kids to support orphaned children in her home country of Kenya. More than 20,000 orphans have received shelter, medical care and education from Upendo Kids, and 50 orphans currently live in the facilities full-time. In addition to Upendo Kids, Menja also worked for four years as a foster care specialist for the Oklahoma Department of Human Services, where she was named Employee of the Quarter. Menja is currently an adjunct professor and project advisor for Oklahoma City Community College. She has been an adjunct faculty member at OSU, Saint Gregory's University in Shawnee and Mid America Christian University in Oklahoma City. She has also published three books.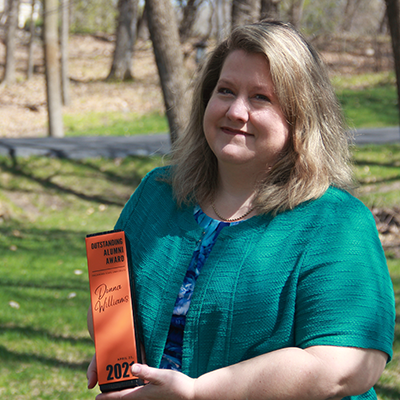 Donna Williams earned her bachelor's in apparel design from OSU in 1997 as the first honors degree graduate of the program. She currently lives in Lakeville, Minnesota, where she is the senior project manager of apparel innovation and technology at Target Corporation, managing integration of 3D design technologies throughout the apparel division. During her first year alone with Target, she increased 3D technology adoption by 40%. Prior to working at Target, Williams worked for Lands' End as the product development technical designer and for K-Mart as a technical designer. Throughout her successful career, Williams has maintained a deep connection to her alma mater. She is actively involved with the OSU Department of Design, Housing and Merchandising Advisory Board and the OSU Honors College Alumni Board.