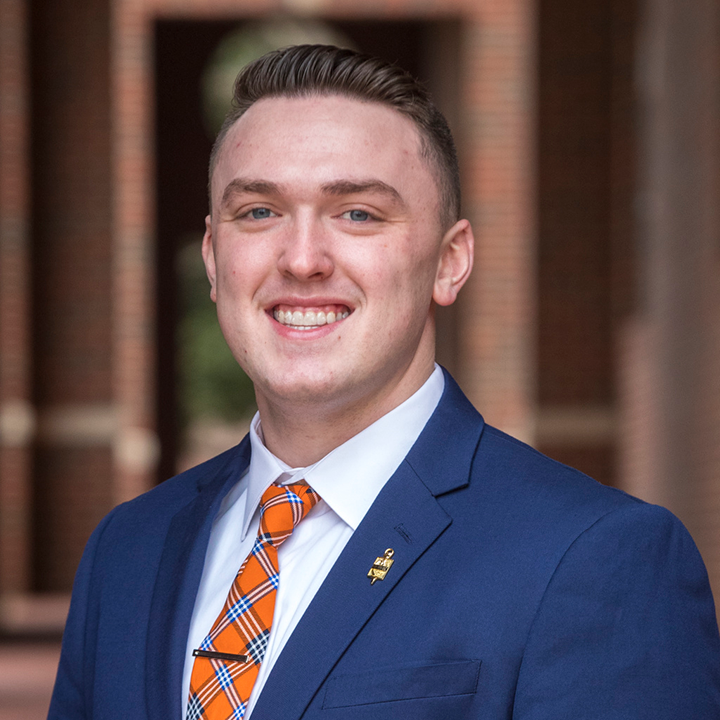 Meet Alec Puckett, Senior of Significance
Thursday, March 4, 2021
Alec Puckett, from Bixby, Okla., majored in health education and promotion (public health). Puckett plans to pursue a master's in athletic training to provide both physical and mental health support to secondary and college athletes.
What is your proudest accomplishment?
Being named a Senior of Significance. Knowing I made an impact in my community and on campus during my time at OSU-Tulsa has made all of the hard work worth it.
Who made an impact on your OSU experience?
Dr. Micah Harwell, clinical assistant professor of psychiatry and behavioral science, challenged me to succeed not only in the classroom but outside the classroom. From day one, Dr. Hartwell let it be known his classes wouldn't be easy, and we would need to work to get the grade we wanted. However, he was always willing to answer my questions and actually gave me advice that helped me choose my career path. One of my favorite projects with Dr. Hartwell was creating nutrition education program for Youth Services of Tulsa for the program design class.
What inspired you to study health education and promotions?
I have always had an interest in the health field. My mom has been a nurse and in the health field my entire life, so the inspiration to help other better their lives comes from her. I chose health education and promotion route because it was the right fit for me to get to my end goal of getting into graduate school for athletic training.
What activities have you been involved with at OSU?
I have worked hard to leave my campus and community better than I found it. I have served as vice president of the OSU Health Promotions Club and was a member of the President's Leadership Society. I have also worked at a Tulsa Regional STEM Alliance summer camp and coordinated donations for Tulsa CARES.
What classes did you find most interesting?
I had so many labs and lessons throughout my time at OSU-Tulsa it's hard to pick, but one that was especially valuable was part of my Physiology of Exercise class. I always felt like whatever we were doing, whether in lecture or lab would be useful in my future career. For example, we learned to conduct a maximal stress test, more specifically known as the Bruce Protocol Treadmill Test, in which we tested participants' endurance at different speeds and percent grades.
MEDIA CONTACT: Brittany Bowman | 405-744-9347 | brittany.bowman@okstate.edu