OSU series featuring Sister Helen Prejean hopes to create discussion on criminal reform
Wednesday, July 21, 2021
Media Contact: Christy Lang | Marketing and Communications Manager | 405-744-9740 | christy.lang@okstate.edu
"Music can reach places that words never reach — when you put it to music, you reach the soul." — Sister Helen Prejean
Sister Helen Prejean has made a career out of going to places that many stay away from and trying to bring light into that darkness.
Starting at the end of July, she will share the experiences of her journey as a criminal justice advocate for a five-week, six session series at The McKnight Center for the Performing Arts at Oklahoma State University called Prelude to Justice: Art, Reform and the Work of Sister Helen Prejean.
Prejean, a Louisiana native who came to fame in the 1990s with her book Dead Man Walking, has worked tirelessly for decades to minister to inmates on death row. Her book was made into an Academy Award-winning movie in 1995 starring Sean Penn and Susan Sarandon, with Sarandon earning an Oscar for her portrayal of Prejean.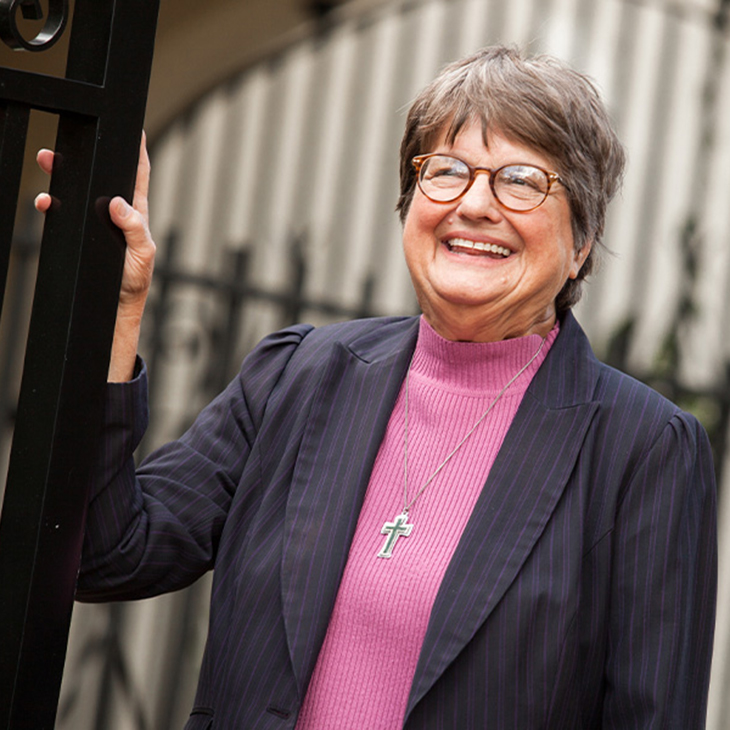 Her work has been translated into a play and an opera in the years since, with Prejean following up Dead Man Walking with The Death of Innocents and River of Fire. The discussion around her activism even reached Vatican City, with Pope Francis announcing a stance against the death penalty after meeting with Prejean in 2018.
Although April Golliver-Mohiuddin said she is no criminal justice expert, after seeing the opera adaptation of Dead Man Walking in Tulsa, she couldn't stop thinking about it.
"That left a huge thumbprint on my soul," said Golliver-Mohiuddin, a professor in OSU's Greenwood School of Music.
Initially scheduled to go on a tour of universities around the country during a sabbatical last year, Golliver-Mohiuddin said because of COVID-19, she instead started to look at different song cycles that had been created following the success of the opera.
On a whim, she decided to use Sister Helen's personal website to reach out to Prejean, who volunteered to meet with Golliver-Mohiuddin the next day over Zoom.
"Sister Helen loved the idea of sharing this music and text with a large audience," Golliver-Mohiuddin said. "But she encouraged me to take it a step further and to include one of her Zoom modules that she has created in recent years."
Golliver-Mohiuddin reached out to Robbin Davis, director of the Osher Lifelong Learning Institute (OLLI) at OSU. Davis said the members of OLLI love to be challenged with courses that have tough themes, having just participated in a series over the Tulsa Race Massacre.
"I just instinctively thought that this was something they would respond to in a big way," Davis said. "We don't shy away from tough subjects and even encourage our members to talk and learn more about those difficult things. I tell people all the time that our members want the meat of something and want to dig their teeth into it and really learn. That is why we exist, right?"
Golliver-Mohuddin then reached out to Darin Williams to see about using The McKnight Center as a venue for the events.
Williams, the Education and Community Engagement Manager for The McKnight Center, said it is important having this series that includes Prejean's live streaming over Zoom, a live panel discussion with criminal justice experts, and a conversation with OSU psychology professor Dr. Shelia Kennison.
"Here in The McKnight Center, we want shared creative experiences and learning opportunities," Williams said. "That is part of our mission, and this program does both of those."
Although Prejean will be discussing her life and career, a focus will be on the criminal justice system in Oklahoma. She is currently the spiritual advisor for Richard Glossip, an inmate on death row for murder in McAlester's Oklahoma State Penitentiary.
Prejean directed Golliver-Mohiuddin to add a number of experts to the panel scheduled for the third week, including Vicki Behenna with the Oklahoma chapter of the Innocence Project as well as Kris Steele, executive director of The Education and Employment Ministry (TEEM).
Golliver-Mohiuddin has worked with Steele on using her vocal talents to sing to inmates at the TEEM facility and is hoping that with TEEM, she can get footage of inmates themselves singing to air during the fourth week of the series which will focus on pain, healing, and recovery through Art.
"Working with women from a correctional facility and seeing their faces light up when I sang, they all of a sudden had this confidence that they were special, too," said Golliver-Mohiuddin, a mezzo-soprano.
The final week of the series on Saturday, Aug. 28 at 7:30 pm we will offer a free recital featuring newer song cycles written by Dead Man Walking composer Jake Heggie. Golliver-Mohiuddin hopes the lyrics — as well as the accompaniment of pianist Megan Beth Argo and flutist Erin Murphy with contemporary dance from Emma Draves — will touch a lot of people.
"It is a visceral moment. We hope that the audience participates in the visceral moment for sure," Williams said.
Set to begin July 29, the series has a nominal fee but Williams stresses that both the performance in the final week and the viewing of the film Dead Man Walking in week two are free events. A majority of the series can be viewed over livestream with registration, he said.
"Through the scope of shared experiences and inspired dialogue, I want there to be a sense of not a conversation about morality but more of a conversation about humanity," Williams said.
Davis said she is hoping that the series will be a long-term project for OLLI and continue to educate people about social issues.
"Sister Helen has a saying of 'How one bad choice should not reflect our entire life's character.'" Davis said. "I think that is true and echoing what April was saying, is sometimes that choice doesn't feel like a choice. It is not always the choice that is the best for the rest of our lives, but we do it anyway because we are in dire straits.
"So I think forgiving the sin but still loving the human is something that I hope we can convey through Sister Helen's work and the series."
Registration for OLLI members is $40 and for non-OLLI members is $50. Registration for members can be found online here and for non-OLLI members here. More information can be found at okla.st/prejean.