Outstanding Seniors announced by College of Education and Human Sciences
Thursday, April 15, 2021
Media Contact: Brittany Bowman | Communications Specialist | 405-744-9347 | brittany.bowman@okstate.edu
The Oklahoma State University College of Education and Human Sciences is pleased to recognize six Outstanding Seniors for 2021. With more than 800 seniors expected to graduate from the college in 2021, these students represent the top 1%. They were selected for the prestigious honor based on their commitment to the land-grant mission through research, outreach and coursework.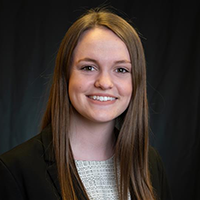 Anna Rankin, from Vernon, New Jersey, is a nutritional sciences major with an option in dietetics. She has worked as a medical services clerical staff member and OSU facilities management student worker. She also served as president of both the Chi Alpha campus ministry and the OSU Nutritional Sciences Club. Her senior capstone project — Choose Orange — involved promoting health dining on the OSU campus.
"Anna's willingness to go above and beyond in her classwork, as well as her research interest and abilities, will bring great value to her career as she leads with a cutting edge of evidence-based practice," said Dr. Jill Joyce, assistant professor of public health nutrition.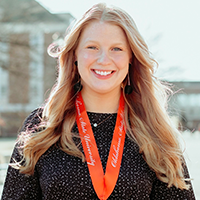 Camryn Chitty, from Choctaw, Oklahoma, is a human development and family science major with an option in child and family services. Chitty is an active researcher in the OSU Child Trauma Prevention Lab and has presented at conferences of the Oklahoma Psychological Society and the Oklahoma Psychological Association. She has held numerous campus leadership positions, including serving as president of the national service sorority Omega Phi Alpha.
"Camryn is a competent and driven young woman who is highly motivated to succeed," said Dr. Lana Beasley, associate professor of human development and family science. "Camryn represents everything that an OSU student should be — someone that is kind, caring, dedicated, hardworking and driven toward excellence."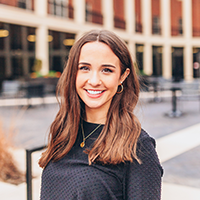 Danielle Anastasi, from Conroe, Texas, is a nutritional sciences major with an option in dietetics. Anastasi has been an active contributor to Dr. Sam Emerson's Laboratory for Applied Nutrition and Exercise Science (LANES) studying cardiovascular and liver health. She has been involved with Project H.E.A.R.T. — a nutrition program delivering healthy meals to seniors in Stillwater — and the Eating Recovery Center. Anastasi also created and led a diversity, equity and inclusion committee in her sorority Kappa Kappa Gamma.
"Danielle has overcome challenges, gained confidence and took advantage of important opportunities, both inside and outside of the classroom," said Jennifer Eisensmith, nutritional sciences academic advisor. "These experiential learning opportunities have given Danielle the strong foundation she needed for academic and service-oriented success."
Emily Kruse, from Coos Bay, Oregon, is an aerospace administration and operationsmajor with a professional pilot option. A McKnight Leadership Scholar, she has volunteered with numerous organizations, including Our Daily Bread, Payne County Youth Services and Habitat for Humanity. Kruse is a member of the Flying Aggies and the OSU Flight Team. She also spearheaded efforts to found the Women in Aviation International Chapter and serves as the chapter president.
"Based on her success at OSU, it is evident that she is going to accomplish great things, and have a profound and lasting impact on our professional pilot program and the College of Education and Human Sciences," said Madison Hagen, aviation academic advisor.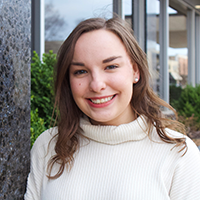 Hope Jandreau, from Oklahoma City, is a nutritional sciences major with an option in dietetics. In addition to serving as a member of the Education and Human Sciences Student Council, Jandreau has interned with Stillwater Church of Christ and the campus ministry, University Center. She currently works in the medical field as a dietary aide at VITAL Healthcare and is the student council liaison for the OSU Nutritional Sciences Club.
"Hope's quick learning and high critical thinking abilities stand out from her peers," Joyce said. "She inspires greatness in herself and those around her."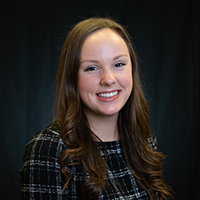 Sydney Bellah, from Stillwater, Oklahoma, is a human development and family science major with an option in child and family services. Bellah has been active in research, working with the Institute for Development Disabilites as undergraduate researcher. She was selected a Wentz Research Scholar and a Freshman Research Scholar, studying both forgiveness among female prison inmates and marriage longevity. Bellah has supported individuals with intellectual and developmental disabilities as an Opportunity Orange Book Club facilitator and been active on campus as a student council member, Center for Family Services intern and OSU Cycling Team member.
"Her enthusiasm is contagious and her tenacity and passion in approaching challenging tasks is admirable," said Dr. Jennifer Jones, associate professor of human development and family science. "It has been an honor to observe her personal growth and development."