Oklahoma State University named a top school for online RN to BSN program
Wednesday, November 2, 2022
Media Contact: Kirsi McDowell | Senior Communications Specialist | 405-744-9347 | kirsi@okstate.edu
OSU's RN to BSN has been ranked among the nation's best online degree programs by EduMed.org, which highlights programs based on overall quality, affordability and commitment to student success.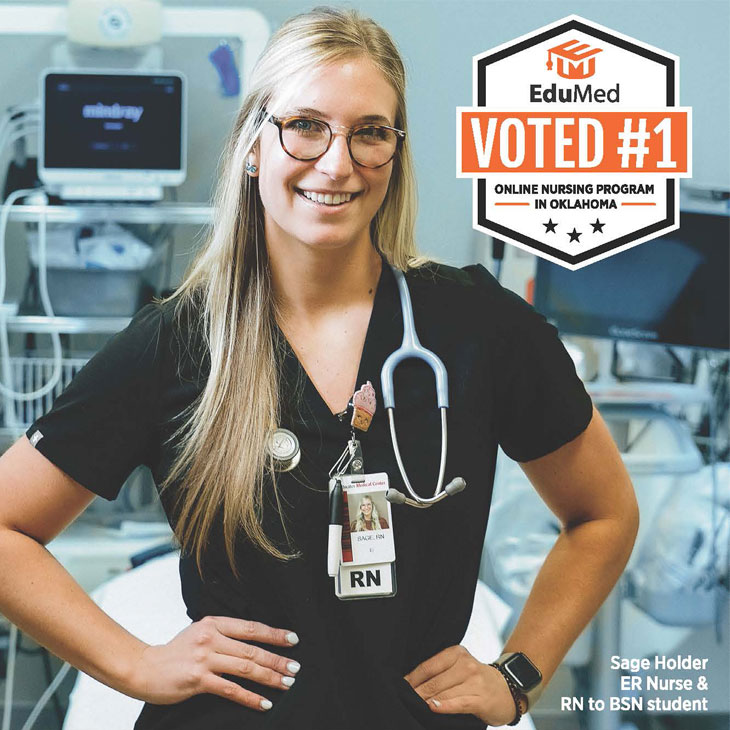 OSU's RN to BSN program ranked in three EduMed categories, including Best Online Nursing Programs in Oklahoma, Best RN to BSN Programs Online and Best Nursing Programs Online. Just six percent of regionally accredited colleges and universities, and only eight percent of nationally accredited institutions, earned a ranking position.
"We continuously strive to provide the best educational experience for our students as we prepare them to excel in their practice at the BSN level," said Dr. Alana Cluck, director of nursing in OSU's School of Community Health Sciences, Counseling and Counseling Psychology. "The need for online learning for these professionals doesn't dilute the quality of their education."
EduMed's rankings showcase the schools giving future nurses and allied health professionals the best chance to succeed from day one in the classroom to day one on the job. Contributing factors to the nominations include low-cost tuition, academic counseling and career placement services, student-to-faculty ratio and total of school-based financial aid. To be eligible, a school must hold active regional accreditation and have at least one partially online program in the ranking subject.
OSU's RN to BSN program is accredited by the Commission on Collegiate Nursing Education (CCNE) and can be completed in as little as 9-12 months.
Applications are being accepted now for Spring 2023. Preferred application deadline for Summer/Fall of 2023 is Feb. 1 but applications submitted after that date will be considered for admission. For more information about OSU's Bachelor of Science in Nursing (RN to BSN) program, visit nursing.okstate.edu.