OSU Flight Team takes second place at regional competition, qualifies for nationals
Tuesday, November 8, 2022
Media Contact: Kirsi McDowell | Senior Communications Specialist | 405-744-9347 | kirsi@okstate.edu
The Oklahoma State University Flight Team placed second overall in the 2022 National Intercollegiate Flying Association (NIFA) Region IV SAFECON contest, held Oct. 16-20 at Southeastern Oklahoma State University in Durant, Oklahoma.
Each member of the Flight Team competed in events designed to test their knowledge in areas such as computer accuracy, navigation and landing methods, vying to qualify for the national competition. Flying Aggies pilots ranked highly in numerous individual competitions. As a team, the Flying Aggies took second and third place in ground and flight events, respectively.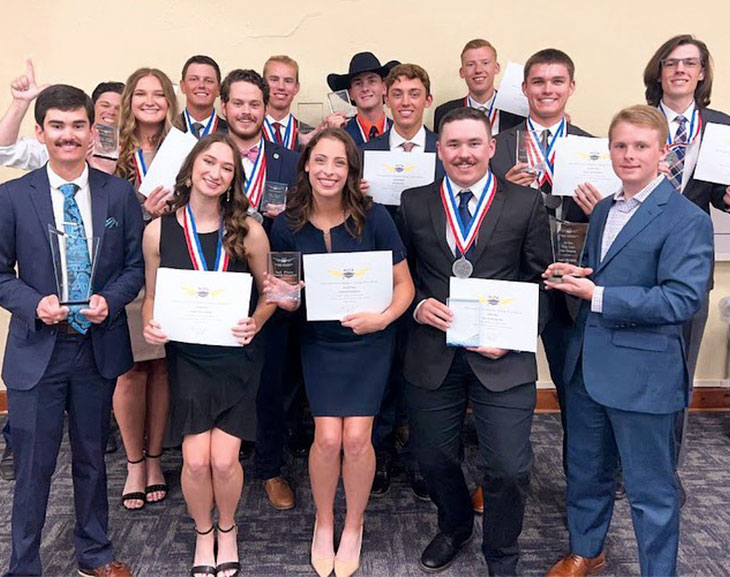 "Being on the Flight Team requires a considerable amount of perseverance and integrity to achieve excellence, not only at the individual level but as a team as well," OSU Flight Team coach Branden Adams said. "Our team consistently earned individual top-10 finishes, aiding in our march toward finishing in a top placement overall.
"I could not be more proud of the work each Flight Team member put into their craft this semester. Captain A.J. Sills and Co-Captain Evan Robinson played a crucial role in preparing and supporting the team throughout the semester, and for that I am appreciative."
Dr. Jon Loffi, undergraduate program professor and faculty advisor for the Flying Aggies, praised Adams and the team's performance.
"Coach Adams did a stellar job preparing for competition. I am very pleased with his effort in coaching the Flight Team and with the job the Flight Team did to place in the top two," Loffi said.
The Oklahoma State University Flight Team will compete at the NIFA National SAFECON Competition in Oshkosh, Wisconsin, which is scheduled for May 8-13, 2023.