Department of Design and Merchandising launches new certificate series in 3D Digital Product Creation
Monday, August 21, 2023
Media Contact: Kirsi McDowell | Senior Communications Specialist | 405-744-9347 | kirsi@okstate.edu
Oklahoma State University's Department of Design and Merchandising is bringing fashion production into the digital age by piloting the nation's first university-based professional certificate program in 3D Digital Product Creation.
Three new certificates will teach students 3D skills and provide general knowledge of the overall 3D landscape in the fashion industry.
Launched fall 2023, courses are offered for fashion students and industry professionals to become certified as 3D designers, 3D technical designers and 3D artists. A pathway to becoming a 3D material artist will be added to the portfolio in fall 2024.
The 3D Digital Product Creation courses will be led by instructor Diane Limbaugh, who has taught at OSU for more than a decade and provides industry insight and experience as a technical designer and owner of her own fashion brand.
Meeting Industry Need
The certificate series was ideated through the 3D Retail Coalition (3D.RC) Education committee, which is comprised of dedicated industry professionals and educators who have met over the past seven years to determine the skills, skill level and knowledge needed in order to pursue a position in 3D Product Creation.
"I have never seen a technology adaptation in industry as fast as the major fashion entities switching to 3D technology," said Dr. Lynn Boorady, head of OSU's Department of Design and Merchandising.
In response to the critical industry need, leadership and faculty from the design and merchandising department developed four courses for each role and then refined them with constant feedback from industry partners to ensure that the question "Would you hire a person with these skills?" could be answered with a resounding yes from fashion companies.
"When we finally developed the skill matrices for each of the four industry positions, I knew it was time to develop something that would not only propel our students into their careers, but also be able to upskill others already in the industry," she said. "These skills are dearly needed and these jobs pay well."
Boorady said COVID-19 was the catalyst for moving to digital. However, many companies made the transition before the pandemic.
"It is a much more sustainable option for creating new designs, has a much faster turn-around time and allows everyone to work in a single online space to streamline the entire process from ideating through selling to the consumer," she said.
Each certificate pathway has four courses to complete with each requiring the completion of six or more modules that include instruction, assignments and practice.
Coursework will provide knowledge in navigating Browzwear software, allowing students to learn to use body-scanned avatars and dress forms in a 3D space as well as pattern making in 3D, along with other industry utilized software. Determining appropriate materials for use and understanding placement of seams, artwork and trims helps to translate design into a 3D garment to be used for samples, fitting and testing fabric drapes.
"While we based our certificates on a single software, we introduce a myriad of different software to ensure that our students have the skills required," Boorady said. "We wanted to mimic how industry works — and they use many different types of software to develop the best possible images and final products before going to market."
"They must because mistakes in manufacturing can cost companies significant losses."
Certificate Pathways
The certificates all share the same first three courses for completion, but differ in their respective capstone courses.
The individual classes for the Digital Product Creation certificate are self-paced, allowing students to sign in whenever they are able to watch pre-recorded lectures and complete weekly assignments. In order to progress through the sequence, students must obtain a grade of a C or better in each course.
Digital Product Creation is the first course students will take in the certificate program. Students will advance their 2D design skills with 3D digital creation, understand the importance of 3D software as it pertains to the apparel industry and be introduced to 3D software programs such as Browzwear's V-stitcher and Stylezone.
Digital Product Creation II is next in the sequence, building on the basics learned in the first course. Students will continue to improve their knowledge and proficiency in 3D design by creating avatars, materials and garment patterns, and learn to perfect simulations and styling. Skills will be advanced in Browzwear's V-stitcher, and Stylezone and Blender tools will be introduced.
The third course, Advanced Digital Product Creation, will help students determine their pathway to 3D garment creation by further advancing 3D design knowledge. They will enhance their 3D skill set with advanced rendering, garment construction and animation of avatars.
The last course in the series expands on the advanced skills learned throughout the certificate program and allows students to focus on an individualized path as a 3D designer, 3D technical designer, 3D artist or 3D material designer. In the capstone course, students will learn additional software specific to their desired area of expertise.
Students who choose the 3D Apparel Designer pathway will learn to build 3D prototypes and samples executed to reflect design concepts; create accurate, detailed, high-quality renderings quickly and efficiently; and understand technical sketches, illustrations of construction details and multiple product views.
Those who opt for the 3D Apparel Technical Designer certificate will learn pattern making, block development and grading; understand digital pipelines and how they relate to the product development cycle; and gain digital asset management software experience including file management and attribution.
The final certificate pathway launching this fall is for students who wish to become 3D Apparel Artists. In this capstone course, students will learn to produce photorealistic 3D images or animations of apparel; understanding lighting principles and digital color processes; and learn applications of material textures and physics, along with trim, artwork and embellishments.
Set to launch in the fall of 2024, the 3D Digital Material Designer certificate will teach students to understand measurement methods and devices for mechanical and physical properties as well as optical fabric maps; identify, communicate and categorize materials; and digitally recreate fabric based on optical and physical characteristics.
Spreading the Word
3D technology, and all it offers to fashion companies, has been a major topic at industry conferences for years.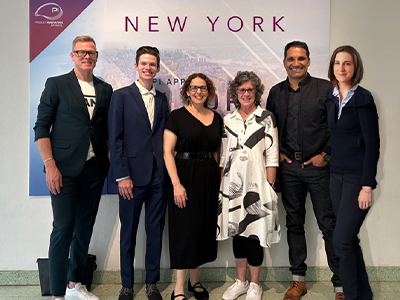 The new 3D Digital Product Creation certificate program was announced during a panel session at the Product Innovation Apparel Conference in New York City on June 28.
OSU's offerings were shared with more than 100 conference attendees by Boorady, Limbaugh, and fashion design and production graduate Carson Scott. Industry leaders were also present, including Safir Bellali — chair of the 3D Retail Coalition's (3D.RC) education committee; Adrianne Hranko — senior fit engineer for Columbia Sportswear; and Joshua Young — director of digital product creation for VF Corp.
"3D Digital Product Creation is transforming the world of fashion for both students and the industry alike," Scott said. "As a student, learning to work in 3D was a valuable tool that helped me become a more informed designer. I am able to visualize, validate and approve a digital twin before ever sewing a stitch."
"The program has been user-friendly, intuitive and allowed me the flexibility that I needed to create what I want in 3D."
Getting Started
For Industry Professionals
These certifications are specifically designed for those in the industry who are interested in reskilling or advancing their professional skills. 
Upon certificate completion, learners will have the skills necessary to obtain a job in 3D product creation within the apparel industry.
The online certificate courses offer professionals in the workforce convenience and flexibility with pre-recorded lectures and the ability to access the coursework from anywhere with internet.
Each course has six or more modules to complete, including slideshow presentations, video lectures, assignments and quizzes. There are no exams. Students have up to six months to complete each course, but can finish at a quicker pace if preferred.
"We know that everyone's technology journey is different and everyone has their own pace," Boorady said. "Some people may be great at learning new software, while others may need more time. Some people have family responsibilities or are working long hours. We wanted to develop something that could fit into a variety of lifestyles and abilities.
"The self-paced courses, along with stellar support from Diane Limbaugh, will offer the opportunity for success."
Because the courses are asynchronous and self-paced, individuals may start their studies at any time. Synchronous sections can be created for companies who wish to enroll six or more employees and should contact the department for more information.
Courses are $800 each or all four courses for the completion of one certificate can be packaged for $2,900. An additional $150 fee is required to access Browzwear. Registration is now available at okla.st/register3dpc.
For College Students
For current OSU students or those from other universities, courses begin in accordance with OSU's academic calendar and may be counted for credit toward a degree program. Enrollment is now open for the fall semester.
The course format for current undergraduate and graduate students is the same as for industry professionals, with the exception of having up to 15 weeks to complete each course during the fall and spring semesters.
Upon certificate completion, courses will be transcripted for submission to the university at which the student is pursuing a degree.
---
For more information, email diane.morton@okstate.edu or call 405-744-6552.