College of Education and Human Sciences hosts Nancy Randolph Davis Day celebration
Friday, March 24, 2023
Media Contact: Kirsi McDowell | Senior Communications Specialist | 405-744-9347 | kirsi@okstate.edu
The Oklahoma State University College of Education and Human Sciences hosted a celebration in honor of the late Nancy Randolph Davis, the first African American to enroll at what was then Oklahoma A&M College in 1949.
Associate dean of equity and inclusion Dr. Darius Prier was proud to present the program. More than 100 students, faculty and staff attended the event.
"Davis is a seminal, historical figure that symbolizes and represents the very best of OSU's ideals toward equity, diversity and inclusion. Her life and legacy offer lessons to be learned for our current faculty, staff and students alike," Prier said.
Prier's resounding message for the program was about how the university can foster a feeling of coming together, not in spite of, but because of its differences.
Keynote speaker Dr. Michelle Bryan — associate professor of educational leadership and policies and associate vice president for diversity, equity and inclusion at the University of South Carolina — shared a wealth of knowledge about Davis' life history, ongoing legacy and the lessons we can apply to our everyday lives.
When Davis was admitted to OSU, it was with the understanding that she was required to sit outside the classroom in the hallway due to Jim Crow laws. After making the second highest score on a test, her white classmates recognized her intellect and made complaints to the professor resulting in her ability to join the other students in the classroom. Davis was no longer seen as a threat to the learning environment by her peers but as someone who could enrich their discussions.
Davis' determination in attending Oklahoma A&M (OSU) was simply due to its proximity to Dunjee High School where she taught home economics — and because it was her right.
Although now recognized as a civil rights activist and trailblazer for equity in higher education, Davis didn't see herself as a change maker.
"One does not need to see themselves as a leader or be in a position of authority to become a changemaker," Bryan said. "Institutional transformation is situated in how we interact and advocate for diverse students to become everyday leaders."
In addition to the keynote presentation, a panel of faculty and graduate students from a variety of backgrounds and academic units engaged in dialogue on the historical implications of Davis' pioneering efforts for equity-based practices.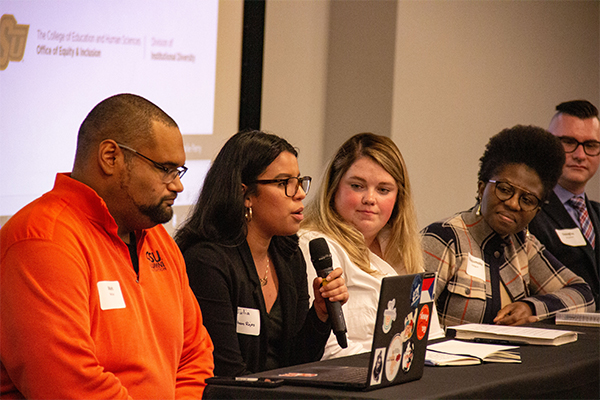 Panelist Dr. Olajumoke Beulah Adigun — an assistant professor in the School of Educational Foundations, Leadership and Aviation — feels the way people can foster a commitment to equity is in creating a conducive environment for conversation.
"Everyone wants to be heard. As a society, we often spend more time talking and not enough time listening – not just listening to what is being said but to who is saying it," Adigun said.
In Davis' case, people eventually listened to her needs, thus paving the way to a more equitable environment for all degree-seeking individuals.
College of Education and Human Sciences Dean Jon Pedersen shared what an honor it was to celebrate the occasion.
"We feel strongly about what Nancy Randolph Davis means to the college, campus and our greater community," Pedersen said. "Her legacy will continue to have a positive impact for years to come."
Echoing this sentiment, OSU's provost and senior vice president, Dr. Jeanette Mendez, said that everyone can all learn from Davis' acts of leaning back to help others.
"Woven in the university's academic mission are the ways by which we can prepare students within the classroom to do good beyond the classroom," she said.
When considering what it means to be equitable and inclusive, values such as advocacy, empathy, benevolence and commitment are at the forefront.
Dr. Emily Tucker, assistant professor and program director for OSU's Opportunity Orange Scholars, added that when spaces are created where an individual is allowed to be whomever they are, that is where people have an opportunity for connection and belongingness among individuals from all backgrounds.
For more information about Nancy Randolph Davis, visit education.okstate.edu. To learn more about OSU's diversity, equity and inclusion efforts click here.