OSU Unified caps inaugural year with Special Olympics Summer Games
Wednesday, May 24, 2023
Media Contact: Christy Lang | Marketing and Communications Manager | 405-744-9740 | christy.lang@okstate.edu
Nearly 4,000 athletes from across the state made their way to Stillwater last week for the 2023 Special Olympics State Summer Games. While Oklahoma State University has long served as host for the event, this year's games featured something new: a team of athletes and partners representing the university as OSU Unified.
For athletes and their families, competing in the State Summer Games was the culmination of a journey that began nearly a year ago, according to Dr. Jennifer Jones, director of the OSU Center for Developmental Disabilities.
"Having done Special Olympics for 21 years, Summer Games at OSU are my favorite three days of the year to be on campus. The air is lighter, there is so much joy amidst a lot of friendly, but fierce competition," Jones said. "The difference this year is that our OSU Unified athletes and partners felt so connected because they've had the opportunity to compete all year long. OSU feels like home and everyone loves to get to play big games on their home turf."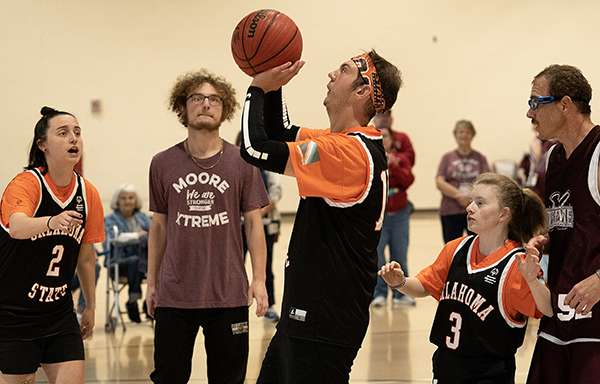 The OSU Unified delegation included 12, two-person bocce teams (one Special Olympics athlete and one partner), two 3v3 basketball teams (each with three athletes and one partner) and four coaches.
Last July, OSU expanded its partnership with Special Olympics Oklahoma, becoming the first Special Olympics Unified College Program in the state. A collaboration between the OSU Department of Wellness and the Center for Developmental Disabilities launched unified intramural sports opportunities, allowing OSU students, faculty and staff to compete alongside Special Olympics athletes throughout the school year in bowling, bocce and cornhole tournaments, 6v6 volleyball, 5v5 flag football leagues and more.
Jones said the response was strong with athlete interest from across the state and OSU students, staff and faculty joining as partners. In addition to participating in a host of intramural events, OSU Unified held monthly gatherings to build relationships away from the court or field.

Athlete Brandon Rhodes traveled from Ponca City, Oklahoma, to participate. Brandon's mother, Janiece, said she has been amazed to see his growth and the connections he has formed.
"We started in November with volleyball, and since that time, he has become more confident. He has autism and he's been speaking, having conversations. They treat him just like he's one of their regular peers and that's what is wonderful about it," Janiece said. "When he first started, he was so into himself. He had a hard time communicating. He was frustrated. Over the past several months, he's come out of his shell. He's blossomed into a (wonderful) version of himself I didn't know I was ever going to see."
Athlete Abby Allison actively participated with OSU Unified during the school year. Abby's mother, Kathy, said it's been a great experience for Abby and her family.
"Because of this, she's making friends with other people, not only with special needs. The (OSU) students have been amazing," Kathy said. "We're seeing relationships develop that honestly, I had not expected. We've had so much support and encouragement for her. She feels like she's part of a team and part of a greater community than before."
The Allison family lives in Stillwater and has strong OSU ties. Kathy and her husband, along with Abby's siblings, graduated from OSU, and they are proud to be part of the Cowboy family.

"Seeing OSU do this is a real family thing for us. It means so much," Kathy said. "When Abby sees anything OSU, she's like mom, 'OSU! Go Pokes!'"
OSU Unified will continue in the fall with a full slate of intramural sports and is poised to grow thanks to a special investment.
"We are so grateful to Chelsea Alexander and First Cowboy Darren Shrum for the funding provided by Chilly Cowboy that will allow us to continue to expand our programming," Jones said.
Athlete and partner registration for fall events will open in mid-July. Follow OSU Unified on Facebook and Instagram or check the Center for Developmental Disabilities website for more information later this summer.