CEAT's Speedfest 2018 Huge Success
Friday, May 11, 2018
Each year OSU's College of Engineering, Architecture and Technology holds Speedfest, where engineering students from OSU, other universities and high schools come together to demonstrate their knowledge and enthusiasm for aviation and aerospace. This year's performances demonstrated to be one of the best.
"Speedfest is an exciting, high-speed aircraft design, build and fly competition, proven to be the most challenging hands-on design competition in the world," said Andy Arena, OSU mechanical and aerospace engineering professor. "This competition prepares aerospace engineering graduates to work in the aerospace industry and creates opportunities for high school students and K-12 teachers to participate in exciting hands-on STEM aerospace projects."
There are two flight competition classes; the Alpha Class is the advanced class where collegiate-level teams design a high-speed, unmanned stealth jet aircraft that is capable of evading doppler radar and deploying two payloads accurately into a designated area. The India Class is the invitational class consisting of high school student teams and K-12 teacher teams across Oklahoma competing to design and build pylon racing aircrafts based on a 2-stroke OS.46 AXII glow fuel engine.
This year there were four Alpha Class teams competing including two teams from OSU, one team from University of Kentucky and one team from St. Louis University.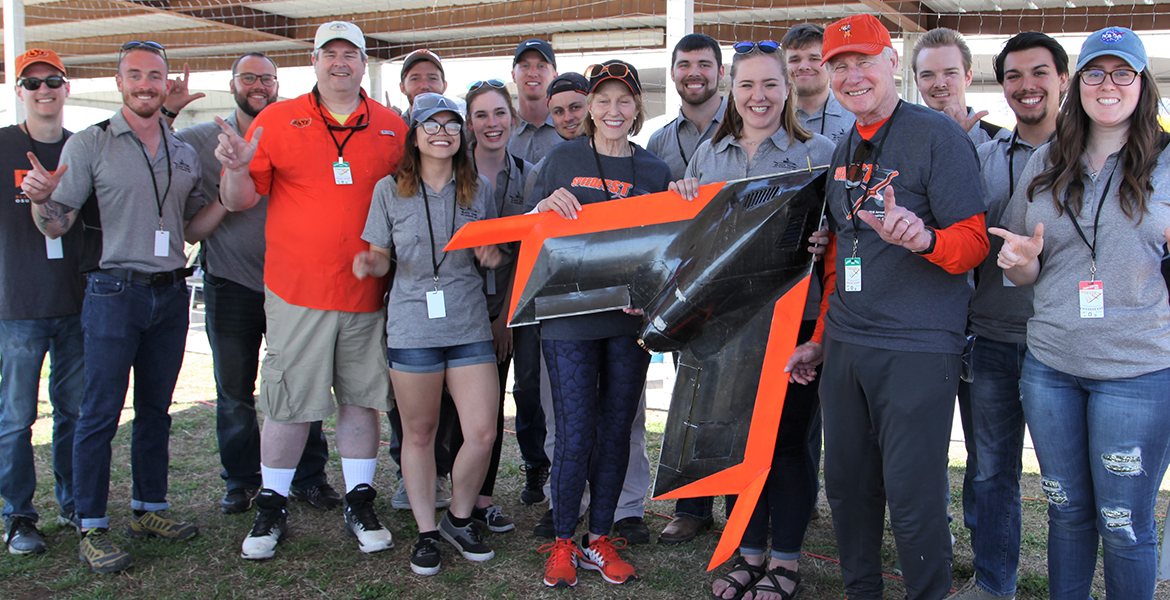 Thirteen India Class teams competed, in which one consisted of NASA Oklahoma Space Grant Consortium pre-service teachers. The motivation for creating teacher teams is to give teachers hands-on experience and knowledge they can take back to their classrooms.
New in this year's Speedfest was an additional class; Charlie Class consisting of two collegiate level teams showing their skillset with autonomous cars.
"This project was great for our students in that it showed them how hard it is to nail the final details of a project," said Aaron Alexander, mechanical engineering technology professor at OSU. "They thought they had it mastered when they were at 90 percent completion only to find out that most of the real work consists of the getting the last bits to work out right. This insight, along with the importance of testing, will be their most valuable lessons as they leave their capstone class to start their careers."
For the Alpha Class, the OSU Black Team took the win with the OSU Orange Team taking second place. For the India Class, Oklahoma Christian School took first and Tishomingo High School took second. OSU's Team Two took first in the Charlie Class.
There were additional awards given for best videos, airplane graphics, best build, best helmets, and team spirit.
Also attending were Aerospace Expos that featured multiple static displays and flight demonstrations.
Over 184 students, 12 college faculty, and 17 high schools participated in this year's Speedfest events. The event brought in over 850 participants and spectators including OSU's President Burns Hargis and First Cowgirl Ann Hargis for a fun-filled weekend.
RELEASE CONTACT: Kristi Wheeler | CEAT MarCom | 405-744-5831 | Kristi.wheeler@okstate.edu