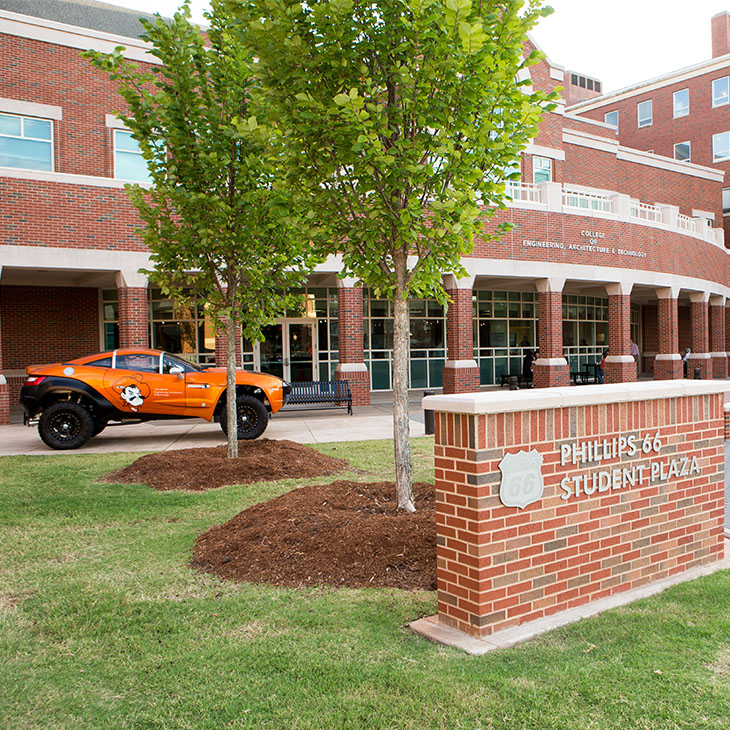 CEAT MSETM Program Celebrates 20 Years
Friday, October 5, 2018
OSU's Master of Science in Engineering and Technology Management (MSETM) program is celebrating 20 years this fall.
"In 1998, the dean of the College of Engineering, Architecture and Technology recognized an opportunity to serve those graduates from engineering, technology, and 'hard' sciences, already gainfully employed, who wanted to move into technology management positions but lacked both the academic credentials and the opportunity to attain those credentials through a traditional, on-campus master's program," said Kenneth Case, Regents Professor Emeritus in the school of industrial engineering and management.
MSETM is a rigorous degree program designed specifically for experienced engineers and scientists who are interested in accelerating their management careers. The curriculum combines academic coursework with the latest business practices and can be tailored to meet an individual student's needs. This master's program is offered 100 percent online through OSU's CEAT Online Learning office.
When the program began in 1998, the courses were recorded on VCR and the tapes were mailed to the students. It was one of the first programs of its kind in the country as it was an interdisciplinary effort between OSU's college of engineering, architecture and technology, the college of business, and the college of arts and sciences.
Nancy Winchester was one of the six graduates of the inaugural class in 2000. She is now the vice president of technology at a global custom manufacturer of specialty chemical products.
"When I heard about the MSETM program, I knew it fit the bill to help me learn how the 'other side' of a technology company worked," Winchester said. "As science was my first love, I knew I didn't want to stray too far away, and the MSETM program provided me with training in both business and engineering topics that had not been part of my graduate curriculum. I discovered new interests through the program that I would not have been exposed to otherwise, and in my subsequent career I have used at least one learning from almost every MSETM course in which I had enrolled."
Today, the program has awarded more than 650 MSETM degrees. Those graduates are working for more than 150 companies, with a large number being in the military. Current students are located in 16 time zones across the globe. This makes the asynchronous component crucial to the program's success.
"Our goal is to provide the stepping stone from engineering to management," said Tim Hardin, director of MSETM. "There are so many people who are working, raising families, with a spouse, kids, or new house; there's no way to get back and take a campus-based class. So the online asynchronous option MSETM provides allows them to find time during their lunch hour, during the quiet of the night or early in the morning to do their work and further their education. It enables a lot of people to get a graduate education."
OSU-MSETM students learn to apply proven evaluation concepts and implementation strategies to fast moving, technical management decisions that make the difference in both career and business success. The MSETM program specifically addresses the real needs identified by industry leaders. Winchester is also on the industrial advisory board for the program.
"I see a shift in what companies need today from highly specialized training toward more big picture understanding of technology development processes," Winchester said. "The MSETM program at OSU is the perfect complement to a technology degree to help those individuals who pursue it to understand how their work contributes to the success of an organization and how they can adopt best practices to understand technology market needs. The MSETM program allows technical specialists to expand their credentials into careers in corporate technology management and to gain an understanding about the roles and contributions of all members of an organization in technology development. I can think of no other program that provides this combination of business and engineering courses and no better way to augment a technical degree than through the MSETM program at OSU."
Brenda Johnson has been the assistant director of MSETM since its inception. She has seen the program grow and transform with the demands of the industry and
"We've always prided ourselves in being a rigorous, well-recognized program," Johnson said. "I am always pleased with the feedback that I get from students and our advisory committee because I really feel like the product we offer is excellent. The students stay in touch and report to us when they have success and can contribute that to something they learned here. That's what it's all about."
This program has received numerous honors including U.S. News and World Report top 50 best online graduate engineering programs, and Affordable Colleges Online top 50 online engineering management degree programs the past three years.
Will Shifflett graduated in 2018 and has reaped the benefits almost immediately. He credits the MSETM program for his success.
"The MSETM program was a great challenge and is paying off," Shifflett said. "I have accepted a position as director of engineering for a large public television network. I will be in charge of the engineering department that manages and maintains state wide coverage. The job comes with a large pay raise, a crew of engineers and a great new title! I have learned so much and I am very grateful to everyone who makes the MSETM program successful."