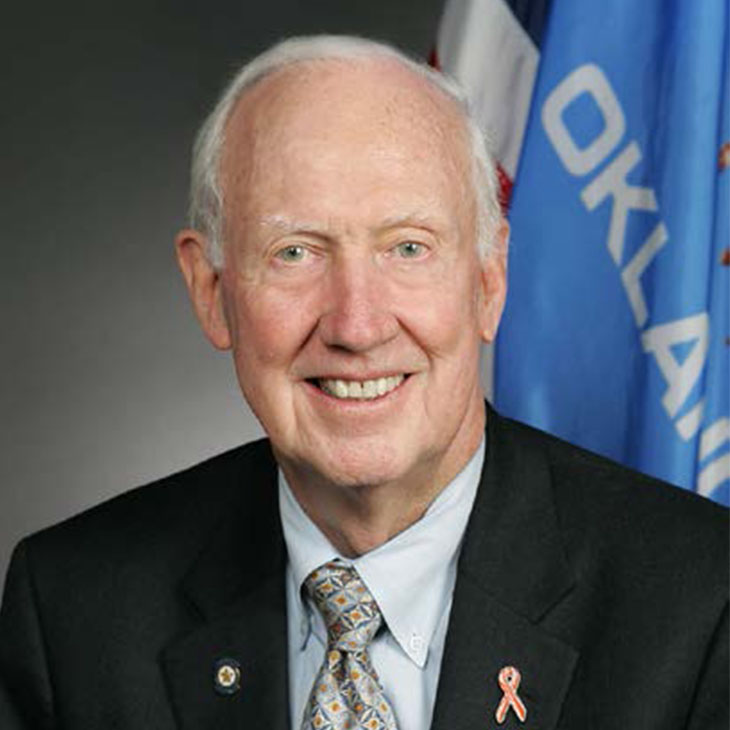 Former OSU president, James Halligan, honored by national engineering society
Friday, November 2, 2018
Dr. James Halligan, former president of Oklahoma State University and former Oklahoma State Senator, was named a Tau Beta Pi Distinguished Alumnus at the 2018 convention in Denver, Colo. on October 13. This award recognizes alumni who have demonstrated outstanding adherence to the ideals of Tau Beta Pi and to fostering a spirit of liberal culture on local, national, and international scales.
Halligan began his career by serving in the U.S. Air Force as a Bulgarian interpreter for four years. He then earned his bachelor's, mas­ter's, and Ph.D. degrees in chemical engineering from Iowa State Univer­sity. For the next 26 years, Halligan worked as a faculty member, department chair and dean of engineering at three universities. In 1984, Dr. Halligan was chosen as president of New Mexico State University. He spent ten years at NMSU before joining Okla­homa State University as its 16th president in 1994.
Halligan retired as OSU's president in 2002. He then spent time teaching at Prince of Songkhla University in Southern Thailand, completed a Fulbright in Germany where he visited numerous institutions emphasizing the fund-raising responsibilities and techniques of a university leader, as well as a brief academic assignment at the University of Plovdiv in Bulgaria.
"[Halligan's] numerous contributions to OSU, the State of Oklahoma, and the people he has influenced are inspiring," said Doug Burns, former chair of the Board of Regents for OSU and the A&M Colleges of Oklahoma. "He has left his mark for the betterment of humankind and is worthy of much recognition and appreciation."
In 2008, Dr. Halligan was elected the State Senator from Oklahoma's 21st District. Halligan served as chairman of the subcommittee on appropriations for higher education, public schools and the career technology system.
"I believe [Halligan] is worthy of this recognition as he has devoted a lifetime to the teaching of engineering disciplines and ethics to thousands of students throughout the years," said Mary Fallin, Oklahoma Governor.
Up to five alumni are selected each year to receive the Distinguished Alumni Award and receive a recognition plaque as well as a $2,000 scholarship named in their honor to be given to a student. Tau Beta Pi is the Engineering Honor Society, founded at Lehigh University in 1885. It has collegiate chapters in 247 engineering colleges in the United States and active alumni chapters in 44 cities. It has initiated more than 593,000 members in its 132-year history and is the world's largest engineering society. More information about the society can be found at tbp.org.