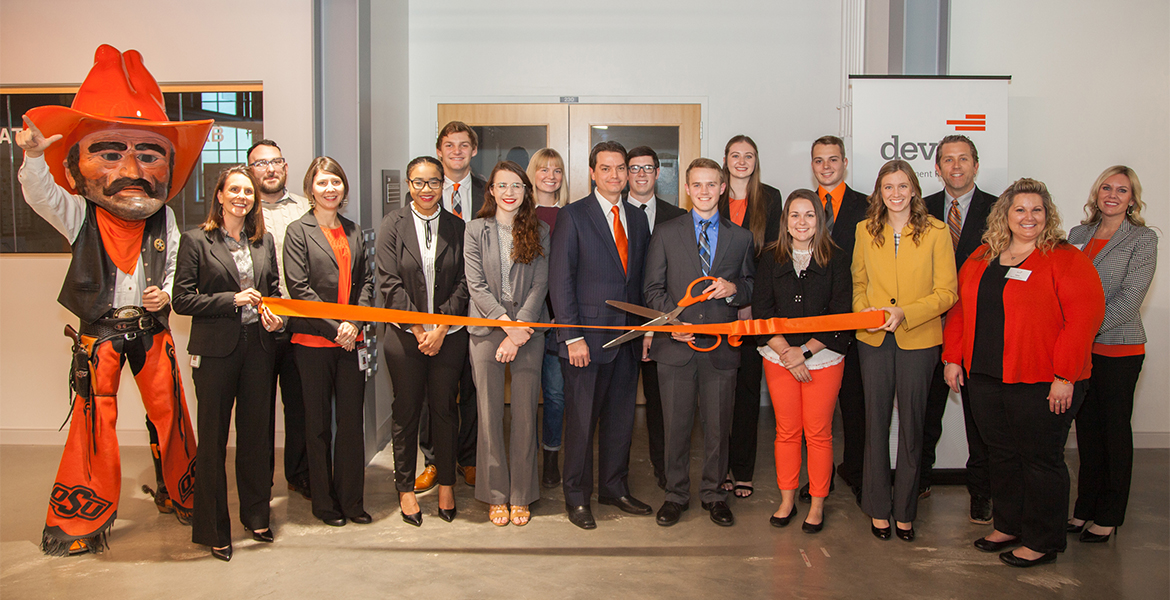 OSU Dedicates New Devon Material Lab, Leadership Program
Monday, November 19, 2018
Oklahoma State University celebrated the opening of the Devon Energy Material Science Laboratory in a new state-of-the-art building. The Devon laboratory is part of ENDEAVOR, a 72,000-square-foot building with 15 labs, collaborative work spaces and five industry-aligned labs for student projects.
Devon donated $600,000 for the innovative space, which houses a microscopy suite for metallurgy, corrosion and material science courses. The gift also creates the Devon Ingenuity Leadership Scholars Program.
University and company officials attended a Nov. 13 ribbon cutting at the lab.
"Contributions from industry partners like Devon brought this facility to reality," said Paul J. Tikalsky, dean of the OSU College of Engineering, Architecture and Technology. "They understand the need for industry and the university to come together to educate the next generation with advanced skills that build industry and communities in Oklahoma."
The material lab and the scholars program align with Devon's efforts to help college students develop leadership abilities along with the science, technology, engineering and math (STEM) skills they need in technical fields.
Devon Vice President of Drilling and Completions Garrett Jackson said the Devon Ingenuity Leadership Scholars Program will provide 15 students per year with scholarships, a stipend for a community project, access to mentors and leadership seminars.
"Devon is committed to hiring the best people," Jackson said. "Part of that pledge is helping to develop the next generation of scientific and business leaders."
Scholars will manage a community project each year, and they are expected to mentor the next year's cohort — passing along what they have learned and gaining priceless executive experience.
"As a proud alumnus of OSU, it means a lot to me to see my company putting time and energy into making sure today's students have the understanding and experience it takes to succeed and lead in the real world," Jackson said.
OSU President Burns Hargis thanked Devon for its support.
"Facilities don't transform things – people do," he said. "The Devon Ingenuity Leadership Scholars program provides students with learning opportunities that will propel them into their careers. Devon has been a wonderful partner for Oklahoma State University, and this world-class facility will greatly enhance our ability to produce the STEM majors our nation and our world so desperately need."
PHOTO: https://flic.kr/p/2bx9hmg
CONTACTS: Ally Glavas | Devon Energy Public Relations | 405-249-2024 | ally@candorpr.com
Kristi Wheeler | College of Engineering, Architecture and Technology |405-744-6260 | kristi.wheeler@okstate.edu
About Devon Energy
Devon Energy is a leading independent energy company engaged in finding and producing oil and natural gas. Based in Oklahoma City and included in the S&P 500, Devon operates in several of the most prolific oil and natural gas plays in the U.S. and Canada with an emphasis on achieving strong returns. For more information, please visit www.devonenergy.com.
About Oklahoma State University Oklahoma State University is a modern land-grant university that prepares students for success. OSU has more than 36,000 students across its five-campus system and more than 25,000 on its combined Stillwater and Tulsa campuses, with students from all 50 states and around 120 nations. Established in 1890, Oklahoma State has graduated more than 260,000 students who have been serving Oklahoma and the world for 125 years.